Hey there friends, 
I'm writing you from the lovely Paintbox Lodge in Canmore, Alberta, where we played the first show of our prairie tour last night. There's still snow on the ground outside, but spring's unquestionably in the air, my bike's on the back of the van, and it feels exhilarating to be on the road again. I arrived back in Alberta almost two weeks ago, and had been holed up at my folks' place in Sherwood Park, spending time with them and getting caught up on all the work that tends to get neglected as the roads relentlessly unwind. 
These days I'm on a break from the booze and the news, which had become two fairly bottomless fixations over the past while, and it's doing me a lot of good. There are suddenly extra hours in the day, which I've been spending at the gym, playing guitar, and catching up on admin work. Turning off two of my big external distractions has also been helping me take a long-overdue look inward, and while it's turbulent in there, it's worth facing. 
1. Prairie dates 
We've got ten more dates together on this run, and I'm going to carry on with the boozeless and newsless routine, to see how it fits into my normal life. The tour dates are below, and all the details, as always, are on www.scottcook.net
Thu Apr 20 - Golden, BC - Koch house concert 
Fri Apr 21 - Rocky Mountain House - Olde Smokey's BBQ Shack 
Sat Apr 22 - Morinville, AB - Morinville Cultural Centre 
Sun Apr 23 - Red Deer, AB - house concert 
Mon Apr 24- Saskatoon, SK - The Bassment 
Tue Apr 25 - Gravelbourg, SK - B&B La Maison 315 
Wed Apr 26 - Moose Jaw, SK - Allen house concert 
Thu Apr 27 - Regina, SK - The Artesian 
Fri Apr 28 - Fort Qu'Appelle, SK - Qu'Appelle Valley Centre for the Arts 
Sat Apr 29 - Winnipeg, MB - early show at Times Change(d) 
After that I'm heading off alone again, playing in lovely Viroqua, Wisconsin, and at the Central Ohio Folk Festival, and then making my way southward on what's more of a music vacation than a tour. The road seems to have a way of forcing rest breaks on me when I don't take them myself, and I suppose I should be thankful for that. 
First off, I'm headed to Nashville to hang out for a bit, hear some music, and hopefully write some songs. After that I'm headed to North Carolina for the Southeast Regional Folk Alliance (SERFA) conference, to Alabama to see my Grandma, to New Orleans to dig some jazz, and then to Kerrville Folk Festival for a week or so, studying guitar, swapping songs, and cheering for my friends Heather Styka, Winona Wilde, and Martin Kerr, who are all competing in the New Folk competition. From Kerrville I'm headed to Tulsa to spend some time (just like I said I would in the last Hobo Travelogue) and get to know some of the local writers. I'm really loving the music coming out of that town. Along my way home, I'll stop in Colorado to compete in the Telluride Troubadour competition if I make the cut, but I'm not holding my breath. 
The main priority for me right now is to write songs again. I just finished a new one a couple nights ago, my first since we recorded the album in July. That's way too long in between, if you ask me. But it's a result of spending so much time on the business side of things that I've neglected to nurture the creative side of things, the kid in me. So that's what this trip's about. 
As usual, I'll be back in Alberta in time for the North Country Fair, which is looking amazing already (have a look). Then I'll be around home until August, besides a flight to Michigan for Blissfest and some gigs around there, and Wild Mountain Music Fest in Hinton. Come August I'll take the Second Chances out to ArtsWells and on a run around BC, and then I'll set off by myself on bicycle from Vancouver to San Francisco, stopping in at Sisters Folk Fest in Oregon along the way. 
I suppose all that might sound breathless to some of you readers with big gardens, but I must say, for me it sounds like slowing down. It sounds like more time to sit with myself, more time to listen, more time to breathe, and that's what I need. 
2. Rambles down under 
The run around Australia with the Second Chances was amazing, if a little on the busy side. I had to fit things in pretty tightly to cover the costs involved in getting all of us over there, and getting us around in a rented van, but we did have some free days that we put to good use on the mountains and beaches of that beautiful land. It was really such a joy to introduce Bram and Melissa to places and people I love, and an even greater joy when they fell in love with them too. 
Last I wrote you, we were on a mad dash up to Queensland, where we tooled around for a week or so. We were warmly received at Brisbane Unplugged and at a sweet converted old church-theatre in Stanthorpe, and then pretty much ignored at a restaurant and bar in Byron Bay. It was a good reminder of what I used to do for a living, and how lucky I am to sing for audiences who listen most of the time. The next night we went inland to Tintenbar, where we swam in a waterfall and were hosted at a community hall by the sweetest group of folks, who put on shows under the banner of Tintenbar Upfront (http://www.tintenbarupfront.com/). After the show, some local gals took us for a starlit swim in a lake dyed red by tea trees near Lennox Head, and it was divine. 
From there we went up to the Glass House Mountains to reunite with our pal Benjamin Caldwell (who I wrote "Alberta, You're Breaking My Heart" with last time around), and played a show in the beautiful house that his sister designed, and he and his brother built. Then it was down to Austinville, a self-declared "independent republic" just inland from the Gold Coast, with its own flag and its own anthem, helpfully printed on the stubby holder (beer koozie) they gave us, and sung to the tune of "God Save the Queen": 
"Long Live our Austinville 
Valley beneath the hill 
You are our home 
Land of the weed and still 
Dairy and timber mill 
Of your beauty we can boast 
Up yours Gold Coast!" 
The next day our host (local politician Glenn Tozer) took us to the Currumbin Wildlife Sanctuary, a rehab facility for injured animals where, unbeknownst to Bram and Melissa, he'd arranged for us to hug a koala. I'd managed to keep it a secret from them, and loved the looks on their faces when they found out. For those of you who are curious, they're super soft, and snuggly (probably because they're high on eucalyptus), and they smell really, really nice. Here's a picture of me hugging said koala, because, you know, every blog needs a picture of its writer hugging a koala, right?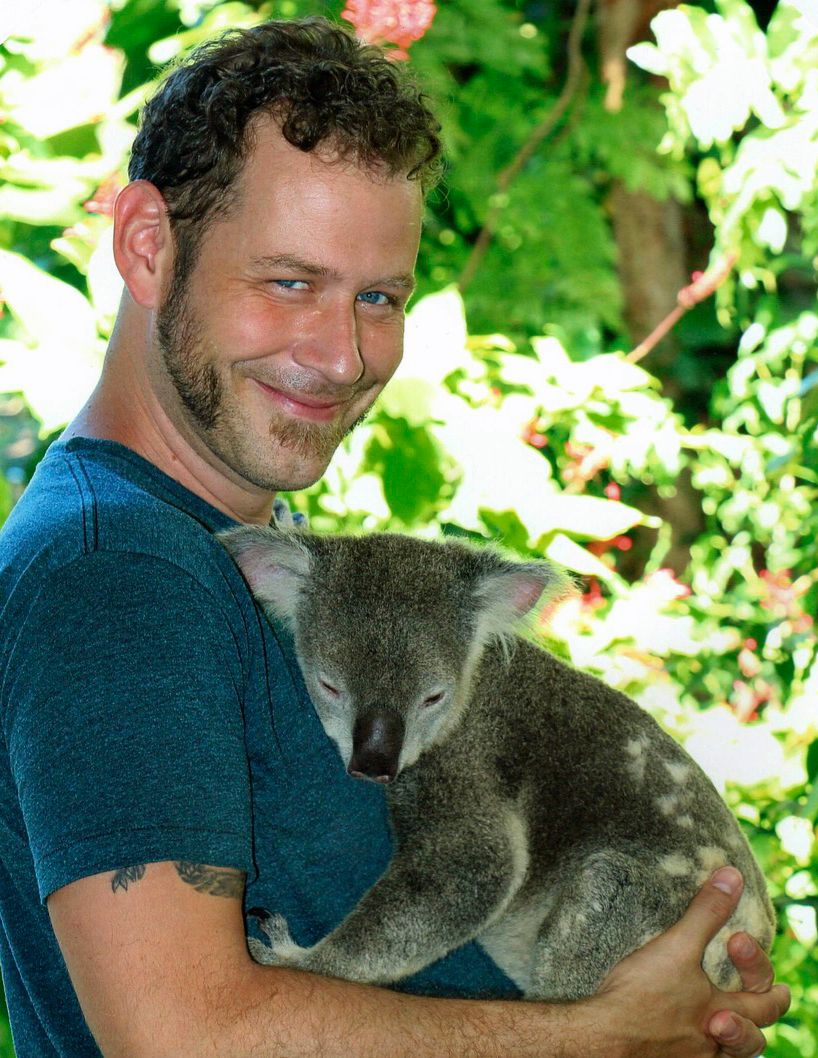 We had the next day off, and went up into the mountains of Lamington National Park, to show Bram and Melissa the Antarctic beeches (a Gondwanan relict; see https://en.wikipedia.org/wiki/Lophozonia_moorei) and hopefully, a pademelon or two, because they are pretty much the cutest thing ever. As it turned out, our campsite was crawling with them! 
In the morning, I was doing my yoga when I spotted a skink on a rock nearby. I'd already told Bram that skinks were snake-likes thing with legs, but he hadn't seen one yet, so I pointed it out to him. "Where?" he asked, and I looked again, but it had moved to another rock. "Just over there," I said, and went back to downward dog. "They really are snake-like," he said, and I looked up and there was a red-bellied black snake, about five feet long, and close to me! 
Later that night we were playing for the hippies in Billen Cliffs, an off-grid village that my friend Anastasia invited me to last time, and I told the crowd about the snake. Five or ten minutes later, there came another red-bellied black snake, right up to the stage and then off into some plants nearby. It's a poisonous snake, but rarely fatal; it was awesome to see the Aussies on the couch just pick their feet up while it slithered past and then go back to watching the show. 
We wound our way southward from there, making a repeat stop at my friends Gerry and Tania's in Nana Glen, playing the lovely No. 5 Church Street in Bellingen, visiting our friends Colin and Denise in Kempsey (who'd surprised us in Calgary last summer), and then playing Humph Hall in Sydney, where Tereza and Josh had left Skippy parked for me to pick up. I drove Skip to his new home in Beechworth the next day, and then we played a house concert for my friend Bronwyn, who often tends the bar at Burke and Wills Folk Festival, since the festival was cancelled this year. 
From there we went to Melbourne for two days, swapped songs in the backyard with John Flanagan, Michael Waugh, Russell Martin, and Mandy Connell, and played a really heartwarming show at the Lomond Hotel, with a bunch of great musicians in the audience. It means a lot in the big city when your fellow musicians come out. 
The next day I brought the band to Fred and Diane de Munk's in Healesville for another sweet concert in what really must be the house concert capital of Australia. The following night in Berwick we met a huge Corb Lund fan (you'd be surprised how many there are in Australia) who'd been inspired to write her own songs by Corb, wore a cowboy hat for the occasion of our show, and sang a gushing tribute she'd written about them. 
In Kyneton we saw Maddie Spawton, and met her new baby Efa, and my heart grew another size. Back in Beechworth, we played a lovely afternoon house concert at the home of Aron and Sabrina McLean, my good friends from Taiwan. We were joined by my Taiwan buddy Jack Melbourne (who hired me for my first paid solo gigs way back when) on dobro, and the pride of Yackandandah, Pete Denahy, on fiddle. We also were blessed by a visit from Buckman Coe and his band out of Vancouver. It's so good to cross paths with comrades overseas. 
From Beechworth we headed up into the (snowless) Snowy Mountains to camp out, and then wound our way down to my favourite Aussie village, Candelo, where we played to a packed house at the Cafe, and had great visits to the homes of Mike Martin and David Ross MacDonald. In Tilba Tilba we played for the kind folks at the Lush Factory, and ate amazing food from their gardens. In Canberra we played to a packed house at Smith's Alternative, and had the pleasure of seeing, for the first time in my life anyway, a venue owner dismantle the floor for a customer. A lady had dropped her phone down a crack at the edge of the wall, and the owner Nigel brought out the power tools! That's service. 
In Tomerong, we played a lovely show to a packed house at the village hall, and got to see our friends April Maze, who are expecting a baby. Unbeknownst to me, it wasn't really public knowledge yet, but I went ahead and blurted it out onstage anyhow to save them the trouble of telling everyone :) 
From Tomerong it was a late-night drive and an early-morning wake-up to get to the Yackandandah Folk Festival, but it was all worth it. My musician friends Irish Mythen, Gallie, Candice McLeod, Tom Richardson and his partner Kimberly, the Capitalist Pigs, Rowena Wise, Sal Kimber & the Rollin' Wheel, Pete Denahy, Tennysong King, and many more were there, and it felt like a big ol' reunion. We closed out the festival on Sunday evening, and it was a real honour. 
Ohhh, Australia, you make it pretty hard to leave you! Our hugest thanks go out to everybody who took such good care of us, and showed the Second Chances a good time on their first run around your beautiful country. Oh, and your CD orders are in the mail! Please let me know if they don't arrive within the next month or so. 
There are some pictures from the trip here, if you wanna have a look: 
3. Back Stateside 
On the way back into the States, I was held up at the border for about half an hour, but they eventually let me through. When I finally cleared customs, the last guy (the one who decides whether to check your bags or not) was a Corb Lund fan! Turns out they're everywhere. 
I had a lovely few days in Chicago, hanging out with my friend Heather Styka, who wrote "Careful With My Heart" on the new album. She's a local, and an excellent tour guide. I especially dug the Art Institute, a pre-prohibition-era restaurant called Berghoff's (that actually has liquor license #1, the first issued after the end of prohibition), and a jazz club of similar vintage called the Green Mill. 
The main gig of the whole visit was booked through Heather's dad. I got to open for John Gorka, whose music I've long admired, at Hinsdale Unitarian Church in the western suburbs. It was a full house, and a real heartwarmer to play for that audience and to meet John, who's humble and gracious as can be. 
There's a few pictures from my stay here, if you wanna have a look: 
From there I drove up to Fish Creek, Wisconsin for another wonderful gig, booked thanks to my friend Katie Dahl. Andy and the kind folks at the White Gull Inn have been running their concert series for over thirty years, and have hosted plenty of my friends along the way. It's a lovely lakeside property, with an old-fashioned charm and a dedicated following of concertgoers at their monthly shows. They fed me exquisitely and put me up in a king size bed. It's hard to even fathom how my life has led me to such sweet pastures sometimes. Believe me, friends, I don't take those oases for granted. I carry them with me through the ugliness of the modern world. 
The memory of it came in mighty handy the next day, stranded in Chicago after a cancelled flight, staying in a hotel in Rosemont, Illinois--a living representation of our dystopian corporate future if ever I saw one. Pedestrian-inaccessible streets lined with outlet stores, hotels, and parkades, with an "entertainment district" in the middle featuring regurgitations of various cultural staples (the Irish Bar, the Mexican Restaurant, the Hofbrauhaus, the Western Saloon) made to look like a Vegas version of the real thing. Simulacra. The idea of fun, repackaged and resold. $24USD pitchers of beer and $11USD shots of bourbon. Disgustingly big servings of food. Waitresses in mandatory skimpy jean shorts and tank tops. Disposable cups for dine-in customers. A place where "Live Music Tonight!" means a live DJ. I actually felt sorry for America, for all the folks stuck in this hell hole thinking it's what the world has to offer. 
I tried to check myself, my judgemental patronizing, my elitism. But really, it's all I can do to keep my loving compassion afloat sometimes. We're sick. Natives and slaves and clean clear rivers paid the price of progress, and we bought this with it? 
That night the news came in that Trump had hit a Syrian airstrip with cruise missiles, in response to a chemical attack allegedly carried out by Syrian President Bashar Al-Assad. I saw "allegedly" because it's a word you didn't hear often in the news coverage of it. Once the ordnance starts flying, all the doubts get drowned out by endlessly-repeated footage of our "beautiful" weapons in action. 
Believe me, I have no love for Assad, or any of the other leaders involved. All I'm saying is we don't know the facts. The only thing we can be reasonably sure of is that the Syrian people will continue to bear the brunt of the greater geopolitical game. Glenn Greenwald's take on things was the most reasonable I read in the immediate aftermath, have a read if you like! 
Nowadays, as I said, I'm on a break from the news. I've slipped up a few times, where I start reading something and then realize, hey! that's news! But for the most part, it's been good for me. 
If you don't pay attention to current events at all, you probably should. Democracy Now! is a good place to start. But if you're like me, and you could (and do) spend hours at night digging into the minutiae of events, you might want to take a break, and maybe ask yourself what purpose it serves in your life. Just an idea. 
The new record's been making its way further out into the world lately, getting played on folk and Americana radio in the States, Europe, and Australia. It was just mailed out to Canadian college and community radio, and could certainly benefit from your requests. As with every release I've done, it's more a slipshod splish-splash than a co-ordinated tap-turning. 
Here in Alberta, CKUA has been very kind to the album, Tom Murray wrote a nice review in Penguin Eggs, and Fish Griwkowsky wrote a really gracious review in the Edmonton Journal! 
As part of my general effort to move beyond the slipshod splish-splash approach in life, I reckon it's actually time to get a new website. Apparently the kids are doing it differently these days, using some new musician-friendly platforms rather than typing HTML code into a text file, as I am now. That's something, right? 
If you, like me, might be at all nostalgic for the homespun charm of my old, mobile-unfriendly, barely customizable, clunky-looking website with photos of my old band's tours in the early 2000s and not a single link to my Twitter or Instagram, please do let me know. If you actually don't like the idea of a new, professional-looking website, I actually do want to hear from you. 
You know how many folksingers it takes to change a lightbulb? Just one, with ninety-nine more to sing about how good the old bulb was. 
One last bit of music news, and a crazy, situation-altering one for me, is that FACTOR had left over money at the end of the fiscal year, and gave me a ton of it to put toward promoting the new album. I sure am crazy privileged as a Canadian to even be eligible for something that, and I'm also baffled by the way the system works, in that those of us who are actually busy touring don't have the time to apply for the things. I only got around to it this past year, with the help of Laurie Brown of Porch Swing Entertainment. If it weren't for her lighting a fire under me, it never would've gotten done. 
If you want a copy of the new book and CD, just shoot me $26 (that's incl. shipping and tax) on http://paypal.me/scottcooksongs, and I'll get it to you! 
Alright, the road beckons. Loveya, friends, see you along the way, 
s