Hey friends, 
Just a wee note from my world, which I must admit feels pretty idyllic these days, especially in light of all that's unfolding elsewhere. I have no idea when I'll be able to go back to work––both my August-September tour of Europe and March-April tour of Australia cancelled in the last couple weeks––but I really can't complain. A lot of friends have written with sympathetic words for me and my fellow musicians' predicament, and I'm very grateful to be thought of. But I count myself among the privileged few, and so I want to preface any self-promotion in this email with an important caveat: if you feel motivated to send money my way, I hope you'll also consider sending money to people who need it more than I do. More on that below.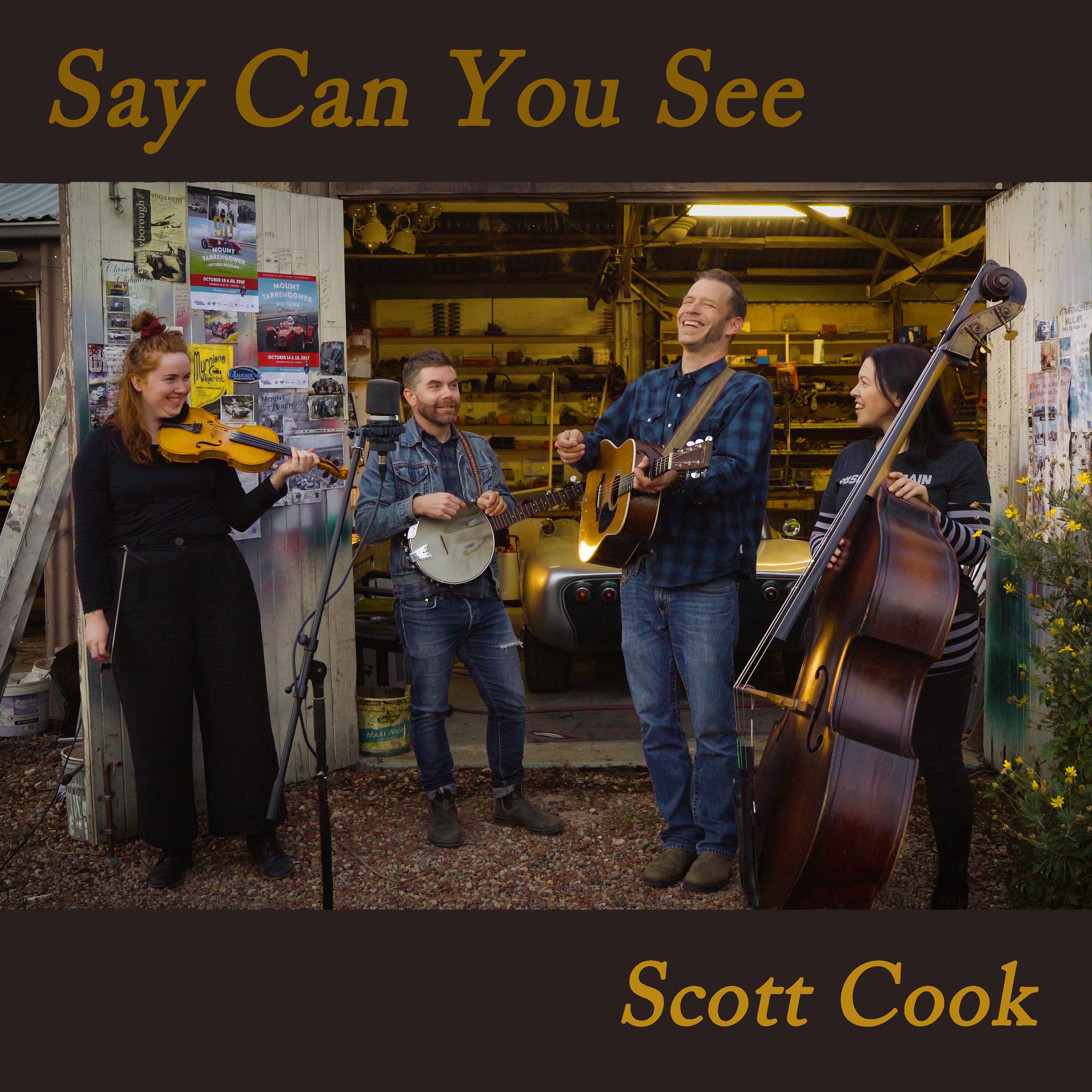 My biggest bit of news is that my new single "Say Can You See" is being exclusively premiered on American Songwriter Magazine today! I've never had a song exclusively premiered anywhere. It feels good. And it feels like a hopeful song to be releasing into the world right now, as we see large groups of Americans increasingly turning against each other, to the benefit of those who profiteer off hate. You can hear it here: 
"Say Can You See": Scott Cook's Protest Song for America's Rebound 
If it moves you, please share it. Learn to sing it yourself if you feel so inclined. It'll be released to all the streaming and download platforms on Friday, and you can pre-save it on Spotify, Apple Music, or Deezer through this link. 
There's also a video for the song, shot in Australia by our friends at Pegleg Productions, which we'll be premiering this Friday, June 19th during our online concert––likely the last Indoorables concert for a good long while. We're playing a sold-out, socially-distanced outdoor show the next day, and will be doing more outdoor shows as the summer rolls on, so we decided to do this last one indoors. It's been a real joy to be able to sing for folks all over the world at the same time, and this instalment's gonna be extra special. We've got a new housemate, our pal José Mejia, who'll be joining us on dobro and tres. We've worked out a bunch of new tunes, including lots of lead vocals from Pamela Mae! And the Foxy Cam will be back by popular demand. We've also got an extra special surprise that you'll just have to tune in to find out about ;) We're going out at 7pm Mountain Time, which makes 6pm on the West Coast, 9pm in New York, 2am in London (sorry!), 9am Saturday in Taiwan, 11am in Australia, and 1pm Saturday in New Zealand. Please join us if you can, BYO, right here, and please share the event! 
Oh yeah, and the album! I got the test pressings of the vinyl the other day, and savoured the experience of putting MY OWN record on the turntable for the first time in my life. The manufacturing process has started for those, and I'll be receiving a mock-up book from the printer today, to approve before I go ahead with the printing of the books. I'm still making some changes to the text, with help from Corin Raymond and Pamela Mae. If anyone wants their name in the book, there's a day or two left to do that, and I'll continue taking pre-orders for the album here. 
Lastly, like everybody with a heart, I've been shocked and saddened by the deaths of Ahmaud Arbery, Breonna Taylor, George Floyd, and others. The extent to which systemic racism remains a problem in US policing is a complicated question, but the staggering amount of clear racism that we've seen in the response to these protests says a lot about how deep the problem still is in our societies. Even the Canadian peanut gallery's throwing up plenty of horrible word salad about people of colour and indigenous Canadians. And the crazy police violence we've seen in response to protests against police violence has had a similar effect of proving the very point they're arguing against. In short, I'll just say that there's an obvious hypocrisy in assuming the benevolence of the police despite a "few bad apples," while condemning the protests for the actions of a relatively small number of looters. 
As someone who's never faced discrimination based on my race, sexuality, or otherwise, I have a lot to learn from other people's stories. And as someone with a home to live in, food to eat, and extra money to spend on fancy coffee, I count myself among the privileged. So I'm endeavouring to listen and reflect on systems of oppression and my own role in them, and to give money where it can be of use. I've already been donating to Our Revolution, who have been allocating donations to various groups working for racial justice. On June 19, the day "Say Can You See" gets released, Bandcamp is donating 100% of their share of sales to the NAACP Legal Defense Fund, a racial justice organization with a long history of effectively enacting change through litigation, advocacy, and public education, and I'll be matching their contribution. And lastly and most importantly, I'm supporting Color Of Change, who are working to get black voters registered and mobilized for the upcoming US election. Georgia's primary was an early warning of the awful racial disenfranchisement we could see on election day in November. And as I mentioned in my last Travelogue, gutting the US Postal Service is another plank in Trump's plan. It's incredibly important that people be able to vote. I don't think I'm exaggerating to say that the country I come from is edging dangerously close to fascist authoritarianism, and we don't have long to stop it. 
In solidarity and love, your brother in song, 
Scott