Hey friends, 
I'm writing you from my home in leafy Riverdale, Alberta, where I'm experiencing that "where did the time go?" feeling I've heard so much about.  It's been almost two months since I wrote you last.  On the road, two months can seem like ages, with innumerable sights and souls passed along the way.  But in one place, the time blurs in a way I'm unfamiliar with.  It's been a revelation for me. 
The most tangible indication of time having passed is the fact that the once-distant release date for Tangle of Souls is somehow TOMORROW!  And while I'm way readier than I've ever been, I'm still not ready.  For starters, the PRE-orders are still going out into the world!  I've got piles of packages on my office floor, alongside stacks of CDs, envelopes, address labels (I've learned more than I ever wanted to about mail merges these last couple weeks), tape, bubble wrap, and cardboard vinyl mailers.  I've been making trips to the post office almost every day, and I've had the pleasure of hand-delivering a bunch of copies around town by bicycle, which often allows for quick chats with some of the kind folks who sponsored this crazy dream.  I hope to make some more in-person deliveries on my trip south this weekend.  And of course I'll keep packing and mailing as fast as I can, with my apologies and heartfelt thanks for the patience of the folks who pre-ordered. 
It feels simultaneously scary and exciting to let these birds fly out into the world.  I've never put so much of myself into anything before.  But it's been encouraging, already, to hear back from the places they're landing.  A kindred soul in Maine named Lucky Clarke interviewed me for the paper, and said that "the ripples from 'Tangle of Souls' reached me on many levels, some disturbing and some affirming, but all in all refreshing and empowering, like, 'Wow, somebody else thinks this way, too!'" 
And yesterday, in the grocery store parking lot, I got a call from Peter Yarrow (of Peter, Paul and Mary), who said that he loves my music.  I told my Mom and Dad as soon as I got off the phone :) 
Peter was calling about an online concert we're doing tomorrow, for an organization called Braver Angels that's working to depolarize American politics.  Many people have been lamenting the erosion of civil discourse nowadays––the increasingly-distant media bubbles we inhabit, and how quickly online arguments descend into insults––and it's one of the themes I explore in Tangle of Souls.  I've become nostalgic for a time when people on opposing sides of an issue might come together and debate cordially (like when James Baldwin debated William F. Buckley!), rather than just shouting each other down.  In that spirit, Braver Angels has been hosting debates and town-hall meetings these last few years, bringing together Americans from opposite sides of the political spectrum to talk about issues that matter to us all, in hopes that folks might actually understand one another.  They've moved their operations online since the pandemic began, and they've hosted some really interesting debates about policing, race relations, reparations, and so on, as well as discussions about depolarizing the media and how we can build some kind of consensus about the facts.  It's not enough to lament this "post-truth world" or bemoan the lack of universally-credible sources.  People need to keep talking.  It's hard work, but it's crucial, because fighting starts when talking becomes impossible. 
As part of their work, they sponsored a songwriting contest, and "Say Can You See" took third place!  I'll be playing an online concert tomorrow at 8pm EST (6pm here), along with Peter, Steve Seskin (who runs the songwriting school I've attended in Kerrville), and the other winners Donna Miller, Jon Baker, and Tom Prasada-Rao.  If you'd like to join us, you can tune in here. 
I also had a chat with Braver Angels Jon Wood, Jr., Sage Snider, and the other winners a week or so back, which you can hear on whatever podcast app you use––just search for "The Braver Angels Podcast" and the episode "And the Winner Is!" 
There's big news TODAY, too––The Bluegrass Situation is exclusively premiering my song "Rollin' to You," right here, have a look and listen! 
And this evening, the Indoorables and I will be on Alberta Spotlight, alongside our hella talented pals Mariel Buckley, Jay Gilday, Joe Nolan, and Justine Vandergrift––all Edmonton Folk Fest alumni!  It'll be aired at 4:30pm Mountain Time on CKUA's page and then again on Sunday, Aug 9 at noon on Alberta Music, National Music Centre​, CKUA Radio Network​, and Stagehand​'s Facebook pages.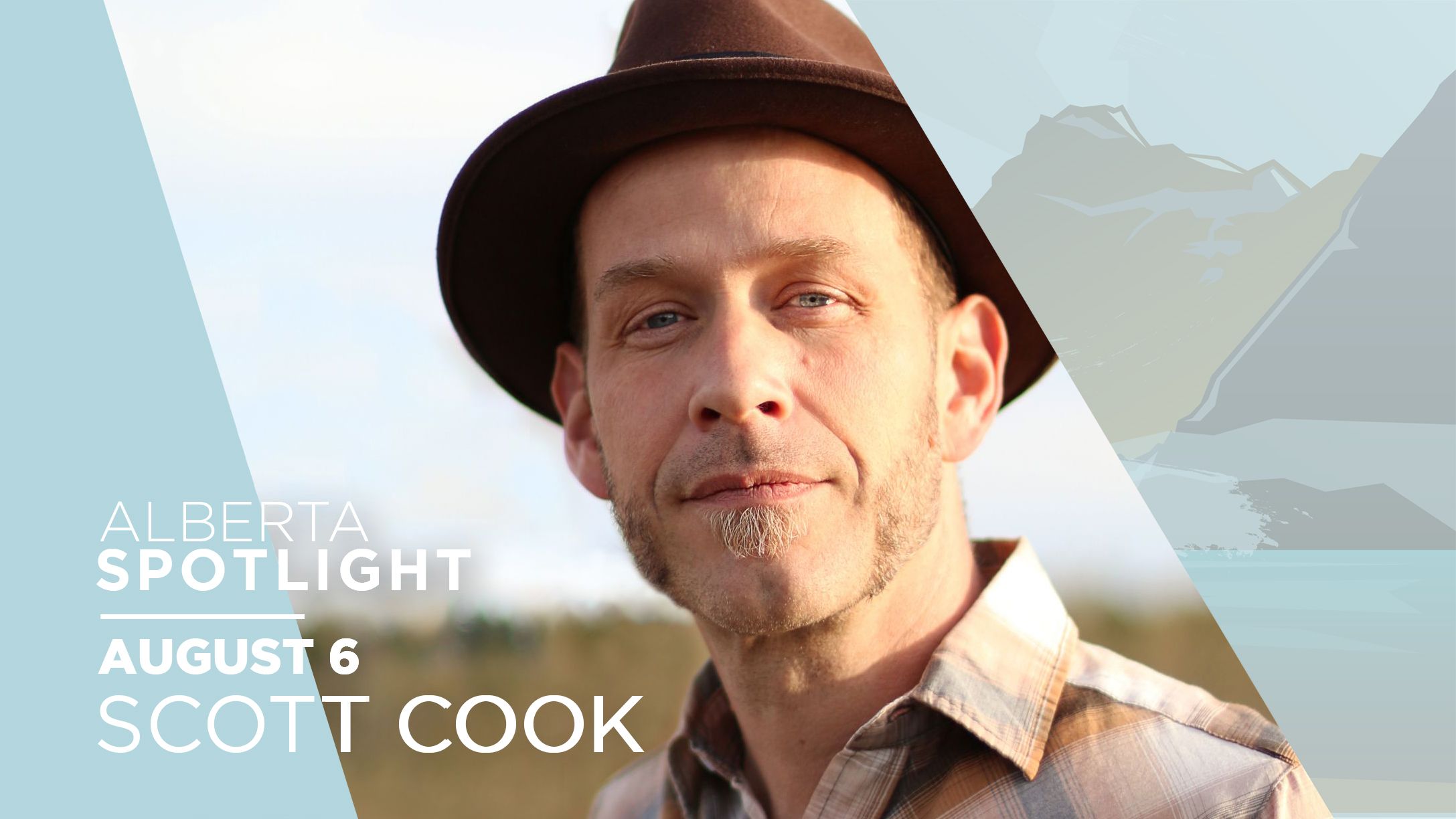 Tomorrow morning at 8:45am Mountain Time, I'll be on CKUA chatting with Grant Stovel about the new record, a short snippet of a longer chat that'll be posted on their website later.  And tomorrow afternoon at 4:30 MT, I'll be on CBC Calgary's program the Homestretch, where I'll be throwing out the offer of bike deliveries in Calgary! 
It's really gratifying to receive such an enthusiastic response from Alberta media, including last Friday's chat with CBC Edmonton's Radio Active.  Anywhere in North America, if you feel like calling into your local radio station to request a track from Tangle of Souls, they should at least have it in digital form by now, and it would sure help keep the momentum going. 
Unlike most albums released nowadays, this one won't be available on all the digital platforms.  I've released two singles already ("Leave a Light On" and "Say Can You See"), and I might release the title track later.  But I won't be uploading the whole album to the streaming services, because I don't like the idea of artists being paid in tiny fractions of pennies for their life's work, and because I have the privilege of not going all in on that exploitative racket, thanks to the listeners who continue to support me and buy my albums.  There's a lot more about that subject in the big book that comes with the album––incidentally, another thing that won't be available on Spotify ;)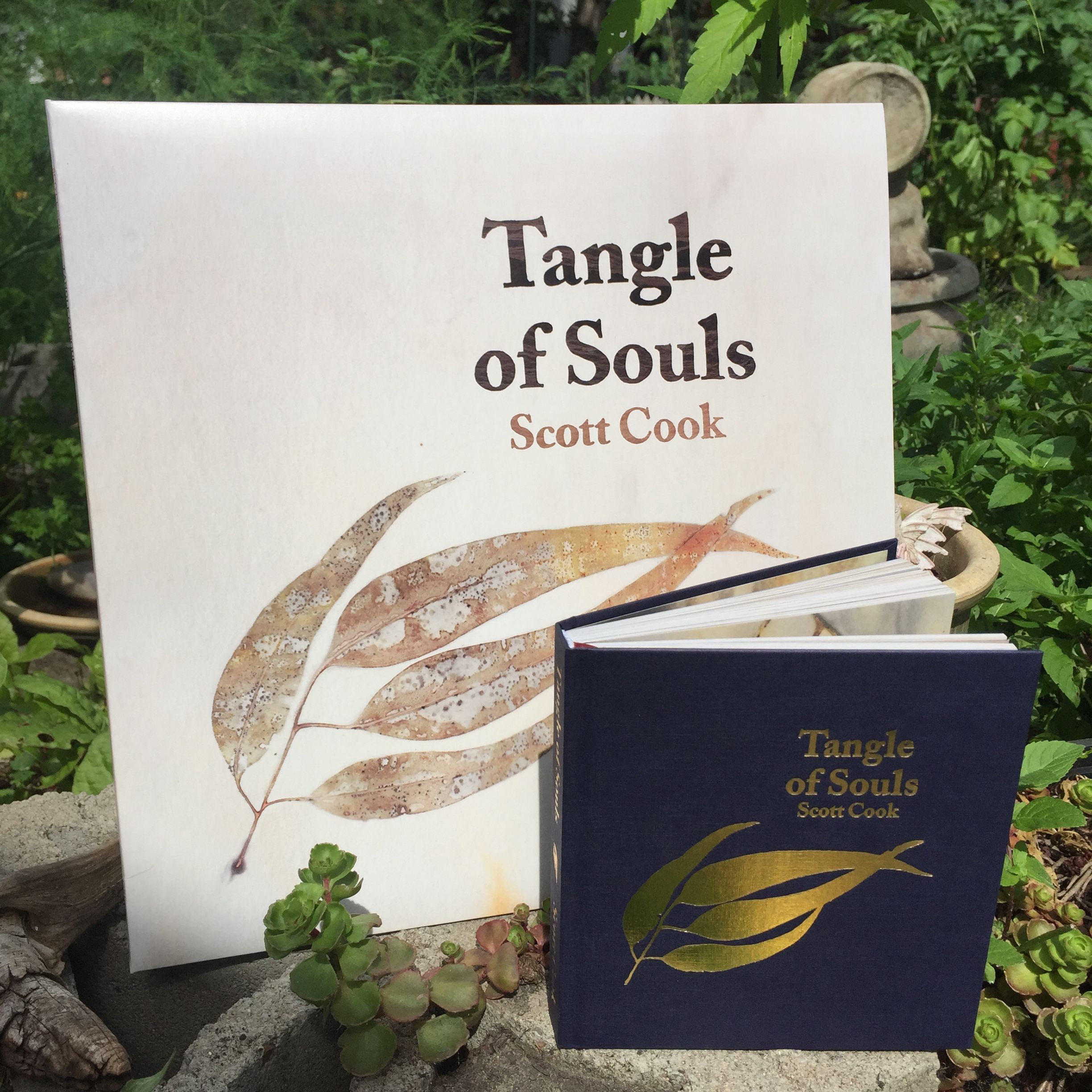 Bandcamp's one wonderful exception to the online landscape of artsploitation, and the whole album will be available there in digital form starting tomorrow––which also happens to be one of the days they're donating their whole pay-share back to the artists, like the mensches they are!  It's also downloadable direct from www.scottcook.net, and on both those platforms it'll include a download of the 240-page liner notes.  If you're anything like me, though, and you'd rather curl up with a hardcover book than a PDF, those can be ordered on www.scottcook.net/tunes. 
We're also going to be bringing the songs out into the real world in the coming weeks, though only here in central Alberta: 
Wed Aug 19 • Highlands, Edmonton • front yard concert 
Thu Aug 20 • Vermilion • TBC 
Sat Aug 22 • Riverdale, Edmonton • Riverdale Folk (& Facemask!) Festival with Bill Bourne, Billie Zizi, Bramwell Park, Dana Wylie and Kirsten Elliott, Joe Nolan, Lucas Chaisson, Picture The Ocean, Swear By The Moon, and those ever-lovin' Indoorables! 
Wed Aug 26 • Sherwood Park • Hoop It Up 2020 back yard concert 
Wed Aug 28 • King Edward Park, Edmonton • private concert 
Sat Sep 5 • Ritchie, Edmonton • back alley concert 
All the info about those shows, including rain dates, will be on www.scottcook.net soon.  And there'll be more Indoorables shows coming in September, as long as people keep observing public health guidelines and this pandemic stays under control! 
Speaking of the Indoorables, Pamela took the hilarious and secretive step of having T-shirts made for the band, with design by our talented friend Kendall Vreeling and silkscreening by the cool kids at Turkey and Pistols!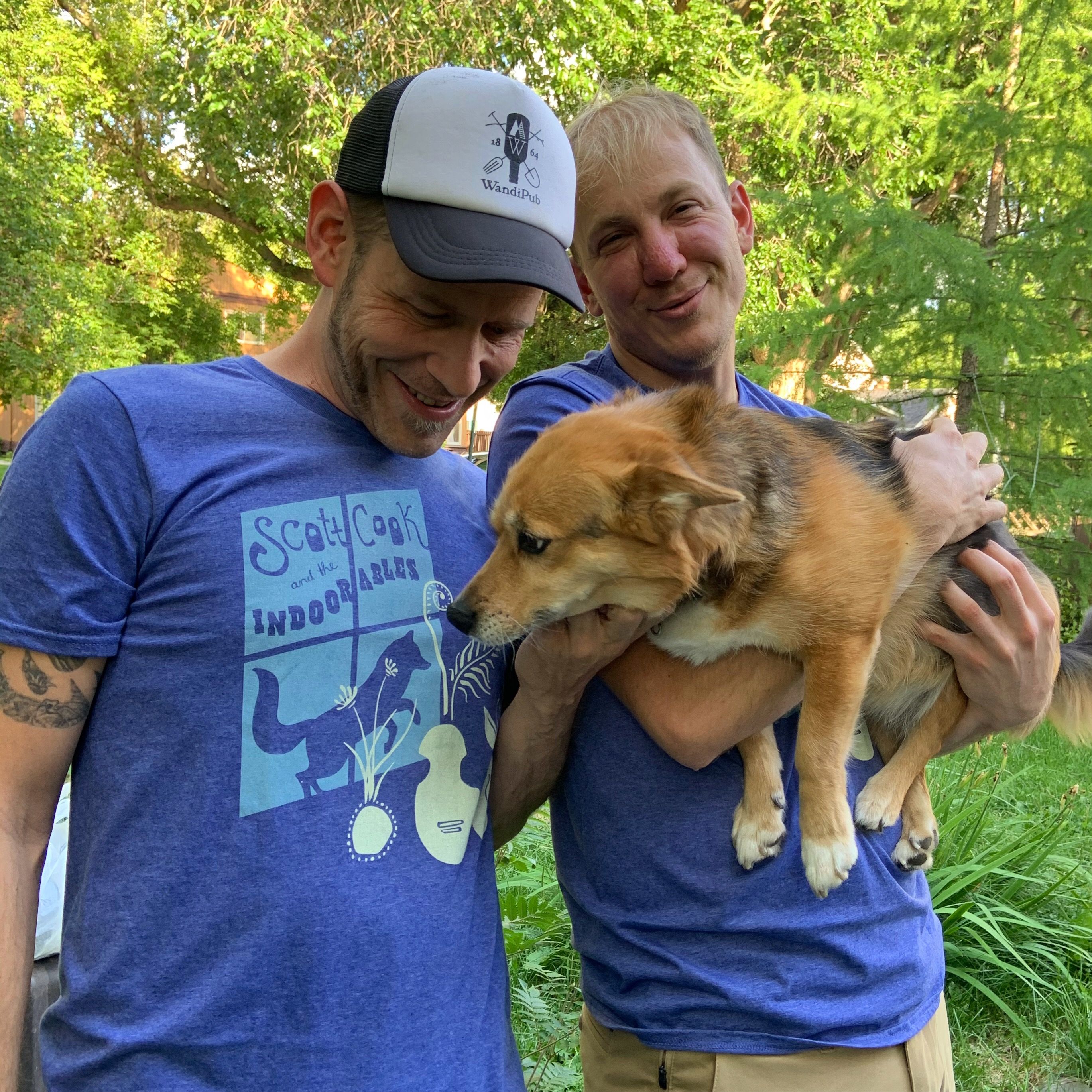 A few folks wrote to say they wanted one, so we're thinking about opening up the doors to the club!  If you want in, just write me at scottcooksongs@gmail.com with your size and we'll sort out a bulk order! 
I've gotta sign off for now, 'cause I've got packages to mail, but here's hoping that wherever this finds you, it finds you healthy, happy and inspired.  These sure are crazy times, but I'm grateful we're going through them together. 
Stay well, keep shining, 
s