View this email in your browser 
Hey friends, 
I hope you're well, and finding goodness and beauty in the world around you, despite the carnage and callousness in the headlines. Reach out to your loved ones. These are crazy times, and crazy-making too. Call your friends. 
I'm still seeing plenty of silver lining in my enforced slowdown, but I've also been feeling some unexpected bittersweetness as the chill creeps into the evening air. This time of year usually means leaving for me. Pamela and I will be making a little run out to BC next month to visit her daughter, and we'd love to play a couple backyard concerts along the way if possible––if anyone in Calgary, the Crowsnest, the Kootenays, the Shuswap or the Okanagan's keen to host us in the September 8-13 range, please do get in touch––but that'll probably be the extent of my traveling 'til this side of the world warms up again. I haven't quite wrapped my head around that yet. 
While it's still summer, though, we may as well make the most of it! We did just that last weekend here in Riverdale, Edmonton, where we hosted the first and hopefully last annual Riverdale Folk & Facemask Festival, with performances from Riverdalians and honorary Riverdalians Billie Zizi, Lucas Chaisson and Andi Vissia, Dana Wylie, Bill Bourne, Swear By the Moon, Picture the Ocean, Bramwell Park, Elliot Thomas, and Joe Nolan, who sang while a double rainbow graced the gathering of kind souls. Apologies to the folks who tuned in online, only to lose the feed when I ran out of power, and later, out of data. Too much on my plate, I guess! Melissa came out from Prince George for the show, and it was a joy to play with the Second Chances again. We were really hoping we wouldn't exceed 200 attendees, as that's the provincial limit for outdoor gatherings, and luckily we hovered just under that number for most of the day. And thanks to the enormous generosity of the crowd (as well as an anonymous donor from the local folk community), we managed to get some much-needed funds to a bunch of out-of-work songsters. Thank you all, from the bottom of this new Riverdalian's heart. 
We Indoorables have a few more local shows coming up, starting this afternoon! 
Fri Aug 28 • 4pm on the Art Gallery of Alberta terrace, just one set, free with gallery admission 
Fri Aug 28 • private concert in King Edward Park 
Sun Aug 30 • 5pm and 7pm sets in the parking lot of New Asian Village in Sherwood Park 
Mon Aug 31 • private show in Spruce Grove 
Sat Sep 5 • back alley concert in Ritchie 
Fri Sep 18 • private barn party near Camrose 
Sun Sep 20 • Vermillion Folk Club show at Mannville Riverview Golf Course 
All the info for the public shows is on www.scottcook.net, and friends who wanna ask about wheedling their way into one of the private shows are welcome to drop me a line. 
Those further afield are probably most curious about when your albums might be arriving, and some of you have already written to ask about that. Turns out mailing out 600-some albums is a pretty big task, but after many long days of envelope-stuffing, I'm pleased to report that I'm starting to see the light on the other side. Yackandandan songstress Candice McLeod has been hugely helpful in mailing out copies to the folks who filled out envelopes and paid cash while we were in Australia––a job further complicated by the fact that the book got bigger than I originally anticipated and now won't fit in the original envelopes! If you're among that lot, yours should be en route to you. If you're in the second lot of Aussie orders (that is, if you ordered online), I'll be signing and sending out those real soon. If you preordered from the US and your album hasn't arrived yet, it's most likely in a big box headed to Michigan, where my dear friend Mo will be getting them stamped at the local post office. If you're in the Edmonton area and I haven't made it to you by bike yet, I'm coming! And if you're elsewhere in Canada, or elsewhere in the world, I'm working my way through the rest of the orders, and you should be seeing it soon! I ran into a big issue with single CDs in Canada––they were supposed to be around $5 to mail, but have ended up being $15 or so, thanks to just barely exceeding the 20mm thickness limit for lettermail (despite assurances to the contrary from my manufacturer). I tried my best to find some way around it, shaking my head at absurdities like it being cheaper to mail a CD to Taipei than to Toronto (or cheaper to mail a CD to Canada from the US than from within Canada!), but I've finally decided to just suck it up and send 'em out via the limousine service that is Expresspost. You should be seeing them soon. 
My sincere apologies go out to the kind folks who preordered ages ago, and have had to wait much longer than either of us expected. I mean, they were supposed to be PRE-orders! For what it's worth, you putting your money down in advance provided the much-needed ballast of belief that carried this thing to completion in these turbulent times. I really don't know if I would've made it without you. Additionally, for those who ordered single CD packages in Canada, you got in before I raised my postage rates to reflect the current reality! But as a further token of thanks, I'll be sending out a waltz from the sessions that didn't make the album, exclusively to the folks who pre-ordered. It's called "The One Who Stays," and I sure hope it tickles your eardrums. 
For those who ordered vinyl, as you may or may not have noticed, there's a sticker inside the back cover of the book with a download code from Bandcamp. Everyone who ordered through my website should've also gotten a download code from Bandzoogle on the release date, but if yours has expired, or if you're an audiophile who prefers WAV (or any other lossless format) rather than MP3, just drop me a line and I'll send you a Bandcamp download code. All the downloads include a digital version of the album booklet, but I'll certainly understand if you'd rather curl up with a hardcover book than a 240-page PDF, and opt to wait for the physical thing to land in your mailbox. 
If you've already received yours, I'm really curious to know what kind of shape it arrived in. I've been trying out various packaging options, and am somewhat torn between making less waste and making sure everybody's albums arrive unbruised. If you don't mind dropping me a line to tell me how yours was packed, and how it fared (particularly around the spine), I'd be very grateful for the information. And I'd be glad to replace anything that had too rough a ride, just let me know! 
I'm stoked to report that Tangle of Souls is sitting at #1 on the charts for CKUA (our Alberta-wide community radio network), and by all indications it's gonna stay there another week! CKUA has been hugely helpful to me over the course of my career, but I've never hit the top spot before, and it's really exciting. 
I also had a nice on-air chat with Grant Stovel about the album, which you can hear here if you're interested! 
By now, the album should be available on most college, community, and public radio stations around North America and Europe, so please do call in and request a song if you're so inclined! And if there's a station in Australia or New Zealand that you think should have it, please do let me know, as I'm my own publicist down there this time around. 
Reviews have been coming in as well, and I was particularly honoured and humbled by this five-star review in our local paper by Fish Griwkowsky: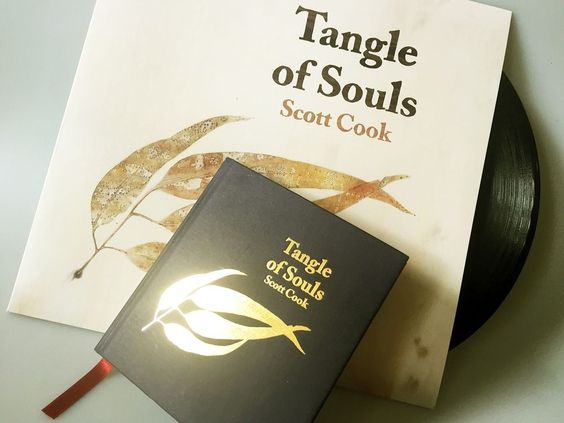 "Opening with a fiddle-driven two-stepper, Scott Cook's seventh 'love letter' to the world is all strings and beauty, a 12-song agnostic endorsement of love over fear. 
Cook's marvellous book, song by song, leads into wonderful, captivating ideas and places, including the fact that he almost killed himself after 20 years drinking, wondering why he was so bent on self-destruction when, really, he had everything going for him a person could ask... As an experienced addict Cook recognizes how much our civilization is acting exactly like one: full of denial and desperate, bad-logic negotiation for just one more fix with a lot of yelling about minding your own business when, in fact, we're all undeniably connected in the business of humanity. 
But, magically, Cook chooses healthy skepticism over accusatory cynicism — asking us to think about who most benefits if we, on these lower decks together, can't even manage to get along. 
Which brings us back to the music, and the point of the song Say Can You See: the most directly activist song he says he's ever written, yet it doesn't condemn, it summons to one fire... Of Cook's many records, this one most reminds me of Steve Earle's masterpiece El Corazon, where the sad, slow songs — and there are many here — dig deepest... Cook's albums are always thoughtful, moral without overly moralizing, and usually pretty funny at a moment or two. That happens here and there some, to be sure, but I would say of all his records this one simply feels the best, the most earthen somehow, down to the lovely instrumental Right to Roam at the end, which in the book talks about people with no permanent address — but without words feels like a natural kind of freedom, too, like a few days at North Country Fair. 
So while I'm throwing the book on the shelf with Marcus Aurelius and Susan Sontag, the record goes on the turntable again." 
As always, though, the best publicist I've got is the ol' grapevine! Sing the songs if they move you. And tell your friends about the album if you think they'll enjoy it. I want nothing more than to find good homes for these things. 
Big love from here to wherever you are, your fan, 
s