Hey legends, 
I'm gonna try and keep it short this month. Let's see how I go! 
First, our Indoorables Holiday Variety Show's going out this coming Saturday, December 19th at 4:30 Mountain Time, which makes 5:30 in Winnipeg and Wisconsin, 6:30 in Toronto and Terre Haute, and 11:30pm for our friends in Glasgow and Glastonbury. For our friends on the other side of the world, it'll already be Sunday––7:30am in Taipei, 10:30 in Canberra, and half past noon in Wellington. It's impossible to pick a time that lines up just right for everybody, but we'll be doing some differently-timed things in the new year for folks who wanna tune in around the world. 
It's a full-on variety show this month, with guest appearances by our Riverdale neighbour Rocky, Toronto wordsmith David Newberry, Aussie songbird Melanie Horsnell calling in from Candelo, New South Wales, and a word with an as-yet-unannounced fellow troubadour hibernating in Hamilton. It's gonna be a show to remember. You can tune in on either of my Facebook pages, or my Youtube channel, through this link. If you're on Facebook, we'd sure appreciate you sharing the event.  Tell a friend! Start a watch party! And be sure to say hi in the comments.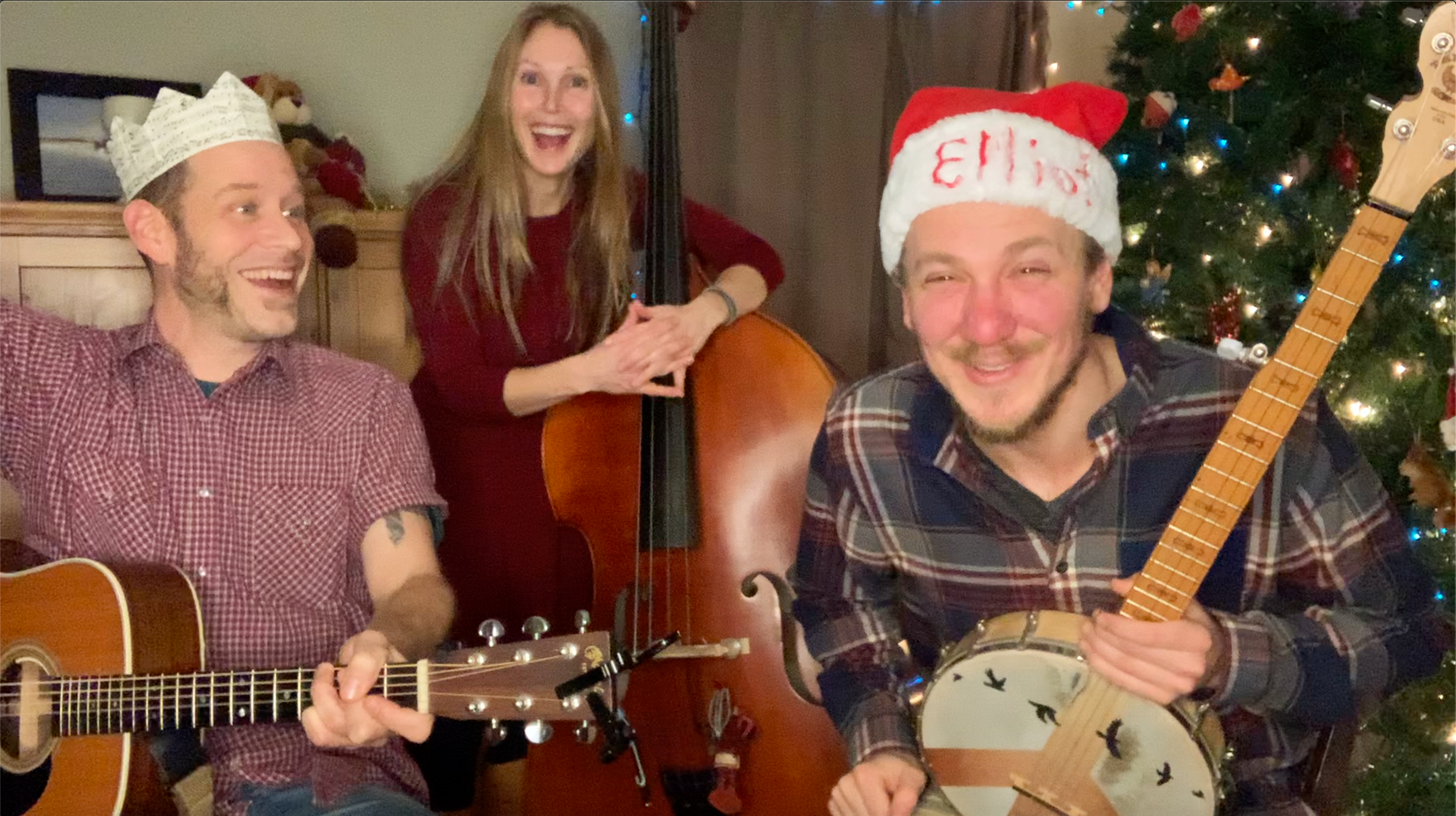 While this show'll be broadcast from around the Christmas tree, my next few online appearances will be coming from my study.  As many of you readers know, I made my home in a series of minivans for thirteen years. I named different areas according to their function: the tailgate was the kitchen and bar, the back was the bedroom, and the front seats were the office, with the dashboard as my desk. Since moving into an actual house with Pamela early this year, I've been luxuriating in having whole actual rooms set aside for these purposes. There was an even an extra bedroom upstairs that we designated my office. It felt kinda office-y, with white walls and white light, and it soon attracted the sort of office clutter that used to occupy my dashboard and annoy my passengers. It was functional, but certainly no place to broadcast a cozy livestream from. So about a week ago I painted it the same muted peachy-golden hue that covers the walls of our music room, hung up a picture, and even welcomed one of Pamela's hardier houseplants to the scene. Now it's too way pretty to be called an office. Henceforth, this snug room wherefrom I type this very Travelogue shall be known as the study. And these shall be the Study Shows: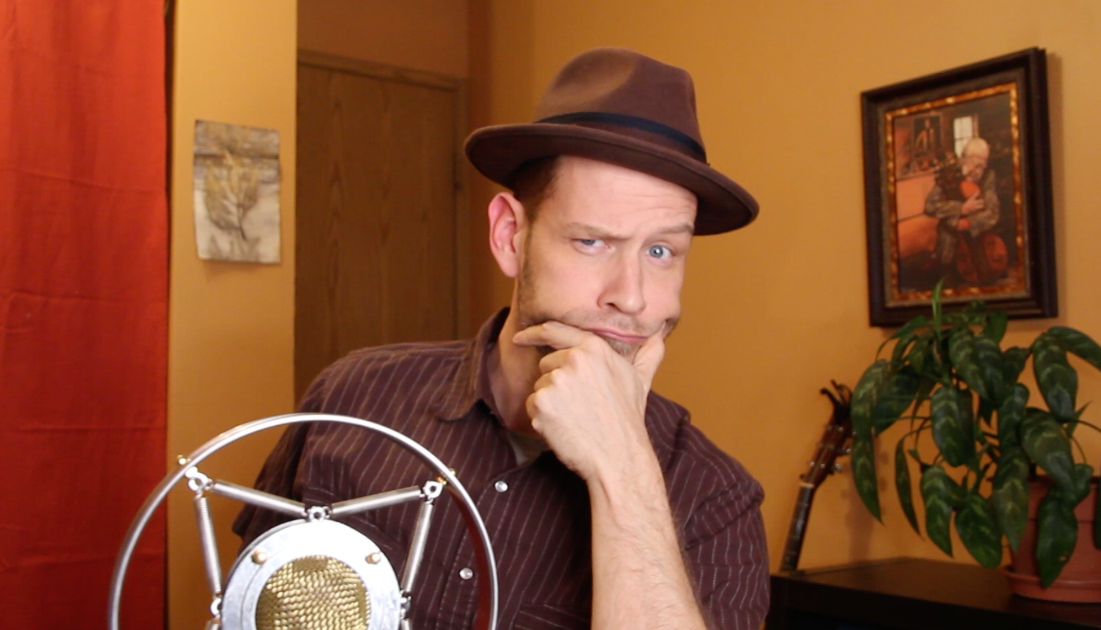 Thursday Dec 31 at 7:30pm Mountain Standard Time I'm appearing on Black Oak Artists' all-day New Year's Eve show, Coronathon 4: Bye Bye 2020! Music runs from 3pm-3am Eastern Time on their FB page, and I'm sandwiched in right between Ben de la Cour and Kora Feder, both of whom you should really check out. Come on over for Ben's show at 7pm MST/9 Eastern to see just how handsome a folksinger can be, and stick around for Kora afterward to hear just how brilliant these young wordsmiths can get these days ;) 
Tuesday Jan 5 at 8pm Mountain Time (which is 2pm Wednesday in New South Wales), I'll be swapping songs with my Aussie songwriter pal Melanie Horsnell for her Date Nights series. She's a brilliant songwriter and a great hang too. You can get an inkling on our variety show, but I reckon you'll want a full dose. 
Sunday Jan 10th I'll be singing a few songs for the Don Heights Unitarian Congregation in Toronto, who are meeting on Zoom. The speaker that week will be Paul Taylor, the CEO of FoodShare, a food activist, educator and really interesting guy. If you live in North Toronto, and/or are curious about Unitarianism (which is about as friendly a religion as you'll find anywhere), go by their website and sign up to attend. 
Aaand Tuesday, Feb 2nd, I'll be doing a Home Routes Zoom concert alongside my pals, mentors and inspirations Corin Raymond and Jonathan Byrd! It's an idea I've been thinking about since the beginning of the pandemic, and I'm so excited that it's finally coming together. It's the dream team stream. We're calling it The Stay-at-Home Troubadour Revue, and tickets are on sale starting TOMORROW right here! These Zoom shows are really special, 'cause we can actually see the audience, and the Home Routes crew are excellent hosts. It feels cozier and more interactive, more like a house concert than a broadcast. And swapping songs in the round with these two gents is pretty much my dream festival workshop.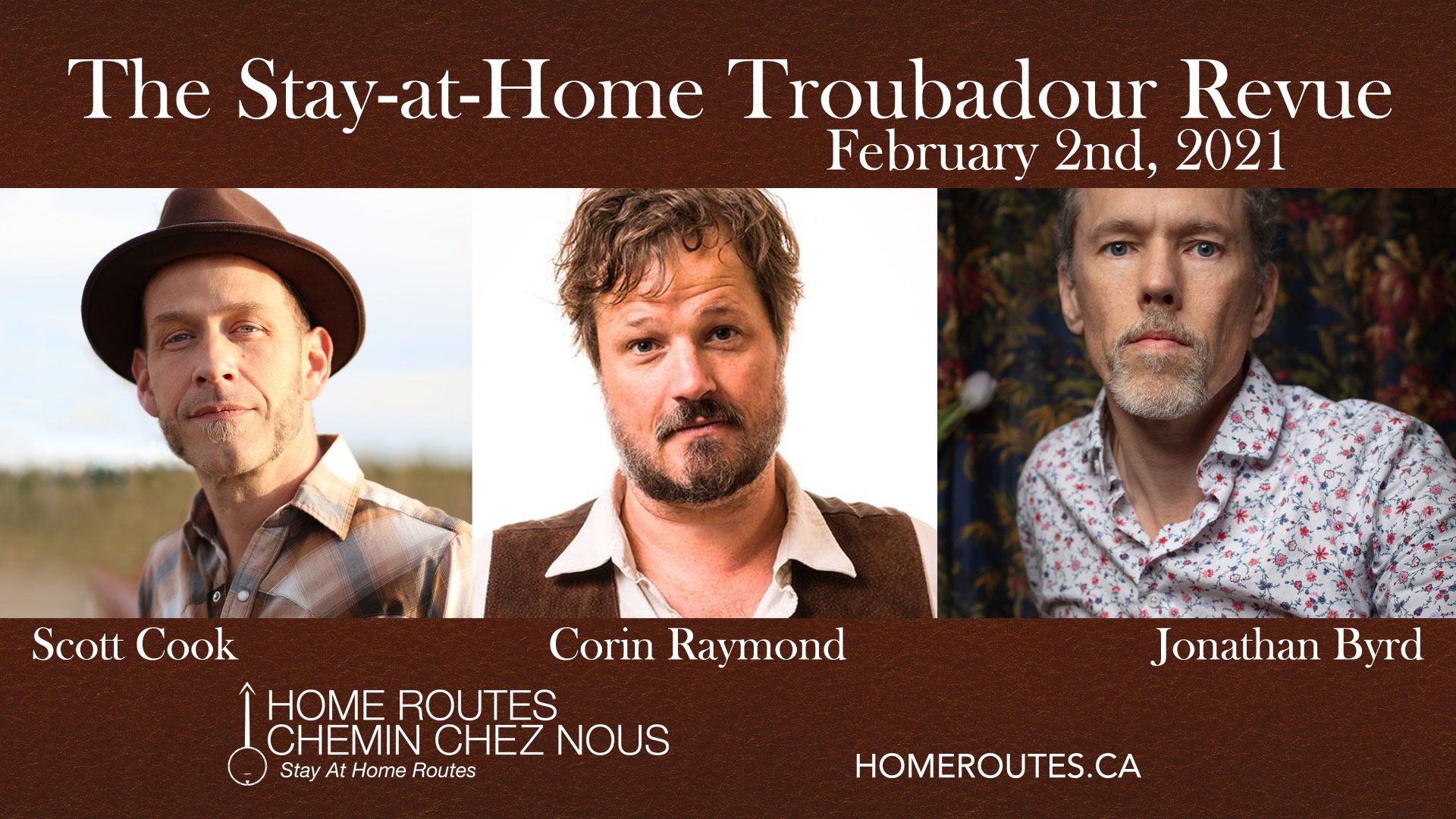 Jonathan Byrd's an old hand in the streaming game, having gotten into it with his weekly Shake Sugaree Residency from the Kraken outside Chapel Hill, NC way back before the pandemic, and he's still broadcasting a three-hour livestream every Wednesday, one of the best shows on the internet. Corin Raymond's a technological neophyte, but he's arriving in style, not only on the livestreams but also on Patreon, where he's offering his fans a peek inside his songwriting process, a window into his voracious reading, and a general inside track on all things C-Ray. I must admit, it's the first Patreon I've signed up to support. If it sounds like something you'd be into, come join me. 
Huge thanks, as always, to the kind folks ordering Tangle of Souls, and especially those who bought extra copies to spread the songs around.  I'm happy to offer bulk deals to grapevine-rustlers, just drop me a line!  Thanks also to Donald Teplyske for the indepth review in his blog Fervor Coulee, saying "Tangle of Souls is replete with intense, well-constructed songs that connect on personal and universal levels...  Cook's writing—like his songs, confessional, reflection, recrimination, and call to arms in equal measure—is thought-provoking and hopeful; one appreciates that he has lived his life—scars and bruises, falls and celebrations, joys and elations—as he has deemed necessary: not all of us have elected his path, but reading his words, we become transfixed vicariously...  Scott Cook is now firmly positioned on my favourites shelf."  Shouts out also to Nick Burbridge for his four-star review in RnR Magazine: "his heart, as they say, is entirely in the right place, and it is a constant pleasure to hear him 'meet his doubts every day' while he avers that we 'need a revolutionary change in the way our societies are structured.'  His songs and tunes are equally genuine and affecting.  Sometimes to be most fully human is to be exposed exactly in this way."  Since several folks have asked whether I still have copies left, I have thousands, and I stand ready to mail and ship to anywhere in the world from my store. 
One last thing before I go: at the end of last month's show, we premiered a movie about everyone's favourite Indoorable Foxy. It was my movie-making debut, and by all reports, it brought a lot of people a lot of joy. In case you missed it, here's five minutes of cinematic glory you'll wonder how you lived without. 
As always, thanks for reading, and for sticking with me during these strange days. It means a lot. It's gonna be a weird Christmas, no doubt, but I hope you can connect with some of the folks you miss (my family'll be playing games on Zoom), take joy in the little things, remember how good we really do have it, and look forward to the campfire singalongs out there on the horizon. 
Love and luck from our house to yours, 
s