Big hearts, 
It's high time I wrote you a letter. Last you heard from me, the Second Chances and I were just about to dive back into the shows after getting COVID derailed a bunch of our tour dates. Well, we made it all the way out to the Connecticut coast (more on all that later!) and back to Saskatchewan where I reunited with Pamela and headed up to Ness Creek for bluegrass camp. We had a great week of professional development and played the Northern Lights Bluegrass and Old Tyme Festival over the weekend––my first-ever bluegrass fest booking––with accompaniment from our housemate Elliot Thomas and Aussie pal Justin Vilchez, shown here crowded into the van for a jam: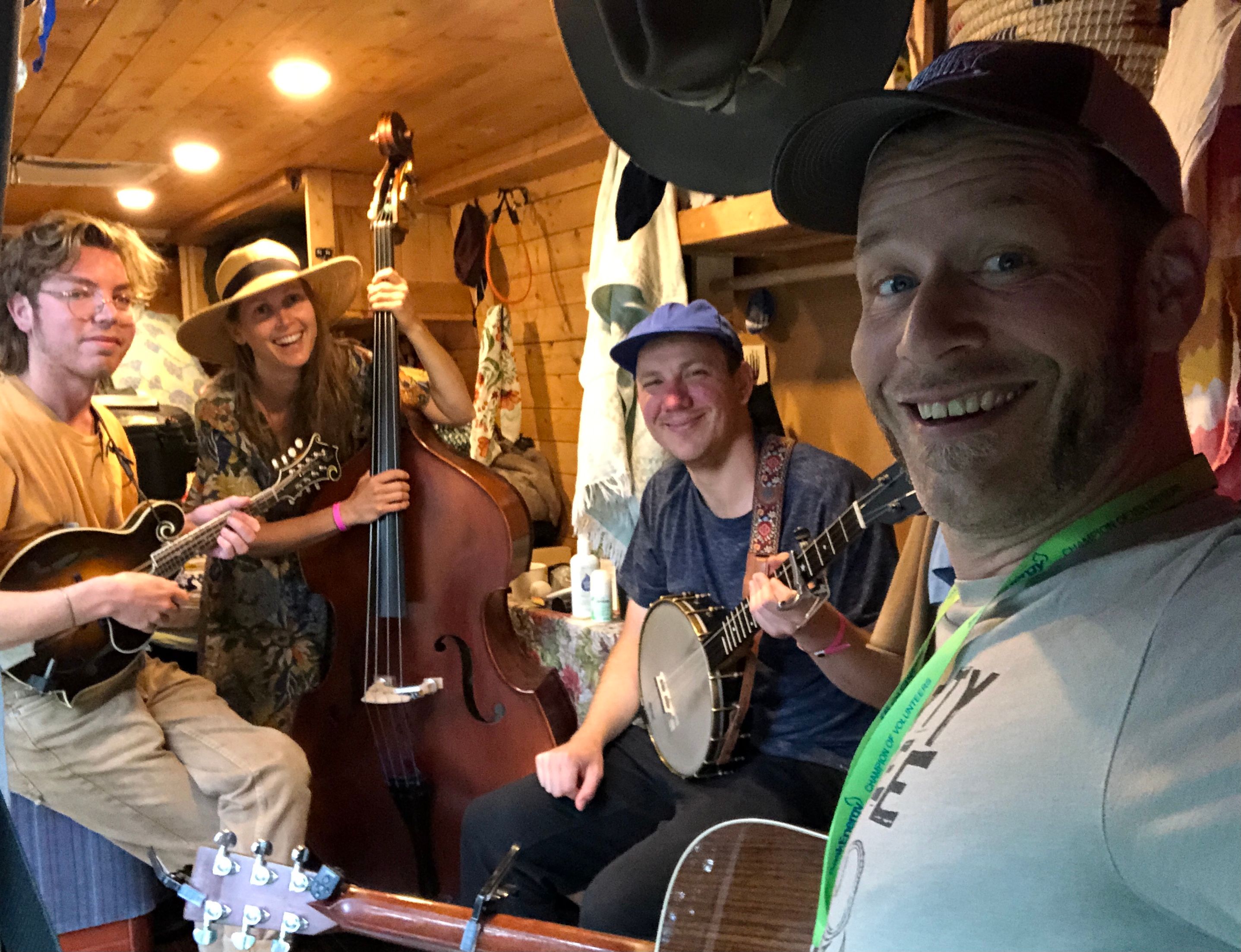 Pamela and Elliot got free camp tuition for the week 'cause the festival sponsored an online songwriting contest the year before, and Pamela's song won! Those two also accompanied a Saskatchewan-based crankie theater group's fireside presentation of a giant crankie they'd made during the week, telling stories of the land and camp with unscrolling painted images, music and shadow puppetry, like a picture show from before movies were invented.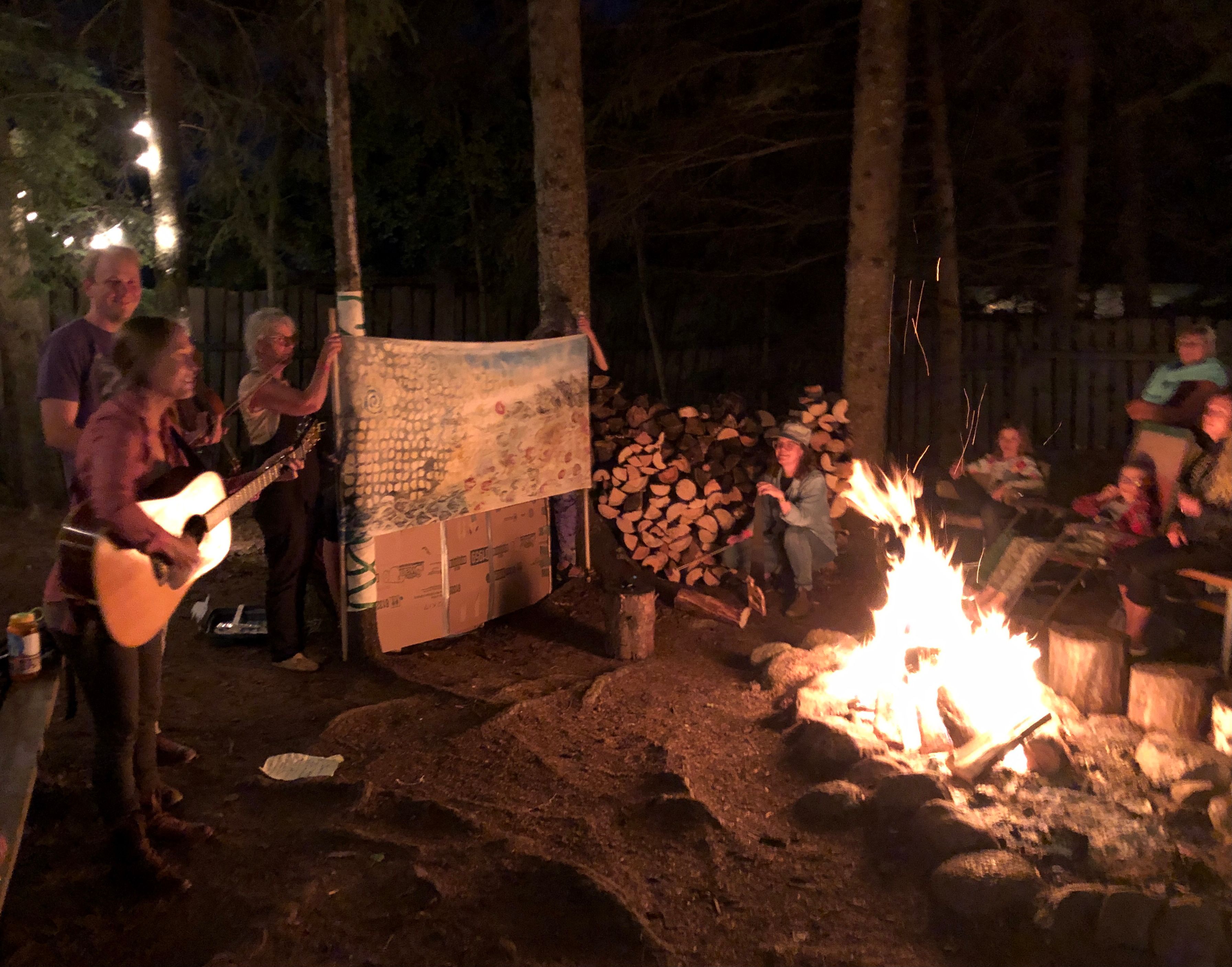 After the fest we had a full week at home, visiting a few friends, renovating Roadetta and tying up loose ends before hitting the trail again. We're currently parked in Penticton to visit Pamela's daughter for a few days before we start heading eastward, alighting first among sorely-missed pals at the Tiny Lights Festival in the Kootenays and on across the continent from there. We're making stops all over the shop, but there are still some pretty big gaps in the schedule, and I personally think it'd be a shame to pass through big swathes of the country without singing songs for the folks along the way who'd like to hear them! We're self-contained, house-trained, and carrying our own PA, so if you've got a yard or space we can sing in, drop a line to scottcooksongs@gmail.com and hopefully we can play in your town.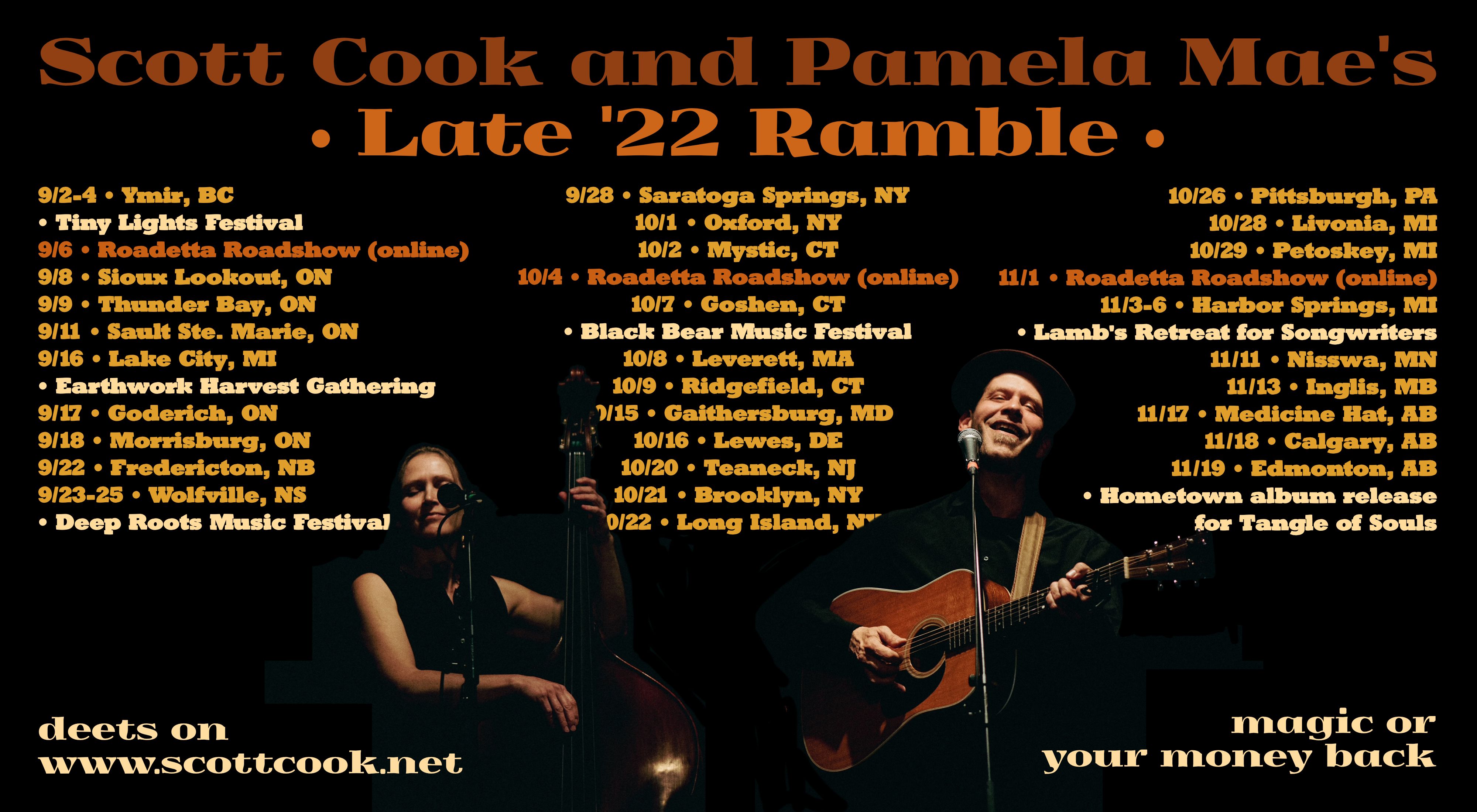 Fri-Sun Sep 2-4 • Ymir, BC • Tiny Lights Festival 
Tue Sep 6 • ONLINE • Roadetta Roadshow Season 2 Episode 1 
Wed Sep 7 • anywhere in MB we should play? 
Thu Sep 8 • Sioux Lookout, ON • TBC 
Fri Sep 9 • Thunder Bay, ON • yard concert 
Sun Sep 11 • Sault Ste. Marie, ON • backyard concert 
Fri Sep 16 • Lake City, MI • Earthwork Harvest Gathering 
Sat Sep 17 • Goderich, ON • Changing Gears Adventures yard concert 
Sun Sep 18 • Morrisburg, ON • StoneCropAcres Winery 
Mon-Tue Sep 19-20 • anywhere in QC we should play? 
Thu Sep 22 • Fredericton, NB • Music Runs Through It concert 
Fri-Sun Sep 23-25 • Wolfville, NS • Deep Roots Music Festival 
Wed Sep 28 • Saratoga Springs, NY • Caffe Lena w/ Peter Muller 
Sat Oct 1 • Oxford, NY • Six on the Square 
Sun Oct 2 • Mystic, CT • yard concert 
Tue Oct 4 • ONLINE • Roadetta Roadshow Season 2 Episode 2 
Fri Oct 7 • Goshen, CT • Black Bear Music Festival 
Sat Oct 8 • Leverett, MA • Mt. Toby Concerts for Social Change 
Sun Oct 9 • Ridgefield, CT • Acoustic Celebration 
Sat Oct 15 • Gaithersburg, MD • FOCUS Music concert 
Sun Oct 16 • Lewes, DE • The Listening Booth 
Thu Oct 20 • Teaneck, NJ • Ethical Brew 
Fri Oct 21 • Brooklyn, NY • Voices in the Heights 
Sat Oct 22 • Commack, NY • Shine Sessions house concert 
Wed Oct 26 • Pittsburgh (Allison Park), PA • The Red Barn 
Thu Oct 27 • anywhere in OH we should play? 
Fri Oct 28 • Livonia, MI • Trinity House Theatre 
Sat Oct 29 • Petoskey, MI • Blissfest artist round at Crooked Tree Arts Center 
Tue Nov 1 • ONLINE • Roadetta Roadshow Season 2 Episode 3 
Thu-Sun Nov 3-6 • Harbor Springs, MI • Lamb's Retreat for Songwriters 
Fri Nov 11 • Nisswa, MN • Grassroots Concert Series 
Sat Nov 12 • anywhere in Southern MB we should play? 
Sun Nov 13 • Inglis, MB • Roots at Rusty's 
Thu Nov 17 • Medicine Hat, AB • Redcliff Legion w/ the Second Chances 
Fri Nov 18 • Calgary, AB • Gallery House Concerts w/ the Second Chances 
Sat Nov 19 • Edmonton, AB • Northern Lights Folk Club w/ the Second Chances 
Sun Nov 20 • anywhere near Edmonton we should finish out the weekend? 
As always, all the details about those dates and all the confirmed dates to come can be found on www.scottcook.net. And of course, if you know anybody in the places we're going, we'd sure love to meet them. 
Roadetta Roadshows return! 
Since a bunch of you have asked (and as astute observers of the above list will already know), we're gonna do a few Roadetta Roadshows along this ramble as well. Every Tuesday was a bit much for us with all the other stuff the road entails, so we've decided to cut it down to once a month, on the first Tuesday of every month. That'll mean the first episode's going out Tuesday, September 6 just before 6pm Mountain Time (find your time zone here) on my Facebook page or on YouTube here. We'll be joined by our pals Cary and Celeste Morin, who we met at our first US gig this year and have crossed paths with a bunch of times since, and they're gonna knock your socks off. 
We go live at 5 minutes before the hour to give folks a chance to say howdy before the show starts. All the comments go to the same place, so don't be shy, we'd love to hear from you.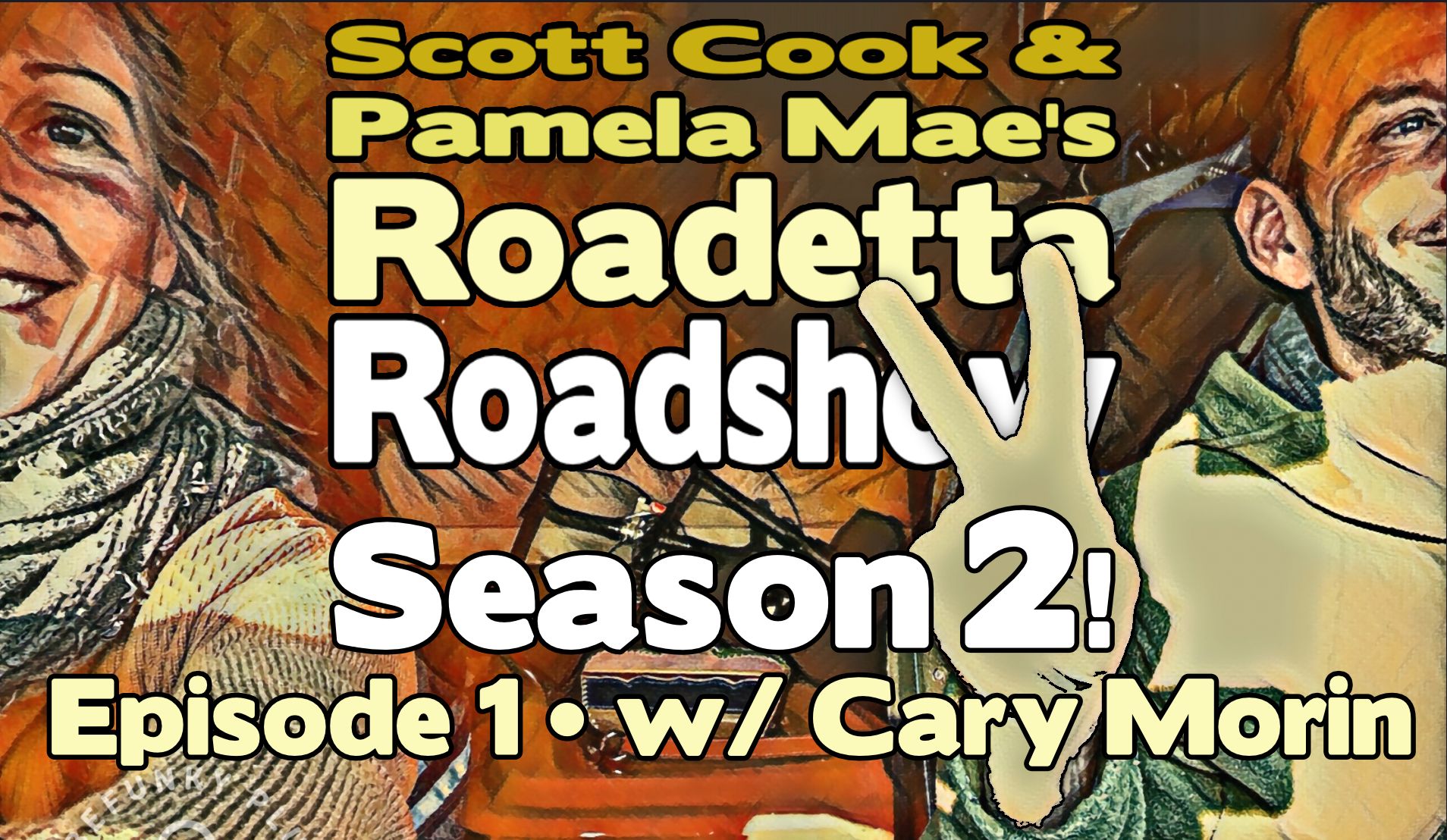 It's been wonderful to get out into the world again this year, and to finally hand-deliver Tangle of Souls to so many people. The book means a lot to me, and I've been hearing from a lot of folks how much it's meant to them and their loved ones. Amazingly, after ordering five thousand copies, I'm actually down to my last 1500, which means I'll be ordering more before the year's out. When I rented a trailer to pick up those two pallets (2344 pounds, to be exact!) of Tangle of Souls from a loading dock in Edmonton, I really felt like I would never see the end of 'em, imagining how they'd build my coffin out of the leftovers. My deepest gratitude goes out to all who've ordered or bought in person so far. If you still haven't got a copy, there are books with CDs, books with vinyl, or books with download codes all available on www.scottcook.net/store. 
Another summer in the rearview 
It was a dream come true to take the Second Chances to Michigan for the first time, with stops in tiny Nahma, where two local heroes resurrected a hundred-year-old inn, and the town with it; at Smiling Acres Music Festival, where we got to see a fest in its infancy already building tradition; in Buchanan, where we got to play a beautiful, years-in-the-making, big-tent yard concert for a couple I chanced to meet when I played Jonathan Byrd's weekly residency at a roadhouse in North Carolina back in 2018; at The Ark in Ann Arbor, where we opened for revolutionary songstress Carsie Blanton and her band, who made instant new fans out of Melissa and Bram; and at Blissfest, an utterly wonderful festival in its 40th year, where we got to witness the power of decades of effort and belief by a motley group of visionaries and volunteers. 
Everything about Blissfest is amazing, but the band was especially tickled by the forest, where small stages, workshop spaces and a drum kiva are set on winding paths through the woods. You don't grow that kind of thing overnight. Seth Bernard closed the fest on Sunday with what felt like an extended celebration of intergenerational love and learning.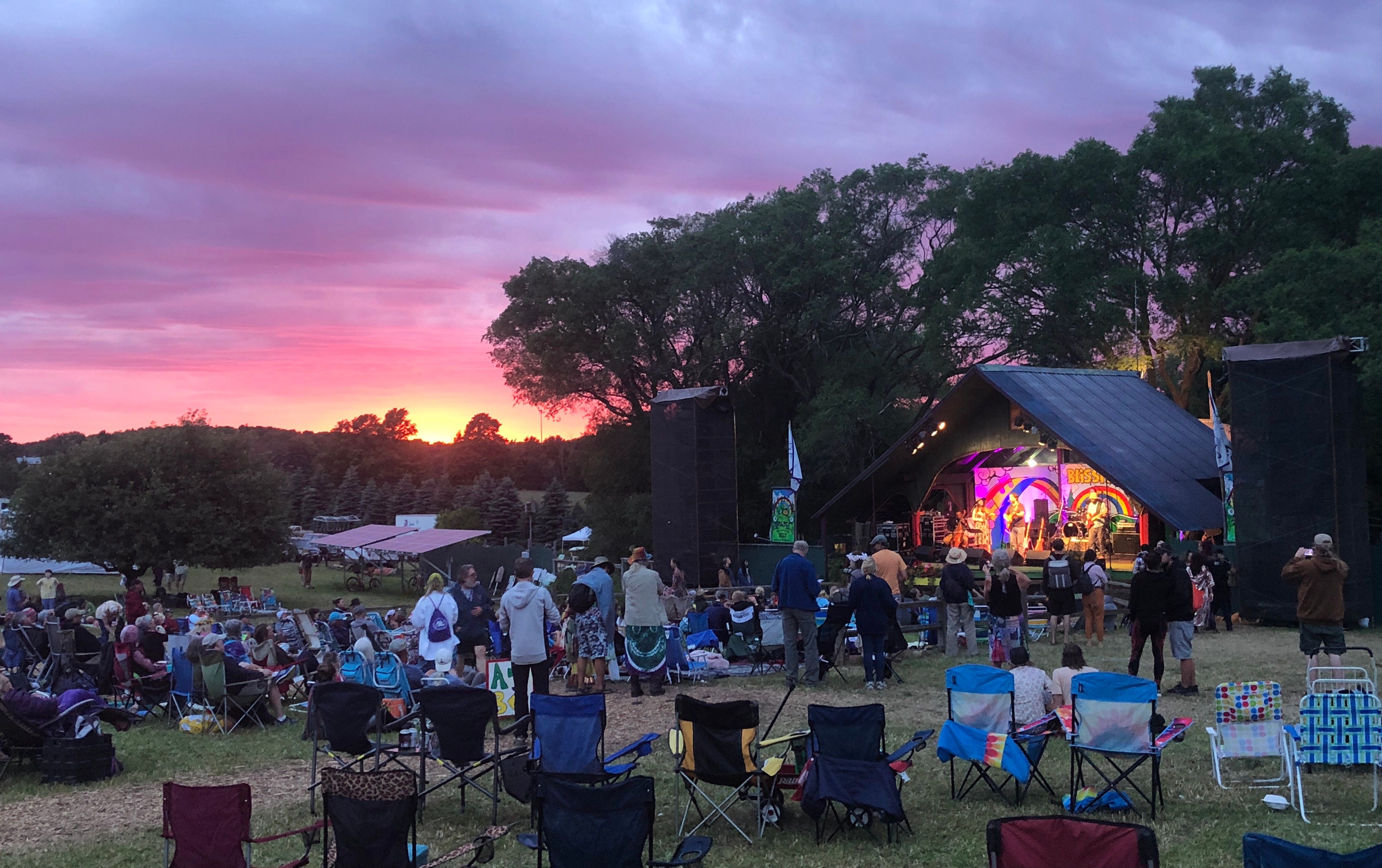 We also got to stop by the Cook family farm to see where my Dad grew up, the house my great-grandad built, and the staggering amount of junk my grandpa collected over the course of his life. We even stopped in at Cook's Hardware in Pellston, Michigan to introduce my bandmates to my uncle and cousin. As usual, they were busy finding ways to fix people's problems without selling them stuff. That's a funny way to run a business, but truly, what they're running is more like a community hub than a business at all. The coffee's always on, and folks hang out for hours, chewing the fat about mechanical fixes, pest control, local goings-on, and whatever else. 
Emmet County's Trump country, no question about it, and my uncle makes no secret of his support. But he's a big-hearted man, funny, generous to a fault, and he'd help out anybody who walked through that door, same as my grandpa would. 
Walking around Blissfest with my cousin, who knows the locals, he confirmed my suspicion that there were plenty of Trump voters there too. And to me, that's the most beautiful thing of all. Singing my songs for liberals in cities just doesn't feel quite as important as singing them in Emmet County. 
We crossed into Ontario from there, where we played a couple sweet shows in Toronto: a big Tuesday love-in of a reunion at the Cameron House, where I've played many Tuesdays in the past, and a return to Westfalia Way, a charming back-alley concert in Midtown. We also played shows in Harcourt Park (a private cottage community up north), at Bram's folks' place in St. Catharines, on a front porch in Georgetown, and at the lovely Stewart Park Festival in Perth, before Bram flew back to Alberta to play Calgary Folk Fest with D'Orjay. Melissa and I went on as a duo, with stops at the K-W Little Theatre in Kitchener, a Unitarian church in Pennsylvania, and a Mexican restaurant in Connecticut. We made a bunch of new friends out that way, and really felt the hug that the music community can be, when folks we'd only met through songs extended a welcome to us across the miles that was even sweeter in real life. 
Two of our new friends are a progressive queer couple living out in the country, with a big "thin blue line" flag flying on the lawn of the house across the street. Their neighbours came to the concert, and they check on our friends' place while they're away. That people from different ideological backgrounds can build good relationships makes me hopeful. I'd encourage my fellow Americans to check out their local Braver Angels group if they're similarly interested in reaching across the lines of the culture war. 
As my friend Mark Bilko said to me in an email recently, "Keep loving everyone, that's the only way we'll get through it all." I reckon he's right. We've met some very different characters along way this year but whenever I took the time, I've found reason to love each one. 
Our last stop out east was Falcon Ridge Folk Fest in Connecticut, where I'd played an Emerging Artist spot back in 2019 when the fest was still in Hillsdale, New York. It was great to return and play the main stage with my trio, and see a bunch of folks take Tangle of Souls home. 
We drove straight to Chicago from there for a sweet stop at Hey Nonny!, and then onward to Wisconsin for a fest called Mile of Music that really blew our minds. There must have been 150 acts there, on maybe 30 different stages all along or around a mile-long stretch in the centre of town. They put up all the bands in the Hilton in the middle of it, fed us and offered a range of free health services that musicians––and especially Americans––don't often get. The craziest thing is that the fest's free to attend, and there was a crowd everywhere we went. It's a party scene, but they also have a substantial amount of dedicated listening venues, and we sold a shocking amount of albums––sold right out of the Tangle of Souls we'd brought, even down to my beat-up display copy.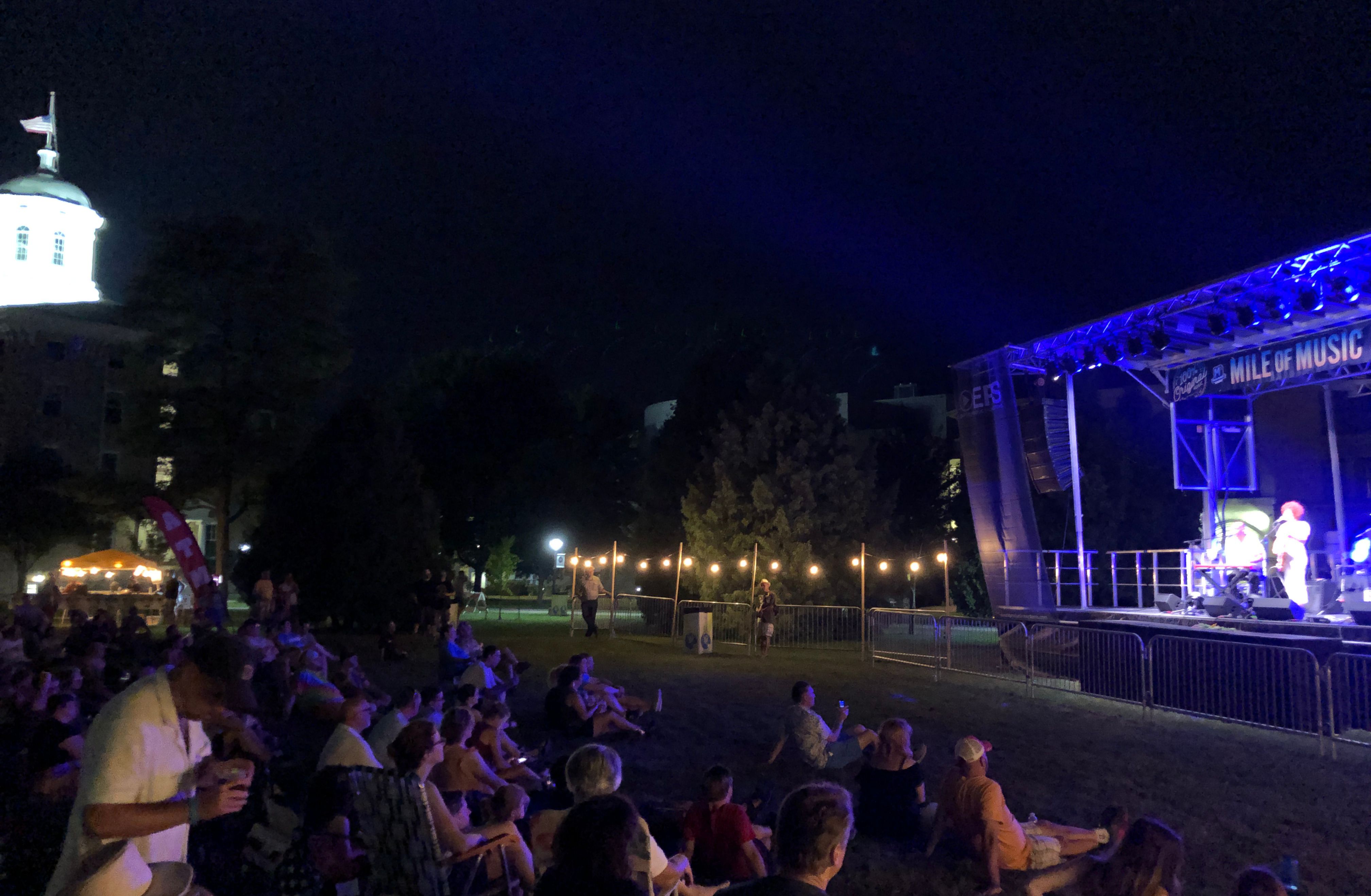 Carsie Blanton and her band killing it on one of the bigger stages at Mile of Music 
After a really heartwarming barn show at Sun Dog Farms in Maple Plain, MN the next day, we crossed back into Canada and played our last show of the trio tour at the Sunset Saloon in Winnipeg, MB. Our host Jeff Robson (of the radio show Tell The Band to Go Home on CJUM) did us the favour of shooting a little video of my June Patreon song, "Somewhere Out the Back of Nowhere":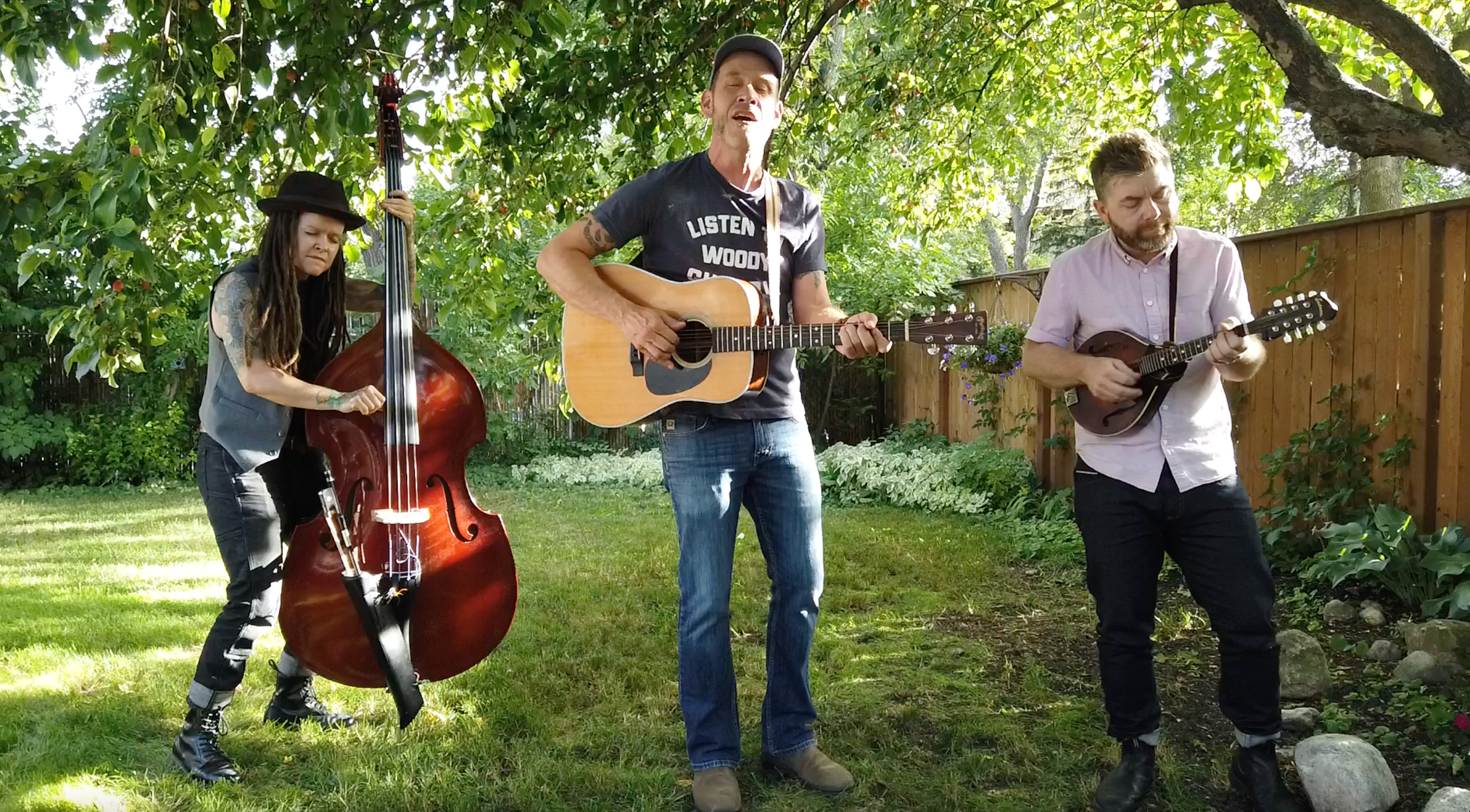 "Somewhere Out the Back of Nowhere" 
New songs on Patreon! 
Speaking of Patreon, I've been writing a song every month for release over there, and it's been a really beautiful way to connect with folks and keep my creativity bubbling. If you don't already know about it, it's a subscription-based platform, where you can sponsor me to keep creating at whatever price feels right for you, and I share my new songs as they're written, as well as opening up periodic opportunities to connect on Zoom for hangouts, workshops, song circles, and whatever else my patrons ("fellow travellers", as I call them) suggest. There are currently 132 souls on board, plus 14 more over on my website, where I've mirrored all the content in a subscribers-only page for folks who'd prefer to cut out the middleman. I've released 13 songs so far, including a new one yesterday, a rewrite of Stephen Foster's Great American Songbook classic "Hard Times Come Again No More". 
If I don't have a new song by month's end, I pause the payment, which has proven so far to be a remarkably persuasive way of getting myself to write. If you wanna join us, head over to www.patreon.com/scottcooksongs and get on board! 
Plans for down under! 
One last bit of news that I'm super excited to share with my friends down under is that I'm finally returning in the new year! I'll be playing a twice-postponed, sure-to-be-amazing tour of rural Victoria that kicks off at the Port Fairy Folk Festival! I can't add any other shows, but I sure do hope to see a bunch of friends along the way. 
Speaking of Australia, my pals Trish and Tom sent me this picture just the other day. Snow down there's a strange sight for me, but I was elated to see my trusty campervan Skippy still on the road! Who knows, I may even get to take him for a spin while I'm over there.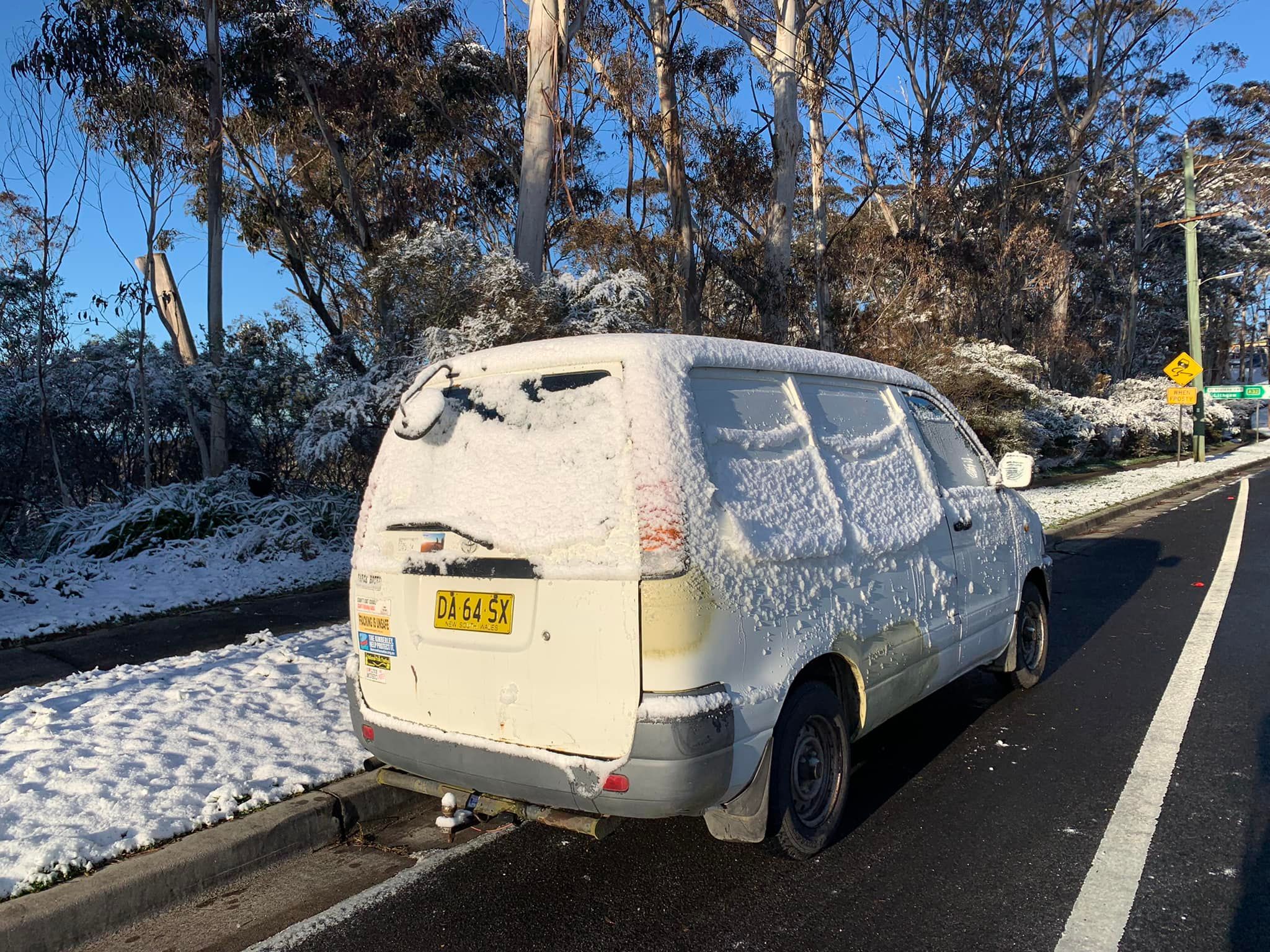 I'm also pleased to report that I'm working on a tour of Aotearoa (aka New Zealand) for February, and will let you know the rough outlines as soon as it's confirmed. 
I'm continuing to buy carbon offsets for twice the emissions of my tours, and encourage my fellow artists, and anyone who runs a company of any kind, to do the same. We all know that things aren't valued properly in the system we've built, and most troublingly, businesses continue to get away with externalizing real costs to the environment and communities, by underpaying employees who then must rely on public assistance, and by not paying for the pollution they create. I realize it's complicated, but first steps are surprisingly easy. Organizations like MyClimate.org are a good place to start. I'm also continuing to give at least 10% of my profits to some of the world's most effective charities, and dreaming of a world where effective and significant giving by companies and individuals becomes a cultural norm. Giving What We Can is a good place to start with that. 
As always, a very small percentage of humanity are working tirelessly to create the oppressive, hierarchical world they want. It's up to the rest of us to create the world we want. 
Thanks as always for reading, and I'm sending my love to you wherever you are. Hope to hear from you in the show on Tuesday, and hope to see some of you in the flesh real soon. 
Keep dreaming, 
s