Hey pals, 
I hope this finds you smiling, and this new year's treating you well so far. I've got my eye out for small victories these days, maybe more than ever, and I'm counting my blessings every day. I live with Pamela, in a house! We're well fed, and well-friended, even if we don't get to see them much in person lately. The sun's coming up earlier each day. Our lazy old hound still jumps up like a puppy when it's time for a walk. Stacey Abrams' and other folks' organizing work turned Georgia blue and flipped the US Senate. And scary as it was, the violence in Washington really wasn't as bad as I'd feared it might be. 
No doubt, everything could be better, and I'm gonna do what I can to make it better, like writing our provincial Environment and Energy Ministers just now, starting work on a song, and thinking of any other creative ways I can help oppose the opening of Alberta's Eastern Slopes to mountaintop-removal coal mining. But undeniably, everything could also be much worse. I met today––Martin Luther King Jr. Day, as it happens––on my yoga mat, listening to the Dr.'s speech "Beyond Vietnam," preached exactly a year before he was shot, and thinking how so much of what he said is still central to our struggle. He was murdered for speaking the truth. They put his name on a day so we wouldn't forget. There's another small victory. 
If you haven't heard it, you can read or listen to the speech here, and it's well worth your time. 
Pamela and Elliot are both over-employed and studying at the same time nowadays, so they're taking a break from learning new material this month, and I'll be doing the monthly show from my study. I've got illustrious company in any case: I'll be joined by two of the finest songwriters I've crossed paths with in all my years of rambling. Flash flat-picker, poet, photographer and livestreamer-long-before-it-was-cool Jonathan Byrd will be joining us from his home outside Chapel Hill, North Carolina. And the guy who made my hands-down favourite record of 2020, Justin Farren will be joining us from the house he built with his own hands in Sacramento, California. These two fellas are hella inspiring, and I can't tell you how excited I am for this show. We've also got our Riverdale Community League president Danny Hoyt coming on to talk a bit about community-building, something I've been thinking about a lot since I found myself living in such a sweet one. Showtime's 4:30 here in Alberta, which makes 6:30 in Ottawa, 11:30pm in London, 10:30am Sunday in Canberra, and half past noon in Wellington. You can tune in on either of my Facebook pages, on my YouTube channel, or right on the front page of www.scottcook.net, just scroll down!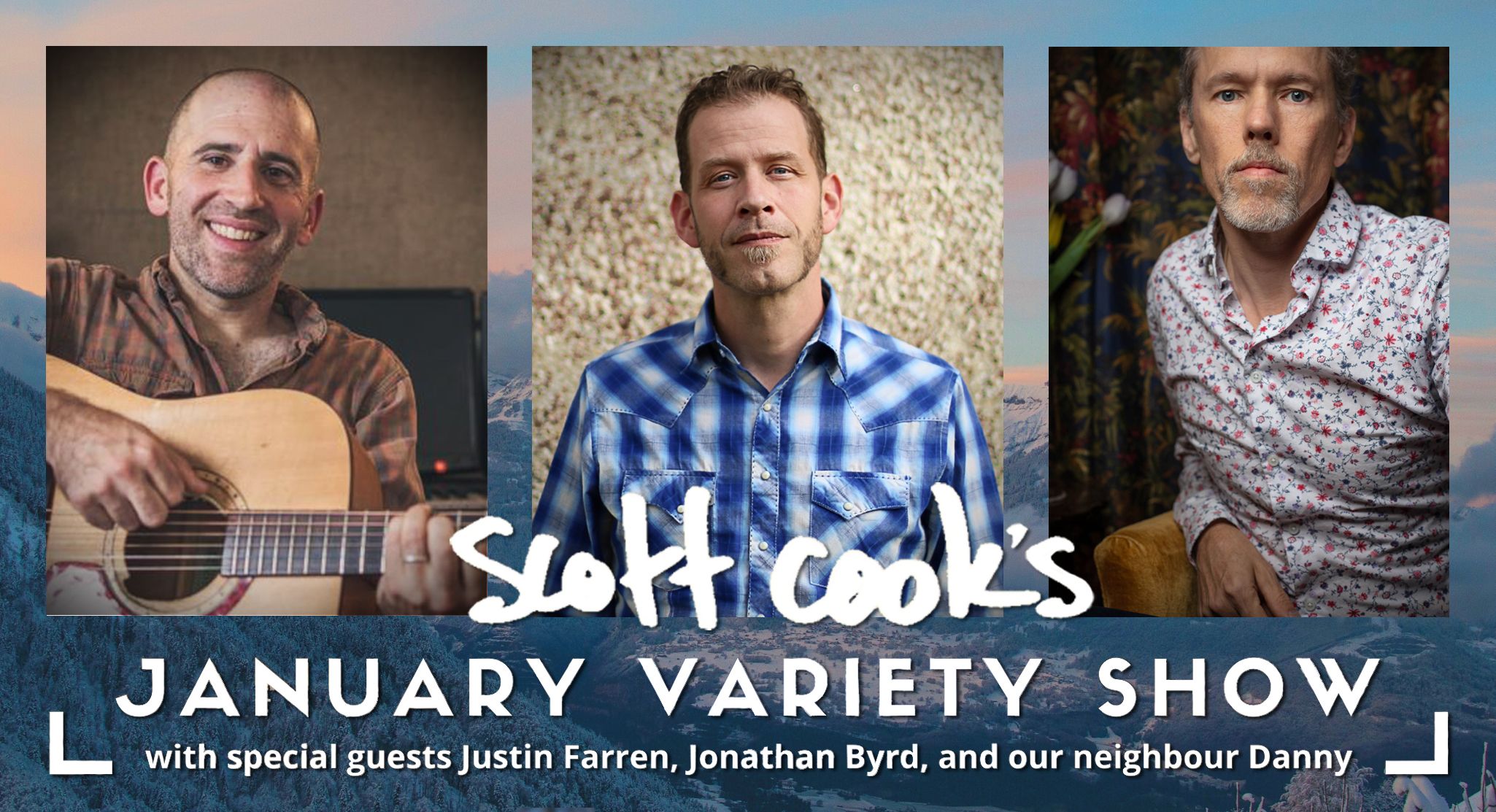 For last month's show we had David Newberry from Toronto, Melanie Horsnell from Australia, and none other than Corin Raymond from hiding in Hamilton with a brand new song that gave me chills! Our neighbourhood rabble-rouser Rocky also joined us for a bit of a chat, which mostly involved her turning the tables on me, picking my brain about Murray Bookchin and what could make a troubadour stay in one place. If you'd like to watch after the fact, it's still good TV, and it's here. 
Speaking of troubadours staying in one place, on February 2nd the folks at Home Routes/Chemin Chez Nous are bringing me, Corin and Jonathan together for a show called The Stay-at-Home Troubadour Revue!  It's a ticketed concert on Zoom, which is a really different experience from our monthly broadcasts. It's like we're all in the same room. It's the closest I've gotten to a house concert in the online world. And swapping songs with these two guys is pretty much my dream festival workshop. Please get a ticket on www.homeroutes.ca and join us, it's gonna be a night to remember.  Help us out and spread the Facebook event around too if you're so inclined.  This'll be a chance to hear a lot more from these fellas than the monthly variety shows allow, and there'll be time for questions and as well. Oh, and I'm saving my newest stuff for this one, 'cause the boys are bringing a raft of new material, including some spoken word and poetry. If you're a lover of words, get your household a ticket and get in the room! 
As 2020 drew to a close, I was really honoured to see Tangle of Souls make some year-end best-of lists, including AmericanaUK, Music Riot, Fervor Coulee, CKUA Radio Network, Folk Music Notebook, Folk Routes with Jan Hall, The International Americana Music Show, Just Us Folk, and the Edmonton Journal. The book even made the Journal's year-end local book list, which was a first for me.  I also got this truly wonderful review in Ireland's Lonesome Highway music blog last week.  Oh, and "Say Can You See" was the second-most-played song of 2020 on Folk Alliance International's folk radio charts! 
Alberta's been under a pretty strict lockdown up until today, so we three Indoorables rung in the New Year by ourselves with a fire in the front yard, and Pamela and I were tickled to make it to bed just before midnight––the first time I didn't stay up to count it down ever since I had the option. 
I've been making resolutions more of a daily thing this past while, believing more and more that habits are what a life's made of, and finding real joy in everyday discipline. As I mentioned a couple Travelogues back, I'm using a daily checklist, dividing my work up into 25-minute increments with 5-minute breaks in between, and it's changing my life. I submitted six years of unfiled taxes. Things I've been meaning to do for ages are getting done. And despite the ever-present uncertainty, I'm dreaming my way into the future. Pamela and I are looking at a bicycle tour of the islands in May. And I'm starting to look into small outdoor shows around BC and Alberta with the Second Chances in June and beyond. Drop a line to scottcooksongs@gmail.com if you're interested in any of that. And keep your eye out for small victories. 
Love and luck, 
s