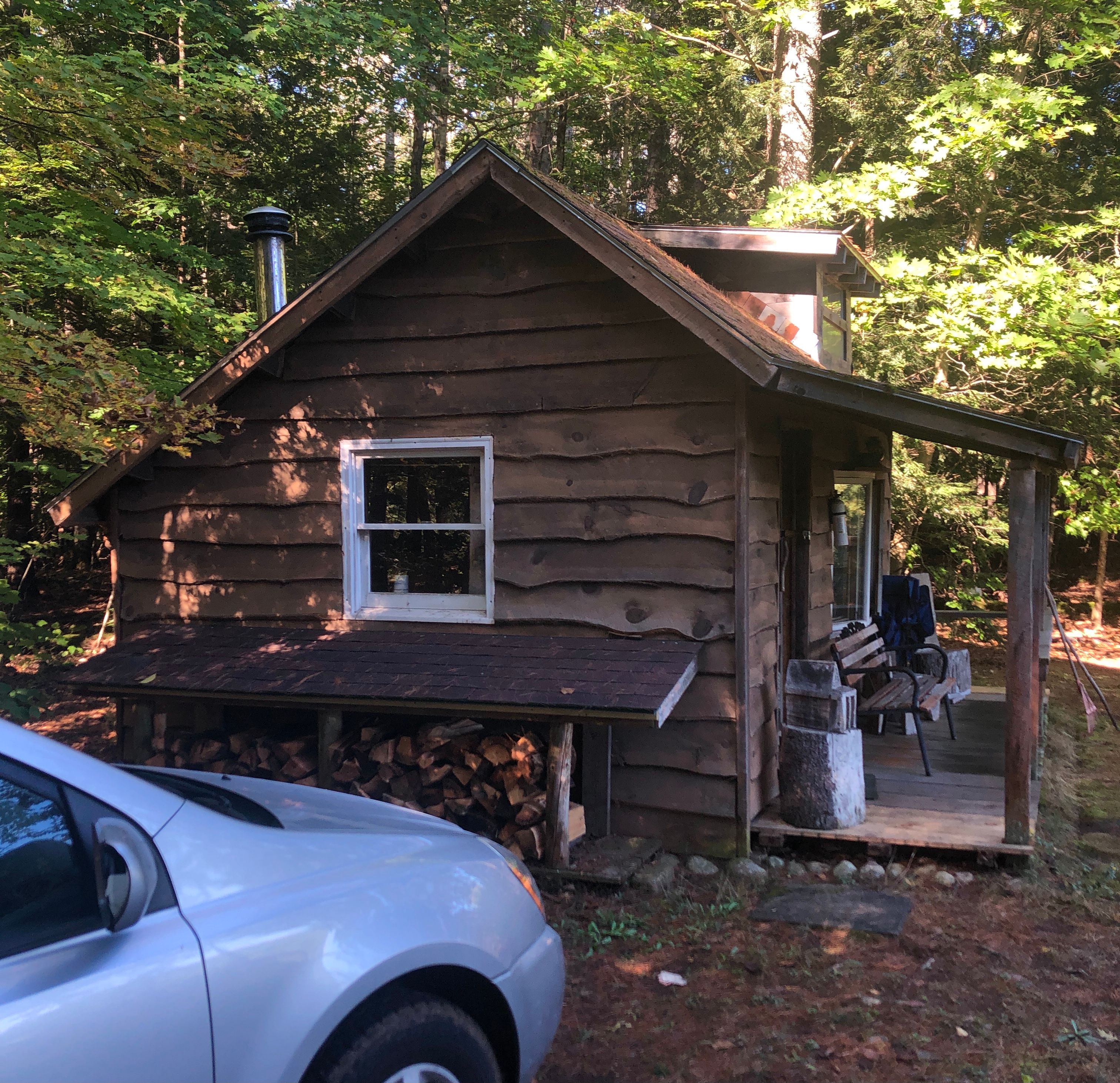 Dear hearts, 
I'm writing you from a cabin in the Adirondacks, a spot I've mentioned in this Travelogue before, when I stayed here in October of 2015 and wrote a song called "Further Down the Line." Over the years I'd forgotten the name of the town, let alone the campground, but last year the owner posted a link to one of my songs from their Facebook page, saying that I'd stayed there once, and there it was––Thomas Creek Campground in Stony Creek, New York! It's so good to be back here. The cabin's got no power, just a woodstove and an oil lamp. Out front there's a firepit and a bluff overlooking a winding bend of Stony Creek. The view gave me shivers as the moon rose over it the night I arrived.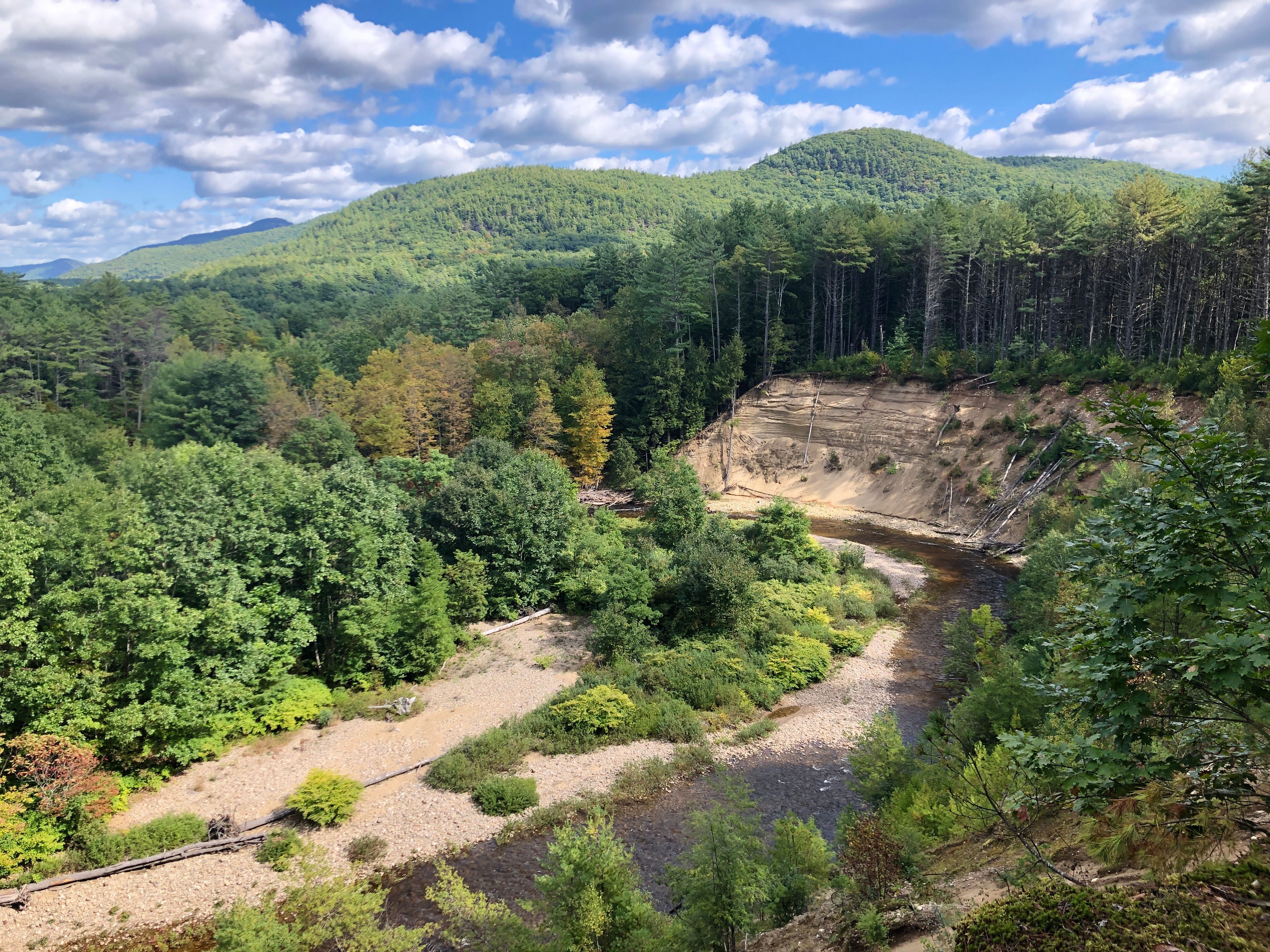 Amazingly, when the owner mentioned that I was coming, one of their regular campers said she's a fan! She came to see me the first morning with copies of two albums that are all sold out by now, Moonlit Rambles and Long Way to Wander. She's never seen me live; she just found my music online and ordered the albums from CD Baby. I signed them for her and she bought a copy of Tangle of Souls, having heard "Leave a Light On" on YouTube. I guess the internet ain't good for nothing after all. But I sure am glad that I don't have it out here. I don't even get cell reception in the town. I had to drive twenty minutes and park outside a laundromat to send you this Travelogue. But I'm headed back out right away to get back to work on songs, 'cause that's what I came up here to do. 
In the near-to-here, I've got a monthly commitment to my Patreon supporters, and from a wider perspective, I truly believe it's the work I can best serve the world with. If I had data on my phone, there'd undoubtedly be a ton of other work pressing itself on my mind as more urgent, but unplugging's reminding me of the difference between urgent and important. Spending the days out in the elements, getting back into my body, exercising and meditating, listening to creeksong and birdsong rather than podcasts and the radio, tending the fire and singing songs under the night sky, it's gradually blowing some of the chatter out of my head, making space to listen to the depths I've been drowning out. It's unbelievable how much mental real estate gets taken up by the computer in my pocket––a device cunningly and specifically designed to eat up our time, insinuate its way our minds, and make us want things we don't need. My pal Jez Hellard wrote a song about it on his new album The Fruitful Fells, a song for our times if ever there was one: "Black Mirror's Got You". 
I've got a new song almost done which I'll be sending out to my Fellow Travellers as soon as it's finished, and a couple more ideas moving too; it's a great feeling. Come tomorrow, though, I'm heading back out to sing songs for people again! My first show's at the oldest continuously-running folk coffeehouse in America, Caffe Lena in Saratoga Springs, New York. Up the narrow staircase on the way in there are pictures of some of the many legends who've graced their stage over the years, including a young Bob Dylan. Wednesday's show's a fundraiser for a local organization called Youth² - Youth Helping Youth, and I'll be focusing on songs of social action for the occasion. The show'll be live-streamed, so anyone around the world can tune in, at 7pm ET (find your timezone here), through this link! 
I'm really excited to be sharing a bunch of shows with Ordinary Elephant this coming month, 'cause they're a killer duo and great people to boot. At a glance, here's how the roads ahead are looking: 
Wed Sep 29 • Saratoga Springs, NY • Youth² fundraiser at Caffe Lena, with LIVESTREAM 
Thu Sep 30 • Richmond, VT • Valley Stage 
Fri Oct 1 • ONLINE • my Folk Music Ontario official showcase airs at 4:30pm ET here 
Sat Oct 2 • Bristol, VT • Ripton Coffee House 
Sun Oct 3 • Bridgton, ME • Dragonfly Barn 
Wed Oct 6 • Dover, NH • house concert 
Fri Oct 8 • New York, NY • Le Poisson Rouge, opening for Carsie Blanton! 
Sun Oct 10 • Rockport, MA • Whale Cove Productions house concert 
Thu Oct 14 • Providence, RI • Sweet Little Variety Show 
Fri Oct 15 • Hartford, CT • Meeting House Presents 
Sat Oct 16 • Earlville, NY • Earlville Opera House 
Sun Oct 17 • North Adams, MA • Railway Songwriter Series at HiLo 
Tue Oct 19 • Cambridge, MA • Club Passim with Ordinary Elephant 
Fri Oct 22 • Philadelphia, PA • Philly Folksong Society with Ordinary Elephant 
Sat Oct 23 • Lincroft, NJ • Earth Room with Meghan Cary 
Sun Oct 24 • Beacon, NY • Climate Solutions Week finale at the Towne Crier with Bruce Molsky and more 
Tue Oct 26 • Ann Arbor, MI • The Ark Spotlight Series 
Wed Oct 27 • Columbus, OH • Natalie's Coal Fired Pizza with Ordinary Elephant 
Thu Oct 28 • Toledo, OH • Over Yonder House Concerts 
Fri Oct 29 • Livonia, MI • Trinity House Theatre with Ordinary Elephant 
Sat Oct 30 • Spring Lake, MI • Seven Steps Up with Ordinary Elephant 
Tue Nov 2 • Appleton, WI • Stone Arch Brew Pub 
Wed Nov 3 • Bishop Hill, IL • Bishop Hill Creative Commons with Ordinary Elephant 
Fri Nov 5 • Viroqua, WI • TBC 
Sat Nov 6 • Maple Plain, MN • Sun Dog Farm Concerts 
Thu Nov 11 • Great Falls, MT • The Newberry, opening for Ross Cooper 
Sat Nov 13 • Calgary, AB • Nickelodeon Folk Club with the Second Chances 
Sun Nov 14 • Edmonton, AB • homecoming show with the Second Chances, TBC 
I've been racking my brain about who I know in some of these places––especially the big cities like New York, Boston and Philly––and reaching out in hopes of seeing some familiar faces. But I reckon you probably know some folks in those cities too, don't you? And if you think the kind of songs I'm bringing just might help keep their hoping machines running, well, please do send 'em my way! All the dates and deets, as always, are on www.scottcook.net. 
Admittedly, it still feels strange to be touring, and even stranger to be Stateside. There's such an extreme range of opinions on everything, from whether it's responsible to tour right now to whether the pandemic's even real. My last Hobo Travelogue elicited a couple responses that I hope to find the time to properly answer soon. For now I'll just say that seeing as the vaccines, while imperfect, really are working, I reckon it's a justifiable risk, as long as appropriate cautions are in place. Many of these shows are requiring proof of vaccination at the door, and audiences to be masked during the show––check in with the particular venues for more information. 
The Ontario shows were wonderful, mostly for the opportunity to catch up with folks I hadn't seen in two years or more. The next-to-last was a pop-up event in a big open gazebo outside a brewery in Johnstown put on by Upper Canada Folkfest. Local acts played all afternoon and I got to take it home at the end, followed by a sweet unplugged jam on fiddle tunes by Irish Millie, her dad, and our pal Graham Lindsey, under a low crescent moon. 
I crossed the border without any special paperwork besides my US passport; the guard was mostly just curious how my career was going. I got to spend two nights on the Cook farm, see my cousins and pals up north, and meet four new humans I hadn't met yet! I got to share a show with one of my heroes, May Erlewine, in the gorgeous Wealthy Theater in Grand Rapids.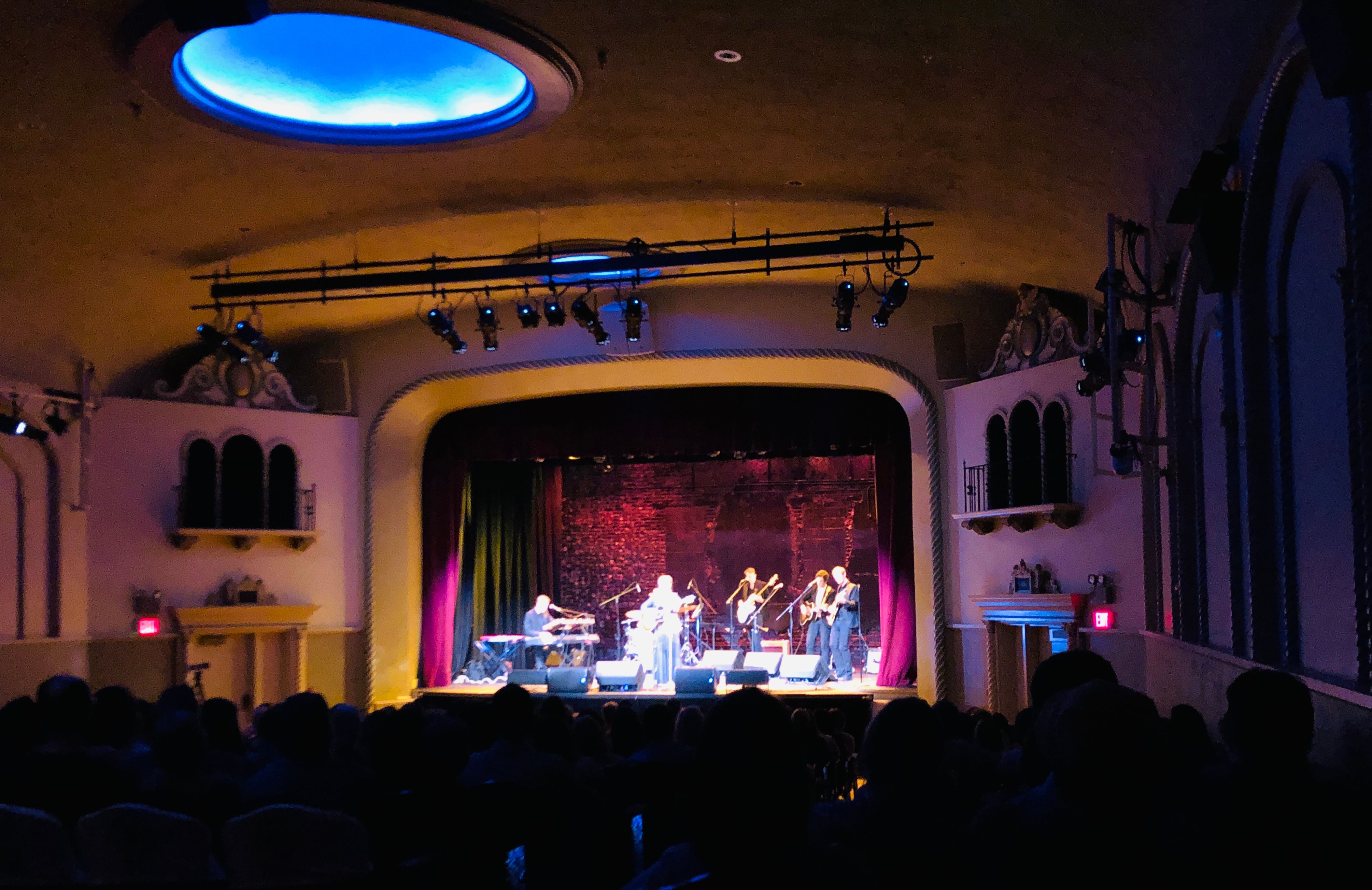 I got to do lots of driving around in the dark looking for places to camp, and even slept in rest areas a couple nights, tickled to be up to my old tricks and grateful for all that's still free in this world. I made coffees and sent emails from picnic tables in rest areas; I even got a free rapid antigen test in one of them. Eventually I made it out to the Atlantic Ocean, spent a couple days in a motel in Connecticut catching up on things, and opened a show for Carsie Blanton at the Columbus Theatre in Providence, Rhode Island. Both Carsie and May, each in their own way, are writing honest songs about the world today and how to stay human in it. I'm grateful for their voices. Who do we know in New York City that could use those kind of songs?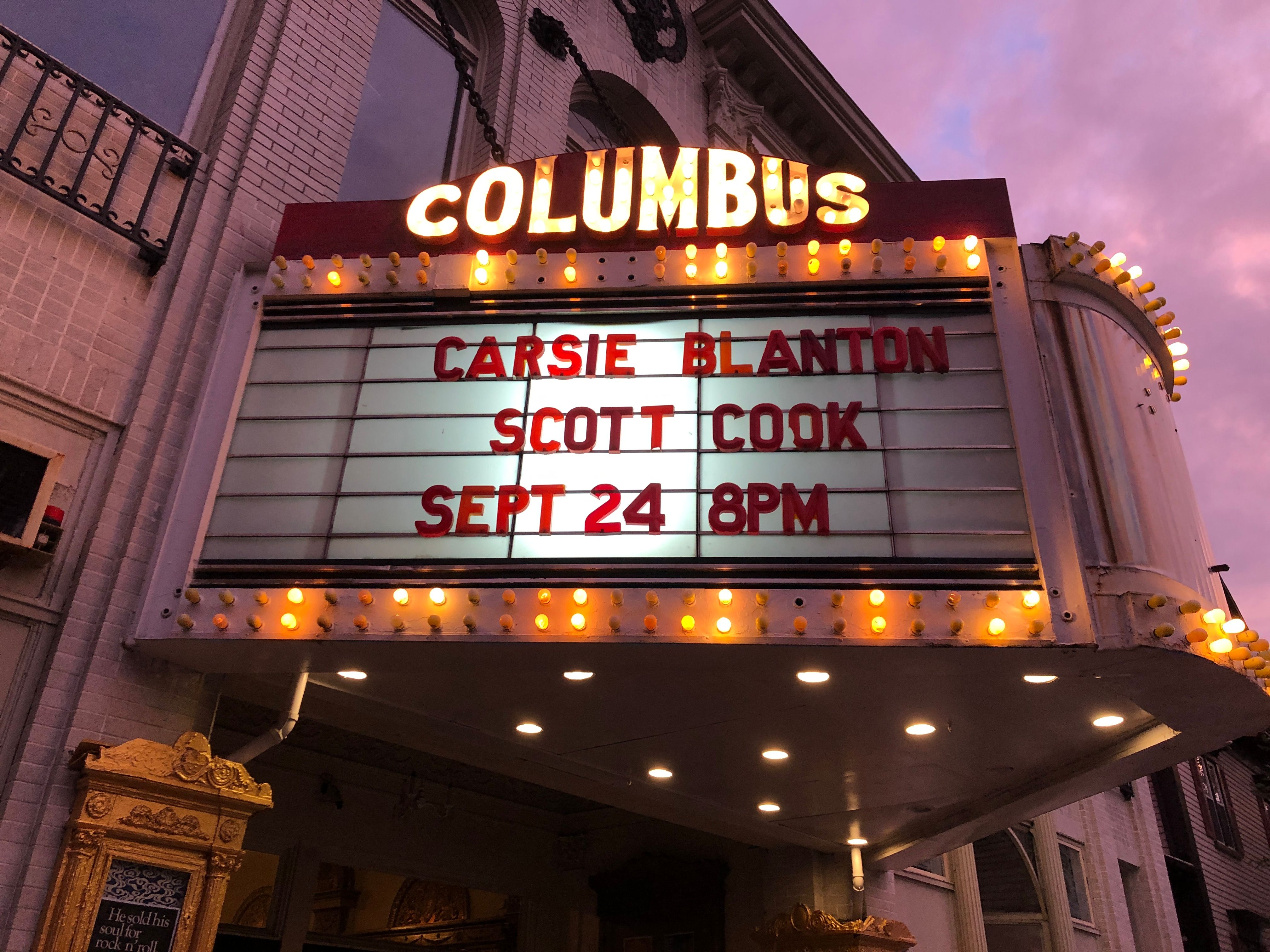 Alright, I'm back out to the woods! Come see me at Caffe Lena tomorrow if you're online. But be sure to unplug when you can, it'll do ya good. 
Love from here, 
s