Hey you beauties, 
Much to my amazement, and possibly yours too, this Travelogue's coming to you from the road! I've been winding my way along the North Shore of Lake Superior, and decided to take a motel day––which grew into two––to catch up on correspondence, including this overdue Hobo Travelogue. In a sleepy little railroad town called Schreiber, Ontario I found the perfect little bit of the past to hole up in.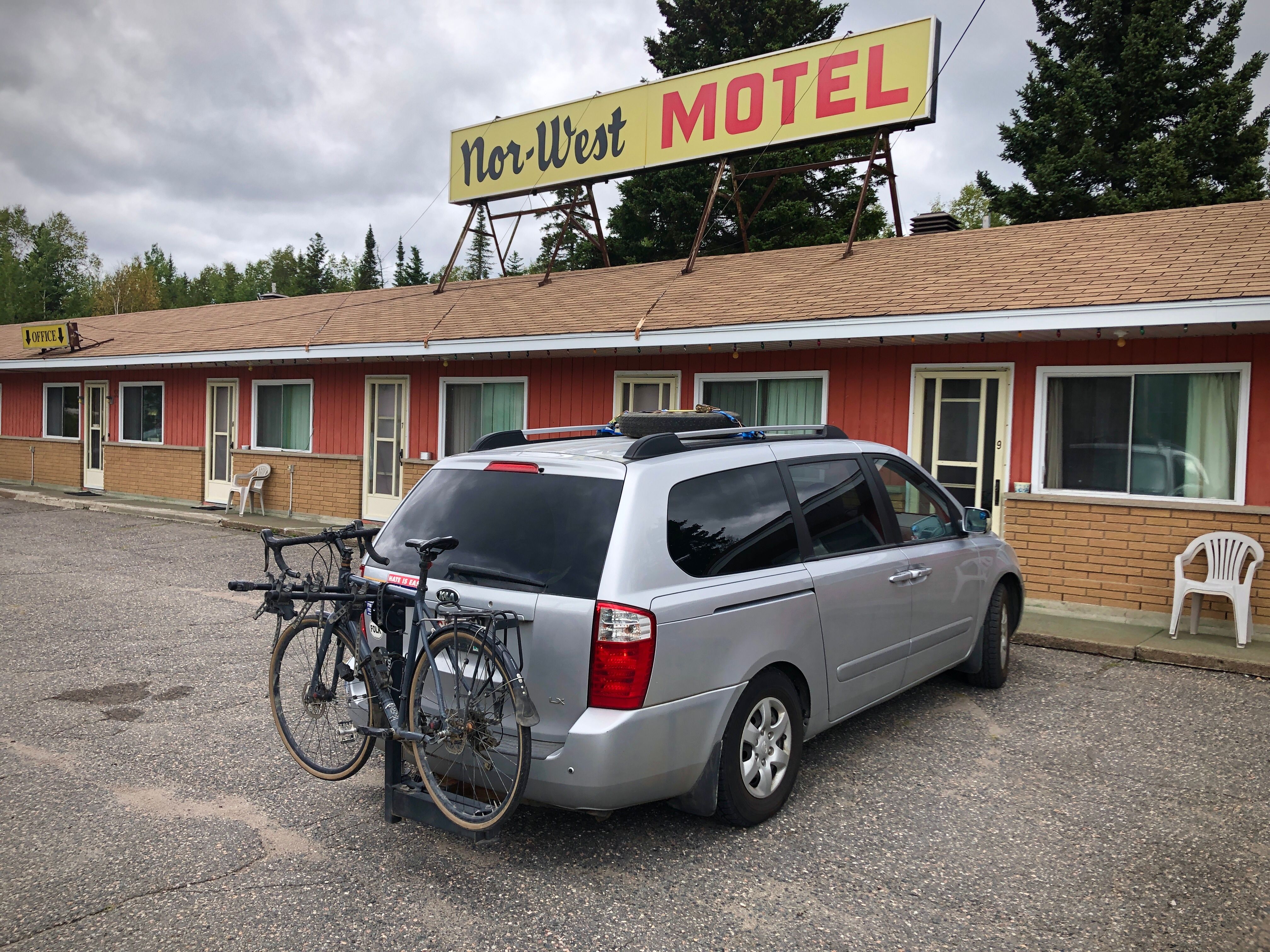 Starting tonight I'll be playing a handful of dates in Ontario, then crossing my fingers and hopefully the border for two months of US dates my new agent Lara lined up. It feels kinda crazy, given all the uncertainty and a couple cancelled dates already, but it's still looking great. There are a few gaps left in the schedule, so if you've got a spot in mind, please drop a line! I'll be travelling with my own PA and happily singing songs for whoever wants to hear them, outdoors wherever possible. Regular venues should contact lara@flemingartists.com but house (or yard) concert hosts can hit me up directly at scottcooksongs@gmail.com. Here's the dates as they sit so far: 
Wed Sep 1 • Sault Ste. Marie, ON • backyard concert w/ Trevor Tchir opening 
Fri Sep 3 • Haileybury, ON • backyard concert 
Sat Sep 4 • Georgian Bluffs, ON • house concert 
Sun Sep 5 • where should I play? Guelph? Somewhere in Toronto? 
Mon Sep 6 • Toronto, ON • afternoon back lane concert in Davisville Village 
Tue Sep 7 • Scarborough, ON • afternoon yard concert 
Wed Sep 8 • Sudbury, ON • afternoon yard concert with Corin Raymond 
Thu Sep 9 • anyone in Ottawa or thereabouts wanna host? 
Fri Sep 10 • Howick, QC • yard concert 
Sat Sep 11 • Johnstown, ON • Upper Canada Folkfest pop-up concert 
Sun Sep 12 • Smiths Falls, ON • afternoon yard concert 
Wed Sep 15 • Lansing, MI • Robin Theater 
Thu Sep 16 • Lake Orion, MI • 20 Front Street 
Fri Sep 17 • Petoskey, MI • cancelled, where should I play instead? 
Sat Sep 18 • Grand Rapids, MI • Wealthy Theater, opening for May Erlewine 
Sep 19-23 • got five days off here, and I'm all ears! 
Fri Sep 24 • Providence, RI • Columbus Theater, opening for Carsie Blanton 
Wed Sep 29 • Saratoga Springs, NY • Youth² fundraiser at Caffe Lena 
Thu Sep 30 • Richmond, VT • Valley Stage 
Sat Oct 2 • Ripton, VT • Ripton Coffee House 
Sun Oct 3 • Bridgton, ME • Dragonfly Barn 
Wed Oct 6 • Dover, NH • house concert 
Fri Oct 8 • New York, NY • Le Poisson Rouge, opening for Carsie Blanton 
Thu Oct 14 • Providence, RI • Sweet Little Variety Show 
Fri Oct 15 • Hartford, CT • Meeting House Presents 
Sat Oct 16 • Earlville, NY • Earlville Opera House 
Sun Oct 17 • North Adams, MA • Railway Songwriter Series at HiLo 
Tue Oct 19 • Cambridge, MA • Club Passim with Ordinary Elephant 
Thu Oct 21 • Commack (Long Island), NY • Shine Sessions House Concert with Ordinary Elephant 
Fri Oct 22 • Philadelphia, PA • Philly Folksong Society with Ordinary Elephant 
Sat Oct 23 • Lincroft, NJ • Earth Room with Meghan Cary 
Sun Oct 24 • Beacon, NY • Climate Solutions Week finale at the Towne Crier with Bruce Molsky 
Tue Oct 26 • Ann Arbor, MI • The Ark Spotlight Series 
Wed Oct 27 • Columbus, OH • Natalie's Coal Fired Pizza with Ordinary Elephant 
Thu Oct 28 • Toledo, OH • Over Yonder House Concerts 
Fri Oct 29 • Livonia, MI • Trinity House Theatre with Ordinary Elephant 
Sat Oct 30 • Spring Lake, MI • Seven Steps Up with Ordinary Elephant 
Tue Nov 2 • Appleton, WI • Stone Arch Brew Pub 
Wed Nov 3 • Bishop Hill, IL • Bishop Hill Creative Commons with Ordinary Elephant 
Fri Nov 5 • Nisswa, MN • cancelled, where should I play instead? 
Sat Nov 6 • Maple Plain, MN • Sun Dog Farm Concerts 
Sat Nov 13 • Calgary, AB • Nickelodeon Folk Club with the Second Chances 
Sun Nov 14 • Edmonton, AB • homecoming show with the Second Chances, TBA 
It's gonna be great to play with some old pals and heroes like Trevor Tchir, Corin Raymond, May Erlewine, Carsie Blanton, Ordinary Elephant, and Bruce Molsky! And I'm really excited for my first shows in some storied rooms like The Ark in Ann Arbor, Club Passim in Cambridge, Le Poisson Rouge in NYC, and the gorgeous Columbus Theater in Providence. I'm hugely grateful to Lara and the team at Fleming for making so many cool things happen. 
Corona, Conspiracies, and Carbon 
Another thing I'm grateful my agency's made happen is a conversation about covid precautions at venues. As you know, we're still in a pandemic, and in fact the numbers are higher now in some places than they've ever been. I've gotta get a PCR test before I cross the border, and if I come down with any cold or flu-like symptoms along the way I'll have to get tested again. I must admit, it feels a little precarious. I don't want to let this virus keep me off the road, but I also don't want to take unnecessary risks with other folks' health. Some venues are requiring proof of vaccination, and I imagine more will be following suit. 
I realize folks have strong opinions about this. I get emails every week from friends and fans (including some former fans) upset with the way things are going, and I'm hoping to write a thorough, multipurpose reply soon. I think I may be in a better position to do so than many of the sneering and unsympathetic voices I've heard so far, simply because I myself have been convinced at various times in my life that 9/11 was an inside job, and that Jesus must be coming back soon. I understand that people inhabit different galaxies of information, so I don't assume that people with different worldviews from mine must be stupid or evil. I also realize that there's plenty of room for nuanced positions in between uncritical acceptance and outright paranoia. I've heard sensible friends defending both sides of the argument around vaccine mandates, and I have mixed feelings about it myself. 
But more often, I'm hearing from folks whose questions consistently hint at a much bigger picture, like maybe this whole pandemic's a pretext for something way more nefarious. I'd encourage those folks to go beyond "just asking questions" and think through what would be involved in such a massive deception. Being as the overwhelming majority of medical professionals agree that vaccines are relatively safe and dramatically lower our chances of serious illness, how many folks do you suppose must be in on it, and what's their endgame? I have a hard time imagining all the scientists and health care workers who'd have to be conspiring to rid us of our freedoms, and I have an even harder time imagining that it's all being done to bring "socialism" to the world. All I see are the usual market forces making money out of misery, enriching space cowboys like Jeff Bezos while impoverishing the people he pays to deliver stuff to folks who can afford to stay home. Jeremy Lent's article "The Five Real Conspiracies You Need to Know About" merits sharing again. 
Two of the conspiracies Lent mentions in the article are the "conspiracy to hide the effects of climate breakdown for corporate profit" and the "conspiracy to grow the global economy indefinitely, while killing most of life on Earth and risking the collapse of civilization." Admittedly, those are less thrillingly comic-bookish than the "plan-demic", but they're also way less speculative. And I think I can say pretty confidently that the long-term consequences of letting our climate tilt into chaos will make this global pandemic and its aftereffects look like small beans in comparison. 
One thing I successfully avoided thinking about for a long time that I can't help but think about nowadays is the carbon dioxide that comes out the tailpipe of a tour. I wrote about all that in Tangle of Souls, including my commitment to make my tours carbon-neutral, and some troubles with the whole idea of offsets. It's complicated, and I still have mixed feelings. But as time goes on, I feel even stronger about doing something to address my oversized footprint. I know that it's huge corporations doing most of the polluting, and I believe that companies like Exxon, who knew their business was causing global warming 40 years ago but chose to put profit over the survival of civilization, should be held criminally responsible. I know small players like me can't fix the problem on our own, and I know (as per the IPCC's new report) that we can't really fix the problem––disastrous levels of heating are already locked in, and no matter what we do, things are going to get a lot worse long before they get better. Nevertheless, I still want to do something, and offsetting my tours doesn't actually feel like enough. For starters, I want to pollute less. In the same spirit that the Paris Agreement commits countries to keep ratcheting down their emissions year by year, I've decided to halve my own. This year (from when things started back up in July, through next July) and going forward, I'll be putting out less than half the CO2 I did in my last year of touring. I'm serious about this. I've already run the rough numbers. The main thing that means is just going slower. I don't ever want to run as fast as I used to. Admittedly, it's pretty late for me to be coming to a conclusion that ecologists have been on about for decades now. I honestly just didn't want to hear it. But the spell's broken now, and I'm talking about it in hopes that it'll break for others. We need to learn to slow down, and live with less. 
I'll also keep putting money into offsets, and making my tours carbon-neutral touring doesn't really feel like enough; I want to make the whole operation carbon negative. I tallied up the emissions from this summer's tours, calculated the cost of carbon credits to match them (at $30US per ton), and doubled that amount. The really amazing and kinda sad thing was how affordable that still was. 
When you look on a site like MyClimate, you can see how much it costs per ton to reduce atmospheric carbon by investing in various projects, all the way from installing solar panels in Switzerland (which is relatively expensive) to providing more efficient stoves to folks in rural Kenya, helping small farmers in Nicaragua with reforestation, or supporting indigenous people in their fight to save the Amazon (all of which are shockingly cheap). This isn't surprising––our dollars go way further in the developing world. But it is shocking to contemplate just how little it would cost profitable companies to make their operations carbon-neutral. 
Same goes for how much it would cost them to pay their workers a living wage, I guess, or to behave ethically in so many areas. In all fairness, they're just playing the game the way it's designed, cutting corners where they can. But I believe we can demand more from them, so for starters I'm demanding more of myself. 
The IPCC report got buried in the news cycle predictably quickly, but it's worth dwelling on.  George Monbiot's piece in The Guardian ("Why is life on Earth still taking second place to fossil fuel companies?") is a good place to start.  Brian Tokar of the Institute for Social Ecology (the organization founded by Murray Bookchin, that I took an online course with during lockdown) wrote a longer article ("On the IPCC's latest climate report: What does it tell us?") that goes deeper into the science in the report, against the background of the Institute's work trying to bring about the bigger political changes that might make progress on climate possible. 
On the subject of changing the world, I've been working on a song in tribute to New York Attorney General Letitia James for my Patreon supporters, and just now I shared a remix with Bramwell Park on drums and keys and Dana Wylie providing the gospel choir. I'm gonna tweak it a bit more and release it out into the world soon, but you can hear it now by joining up as a Fellow Traveller right here.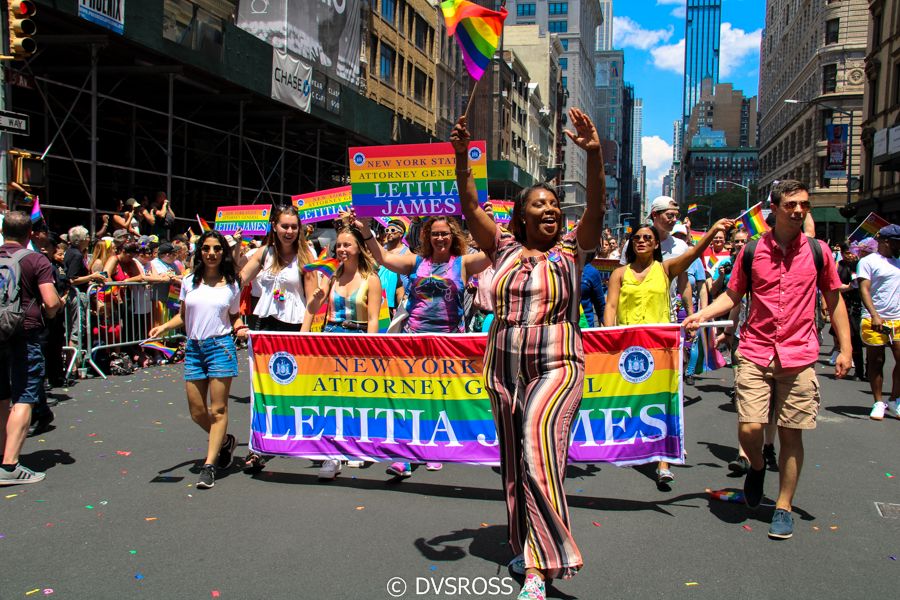 Summer in the Rearview 
Last I wrote you beauties, I was headed out on the road with the Second Chances for our first time together in the van in almost two years!  We visited a bunch of out-of-the-way spots and reunited with some long-lost pals, and it did our hearts a lot of good. We got to share the stage of the charming Sunset Theatre in Wells with Ali McCormick on the occasion of her farewell party. We got to visit our friends in Beaver Valley, where the youngsters who were worrying us last time by swinging their Leatherman sawblades around on lanyards have now graduated to throwing axes! We got to see Melissa's new house in Prince George and marvel at her woodworking: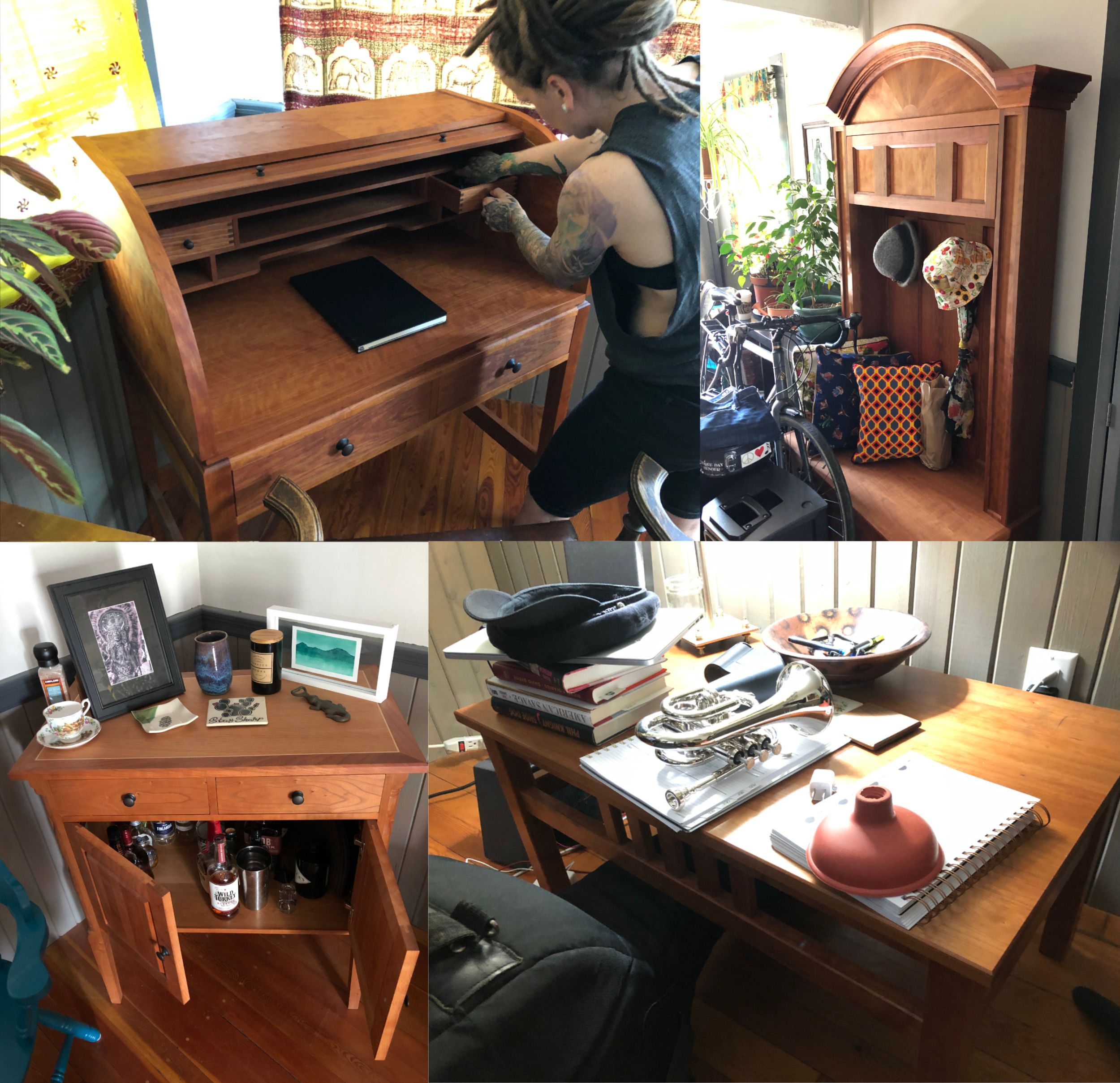 We got to play the first live show in Salmon Arm's lovely new Song Sparrow Hall. And we dodged fires and tried not to think apocalyptic thoughts. We actually didn't know if we were even going to Bella Coola for their festival up until the day before, when we got the update that the road would be open to convoys with a pilot vehicle from 3am to 11am. 
We drove through the first of two burn zones unaccompanied, with fires smouldering on both sides of the road and no one in sight. But when we got to Nimpo Lake where we'd reserved a cabin for the night, there was already somebody in the bed! He was a nice guy, but he couldn't help us. With no cell service, nobody at the store where we'd made the reservation, no vacancy anywhere else, and a swarming horde of mosquitoes jazzed to see some out-of-towners, things were looking pretty desperate. But Melissa called her girlfriend Karen on the payphone, Karen tried to think who she knew in Nimpo Lake, and amazingly, the first person she called (who happened to be the festival sound tech's daughter) also happened to be the person who'd made our reservation! She sorted us out with another cabin and reaffirmed our faith in serendipity. 
The next morning as we were being escorted through the second fire zone we blew a flat, and had to wait for the pilot truck to come back and rescue us. Thankfully, we broke down in a beautiful spot, the gal in the pilot truck had the tools to put a plug in our tire, and I had an air compressor to re-inflate it.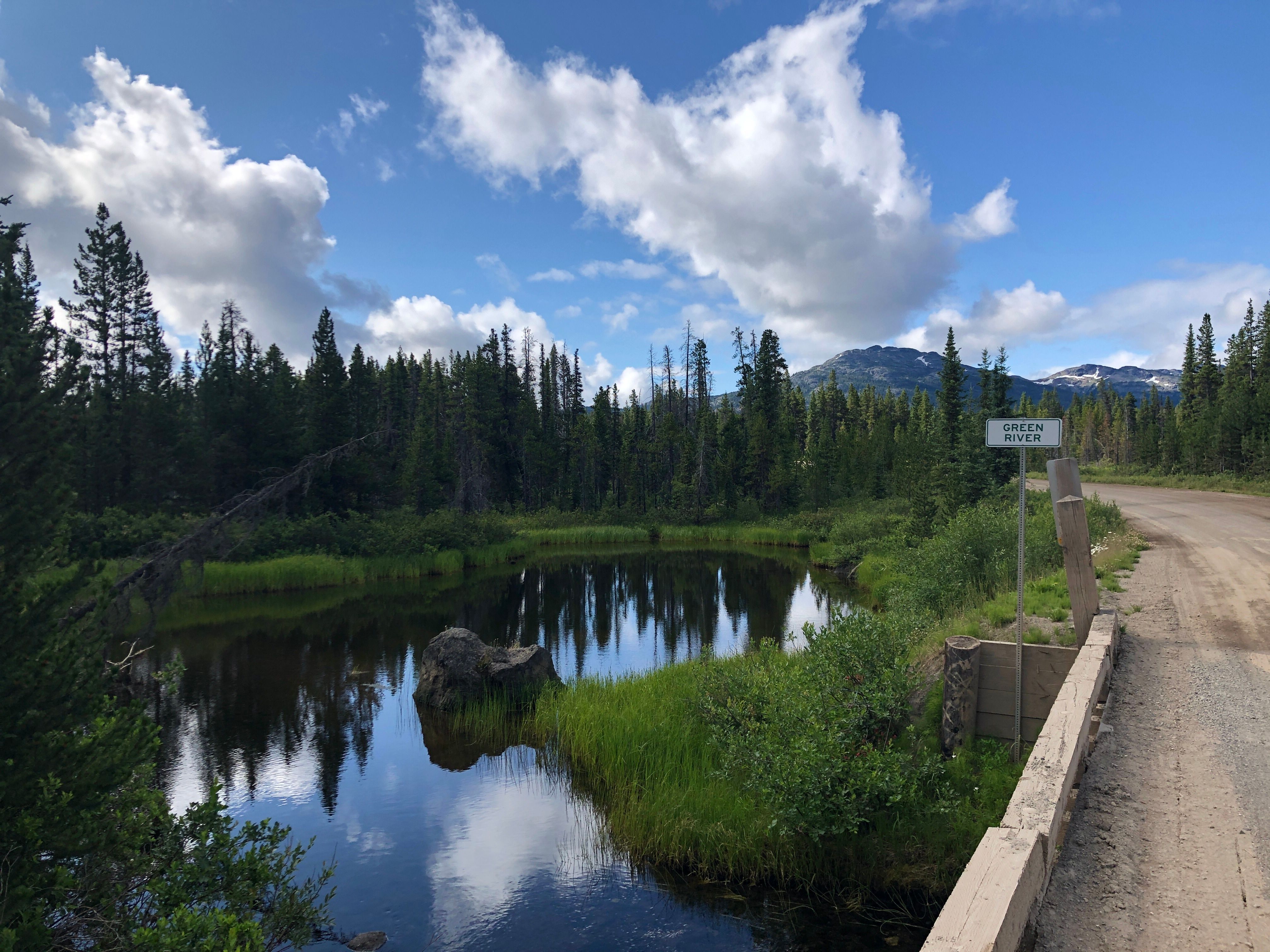 It was wonderful to visit Bella Coola for my third time, marking the changes in the festival––I was especially glad to hear more Nuxalk performers––and the changes in me, like leaving the fest hangover-free. 
In our set on Sunday, the power died right as I was singing "Among the Trees" and we got to go down and sing right to the people. It's a magical place.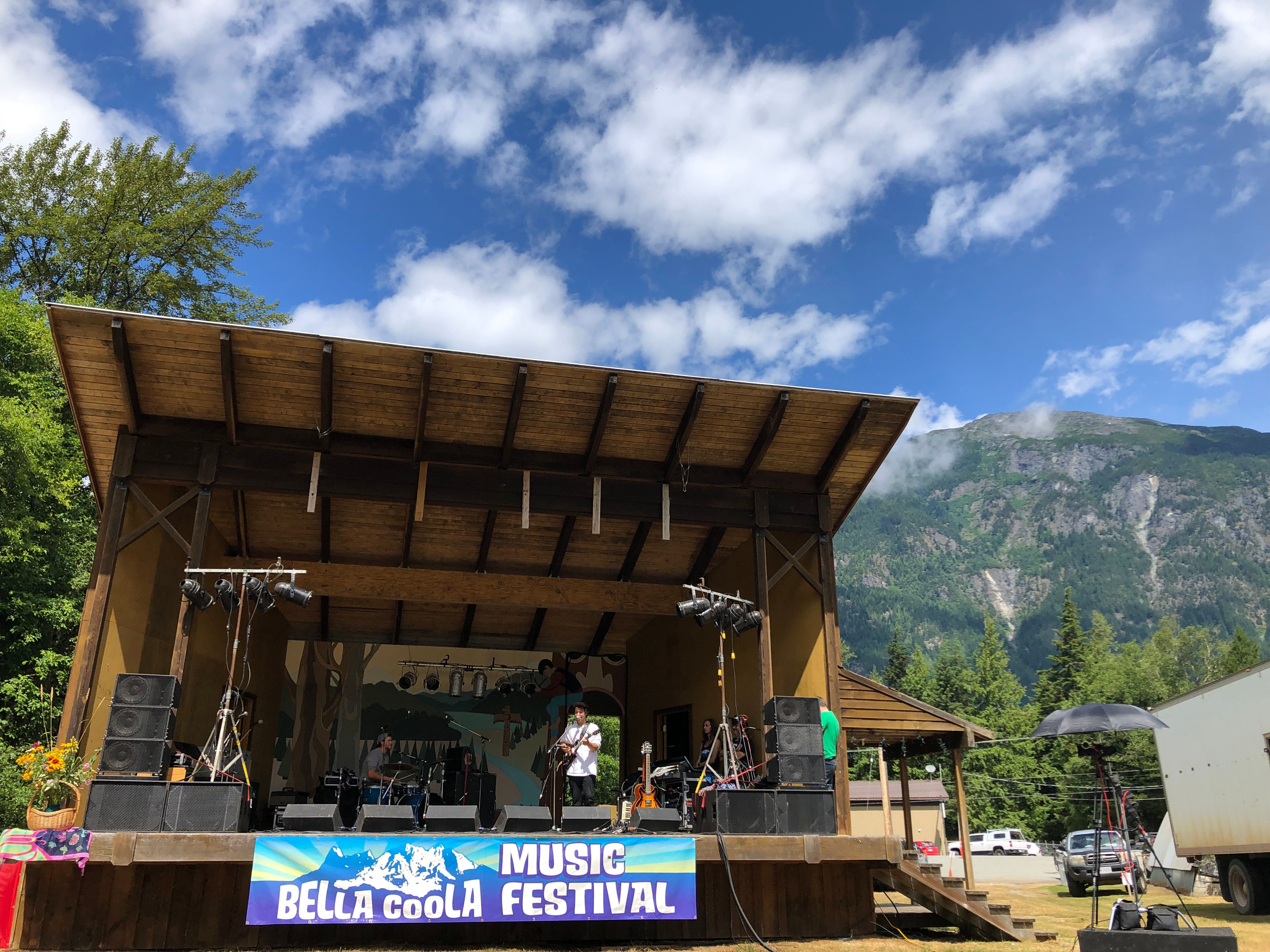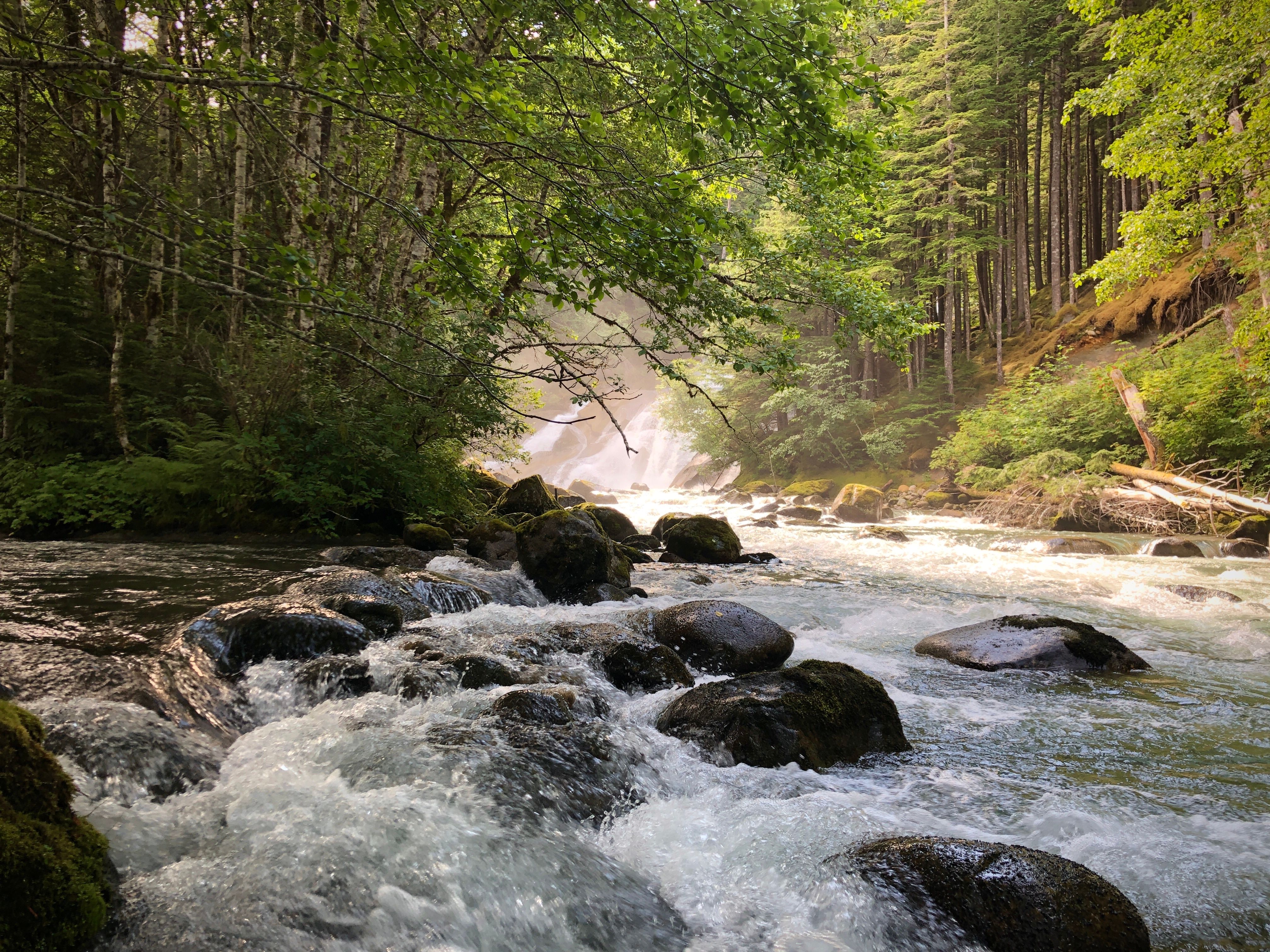 We managed to make it all the way back home on the tire with the plug in it, parting ways with Melissa in Williams Lake and joining Shari Rae for lovely outdoor shows in Canmore and Priddis and two hometown shows as part of Edmonton Folk Fest's "Takin' It to the Streets" initiative. 
The following week we all headed up to the North Country Fairgrounds for the first-ever North Country Acoustic Music Camp, something I've long dreamed of doing but never had the time for. There were 43 students, 7 instructors, and breakthroughs aplenty. The first night I arrived, set up a bit, checked in with the instructors, and headed to bed early. As I was brushing my teeth, listening to the campers jamming in the darkness, I could barely believe it was really happening, there on the Fairgrounds I've loved for so long.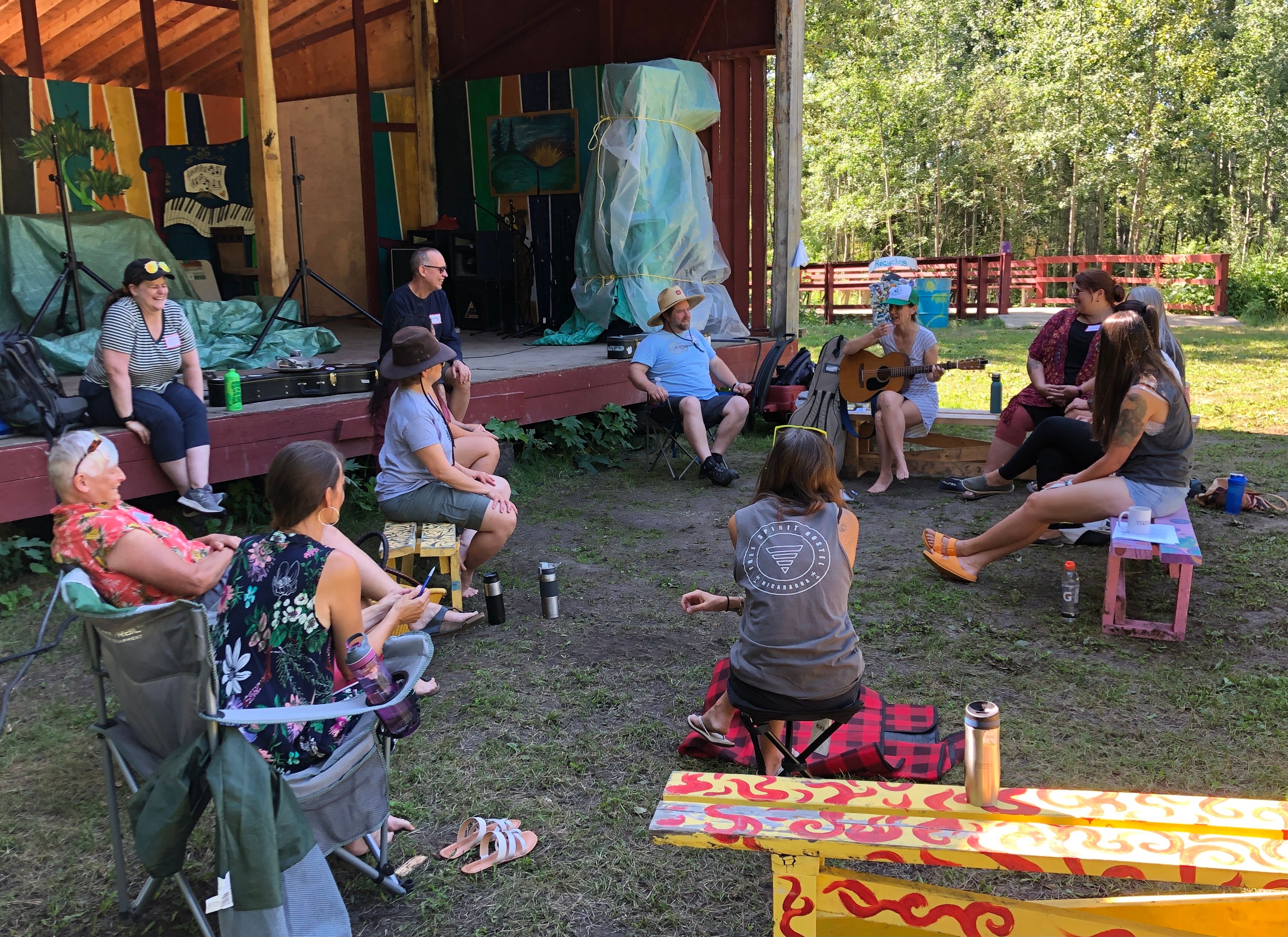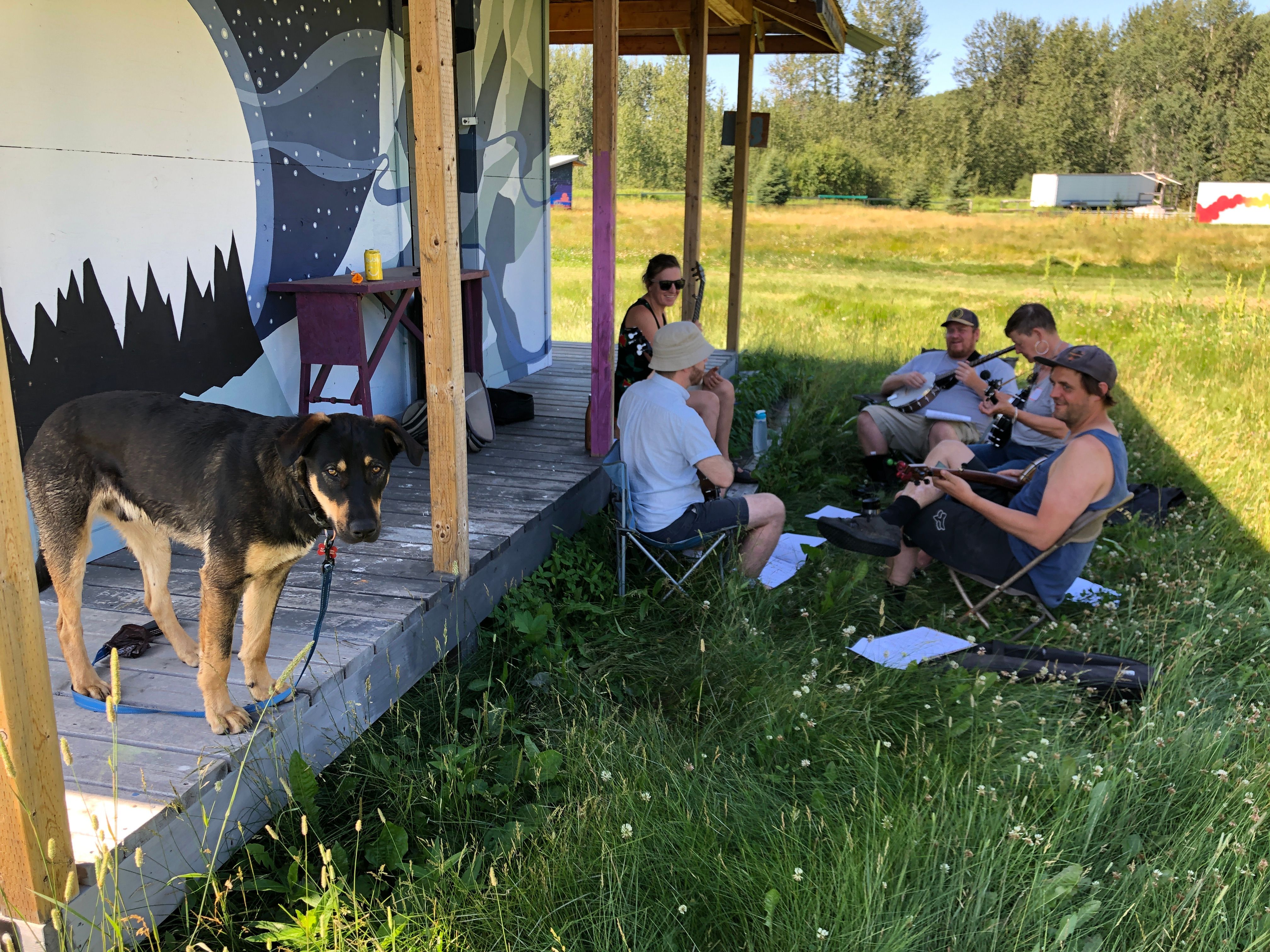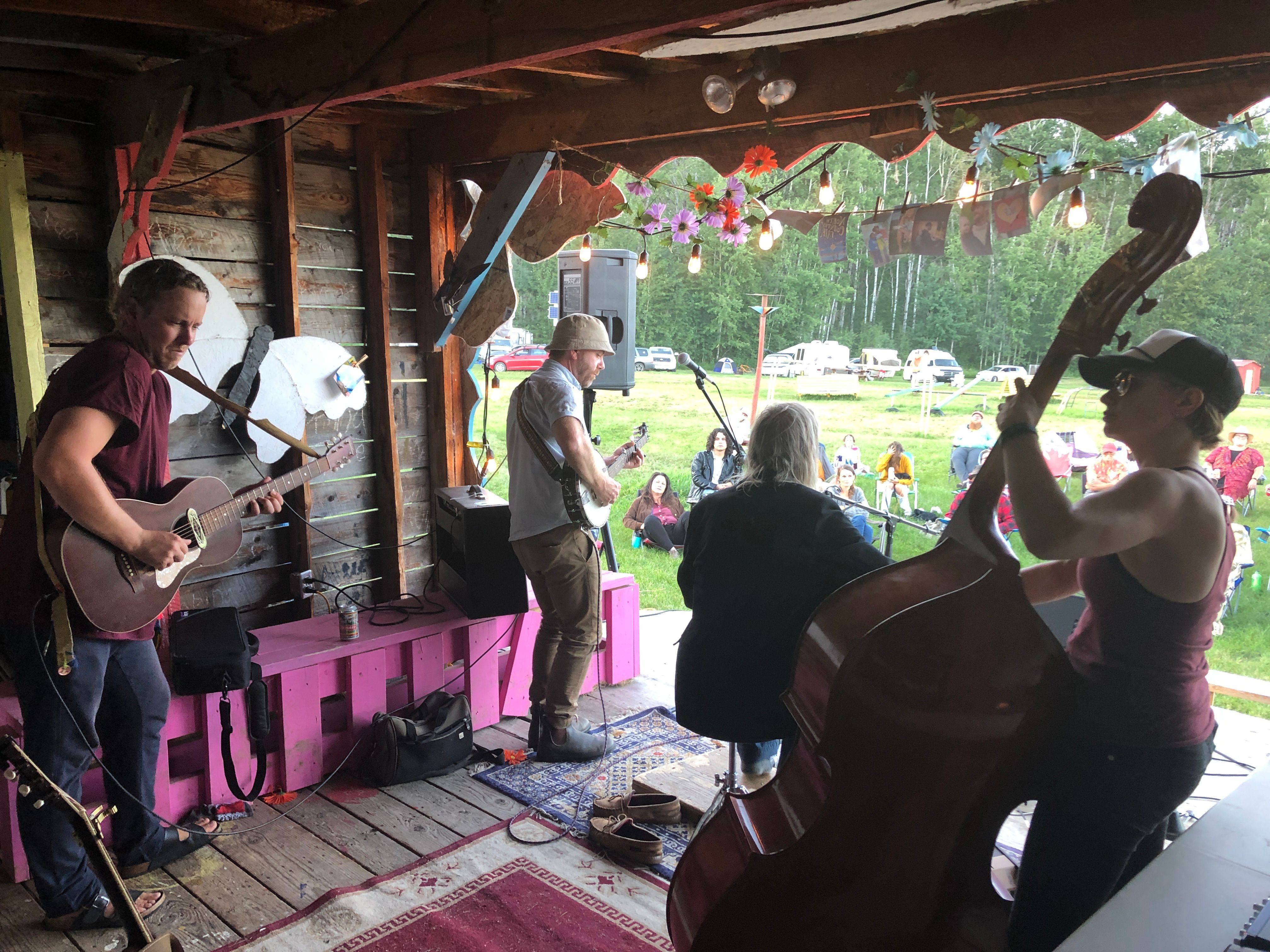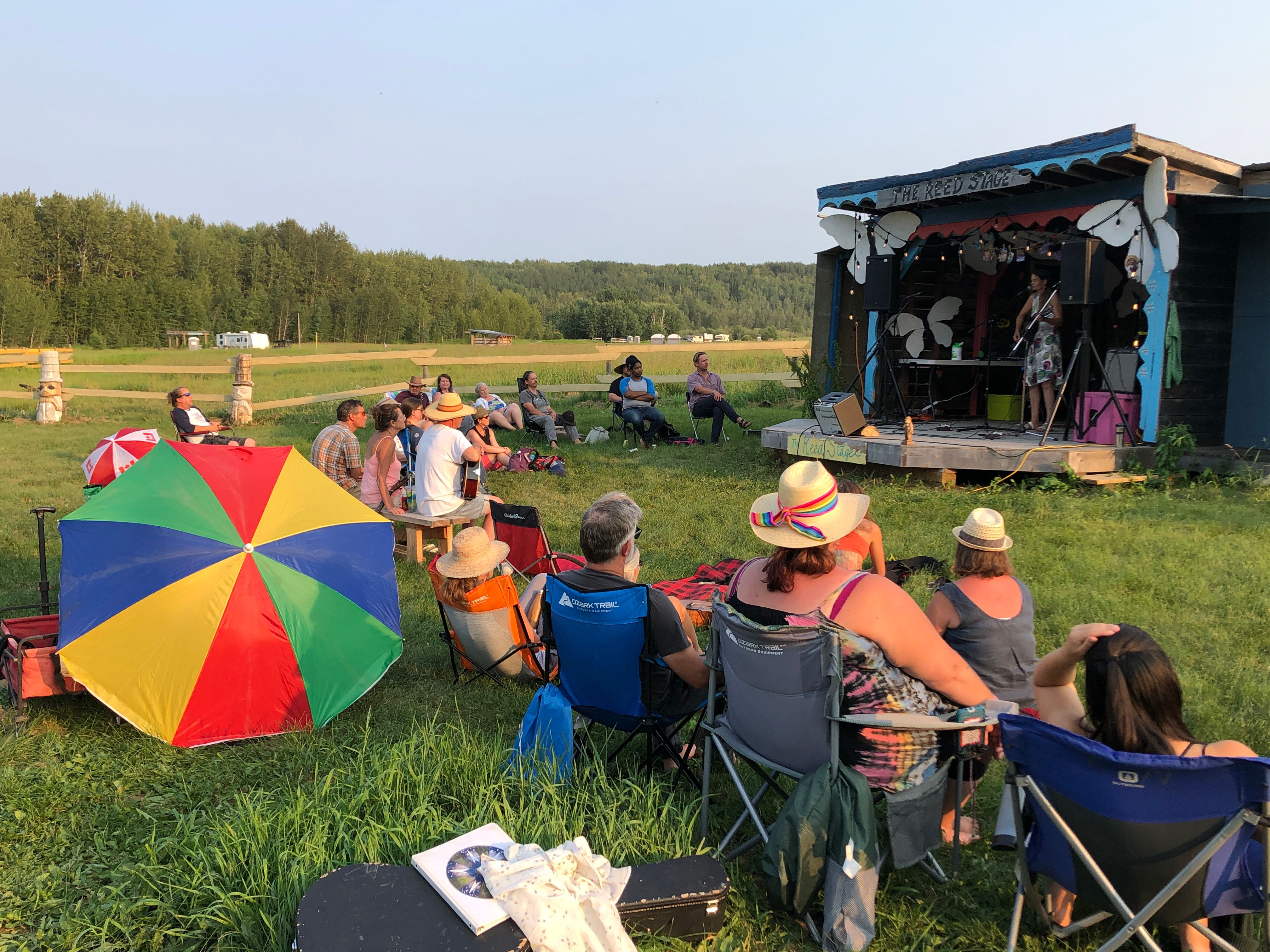 It was a real honour to be able to share some of what we've picked up along the way with folks who were eager to receive it. I don't imagine I'll be available to run the camp next summer, but it really feels like it wants to happen again, and I expect it will. Stay tuned. 
After camp I went back to town briefly for a show outside the Arden Theatre and two more Folk Fest shows, and then went out with Pamela for a week on the road in our big van Roadetta, playing sweet little shows outside the library in Rimbey, at the Lethbridge Folk Fest and at Blue Door (Yard) Concerts in Didsbury, then spending four days at Northern Lights Bluegrass and Old-Time Music Camp in northern Saskatchewan. Pamela studied bass and I took bluegrass guitar with Marc Roy, as well as taking in the general way they run their camp, as inspiration for ours. That camp happens on the Ness Creek festival site, a beautiful creekside spot with swallows winging through the air all day to feed their nestlings in the rafters of the buildings, and a big lamplit fire circle out back of main stage where folks jammed every night. The shared repertoire of songs and tunes among bluegrass and old-time players makes for a really inclusive experience. On the last night I walked through the cantina where all the cool kids were throwing down hard, and as soon as I stepped inside, someone looked over their shoulder and said "we're in C."  That pretty much summed it all up for me.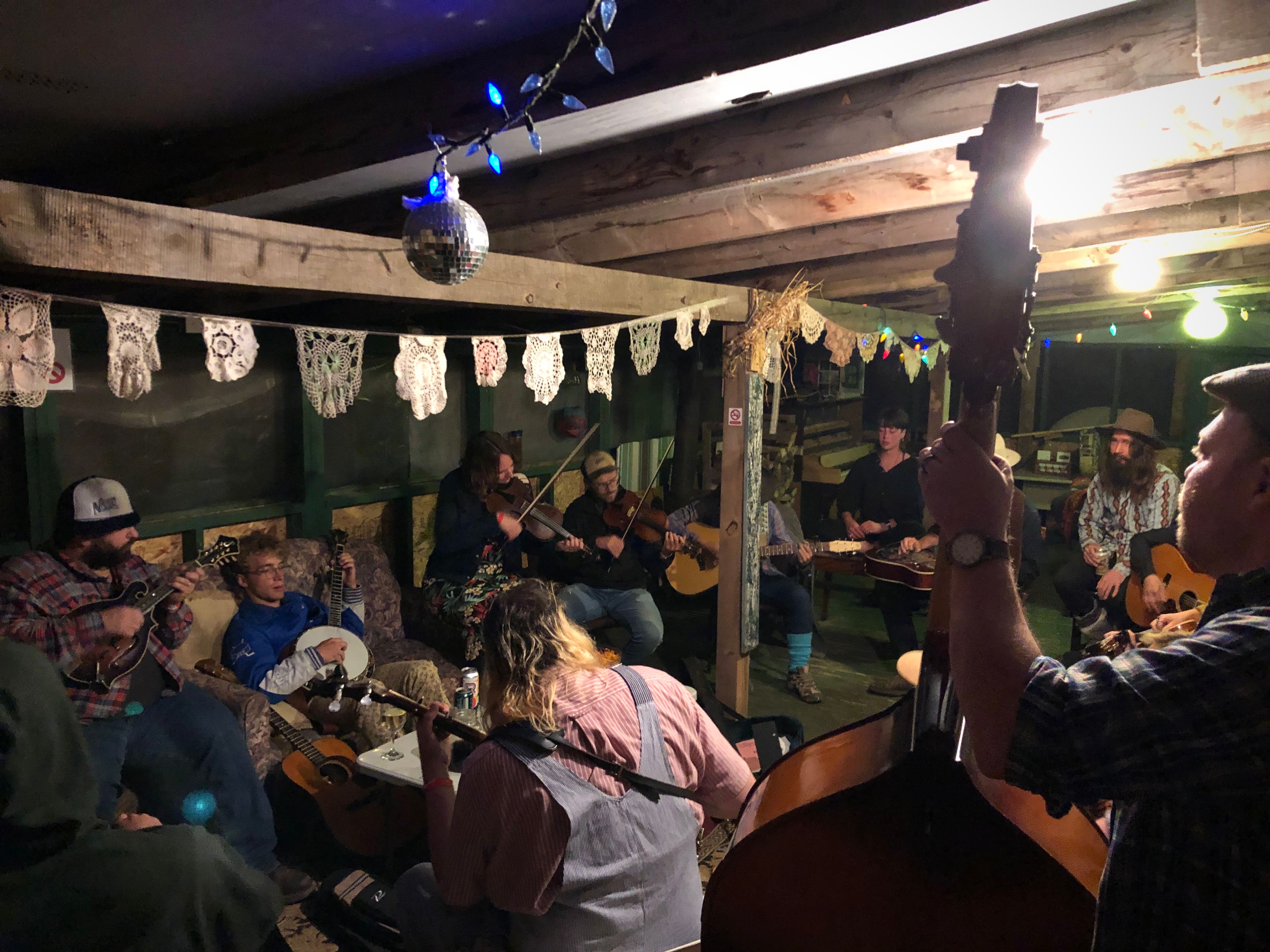 Pamela and I made our way back home and out to Edson for a final Indoorables show before it came time for me to hit the road eastward in Lucky. I spent a few days getting things ready, but ended up in a hurry all the same, short on time to send out this Travelogue, find shows to fill the gaps in my schedule, or reach out to anybody I hope to see along the way. I'm getting around to all that now. But one guy I had intended to reach out to, my old Taiwan coworker Chad Kelly, just happened into my campground one morning in Whitewood, on a mission to put up bouncy castles for a community event. What are the odds of that? Well, it seems like that kind of thing happens all the time. 
I love you, pals. Keep shining, see you out there, 
s