Dear hearts, 
It's been too long since I wrote. Life's been uncommonly busy for me this past month and a half, what with getting home, getting the Second Chances back in action, getting together with the whole family up at North Country Fair, getting the van packed up and on the road, getting covid, getting over covid, getting across the border, and finally getting back into the gigs this past weekend here in Michigan. Phew.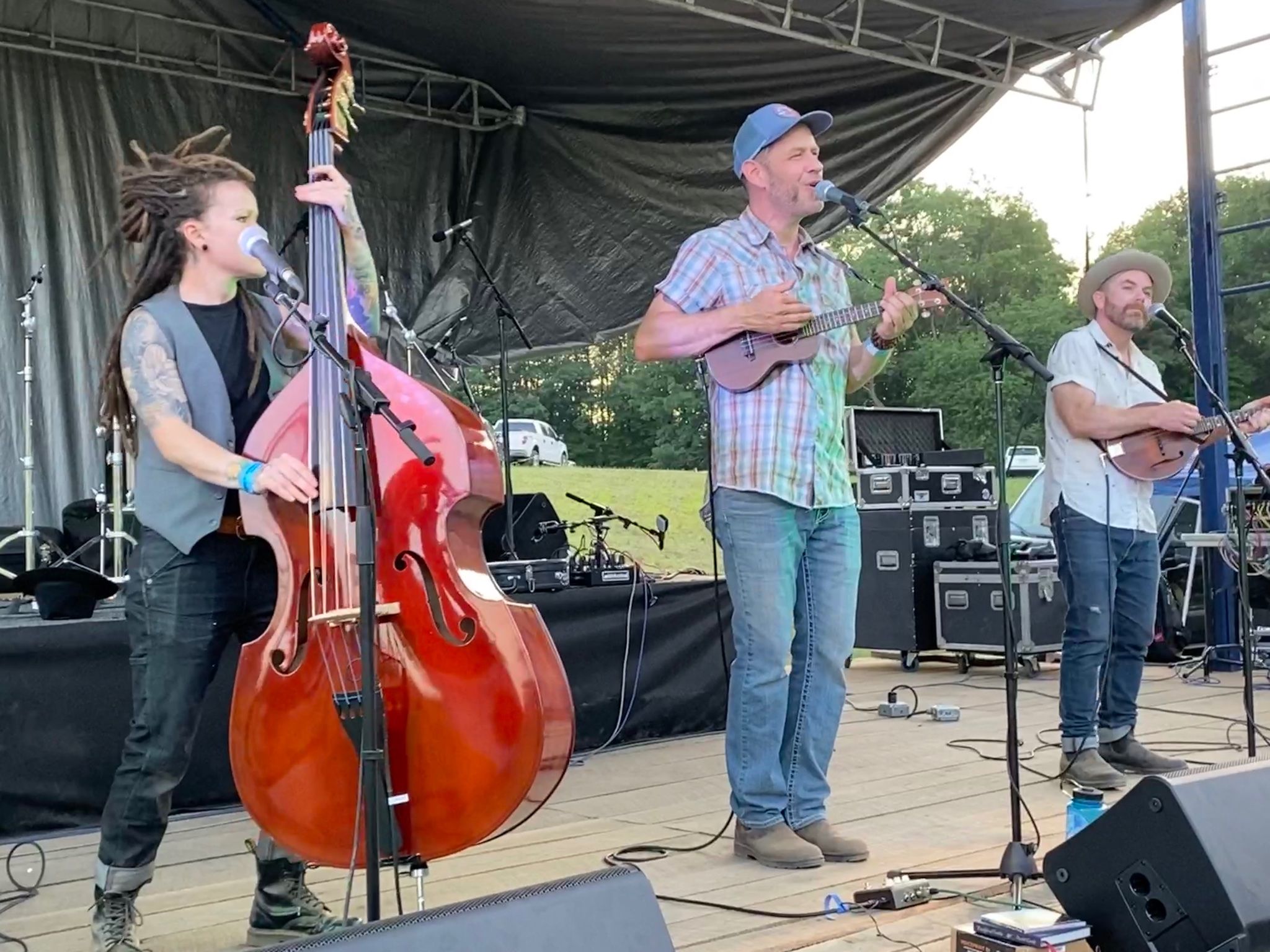 Smiling Acres Music Festival, Trufant, MI • photo by Brent Godfrey 
It was my first time contracting the plague, and it sure wasn't fun, but I was grateful for the vaccines and these miraculous immune systems of ours. We had to cancel three shows (in Saskatchewan, Minnesota and Wisconsin), and I sincerely hope I didn't give anybody anything more than entertainment at our last two shows in Alberta. Here in Michigan, we played the lovely Nahma Inn and the wonderful new Smiling Acres Music Festival over the weekend, and we've got a few shows left before we cross the border into Ontario: 
Tue July 5 • Grand Rapids, MI • solo yard concert TONIGHT! 
Wed July 6 • Buchanan, MI • yard concert at Tamarack 
Thu July 7 • Ann Arbor, MI • The Ark, opening for Carsie Blanton! 
Fri-Sun July 8-10 • Bliss, MI • Blissfest 
Tue July 12 • Toronto, ON • Cameron House 
Thu July 14 • Harcourt, ON • Harcourt Park Community Centre 
Fri-Sun July 15-17 • Perth, ON • Stewart Park Festival 
Tue Jul 18 • St. Catharines, ON • house concert 
Fri Jul 22 • Waterloo, ON • Kitchener-Waterloo Little Theatre 
Sun Jul 24 • Ithaca, NY • yard concert 
Thu-Sun Jul 28-31 • Goshen, CT • Falcon Ridge Folk Fest 
Wed Aug 3 • Chicago, IL • Hey Nonny 
Thu-Sat Aug 4-6 • Appleton, WI • Mile of Music festival 
Sun Aug 7 • Maple Plain, MN • Sun Dog Farm 
Fri Aug 12 • Regina, SK • yard concert 
Sun Aug 14 • Saskatoon, SK • yard concert 
Fri-Sun Au 19-21 • Big River, SK • Northern Lights Bluegrass & Old Tyme Music Festival w/ Pamela Mae and friends 
All shows are with the Second Chances unless otherwise advertised, and all the details, as always, are on www.scottcook.net. As you can see, there are still some gaps in the schedule, and we'd really like to fill 'em. Tour's hard to make profitable at the best of times, even without covid derailing things. We're traveling with our own sound system so we're all set up for yard shows, just drop a line to scottcooksongs@gmail.com if you want to bring us to your town! 
So, a crazy thing happened since I wrote you last, from the Folk Alliance conference in Kansas City, when I'd just released "Get 'Em, Letitia James!" to the wide world. A week later Pamela and I had a gig in Powell River, BC and took the opportunity to drive up to tiny Lund, the northern terminus of Highway 101, where we were tickled to see a poster for our show that night.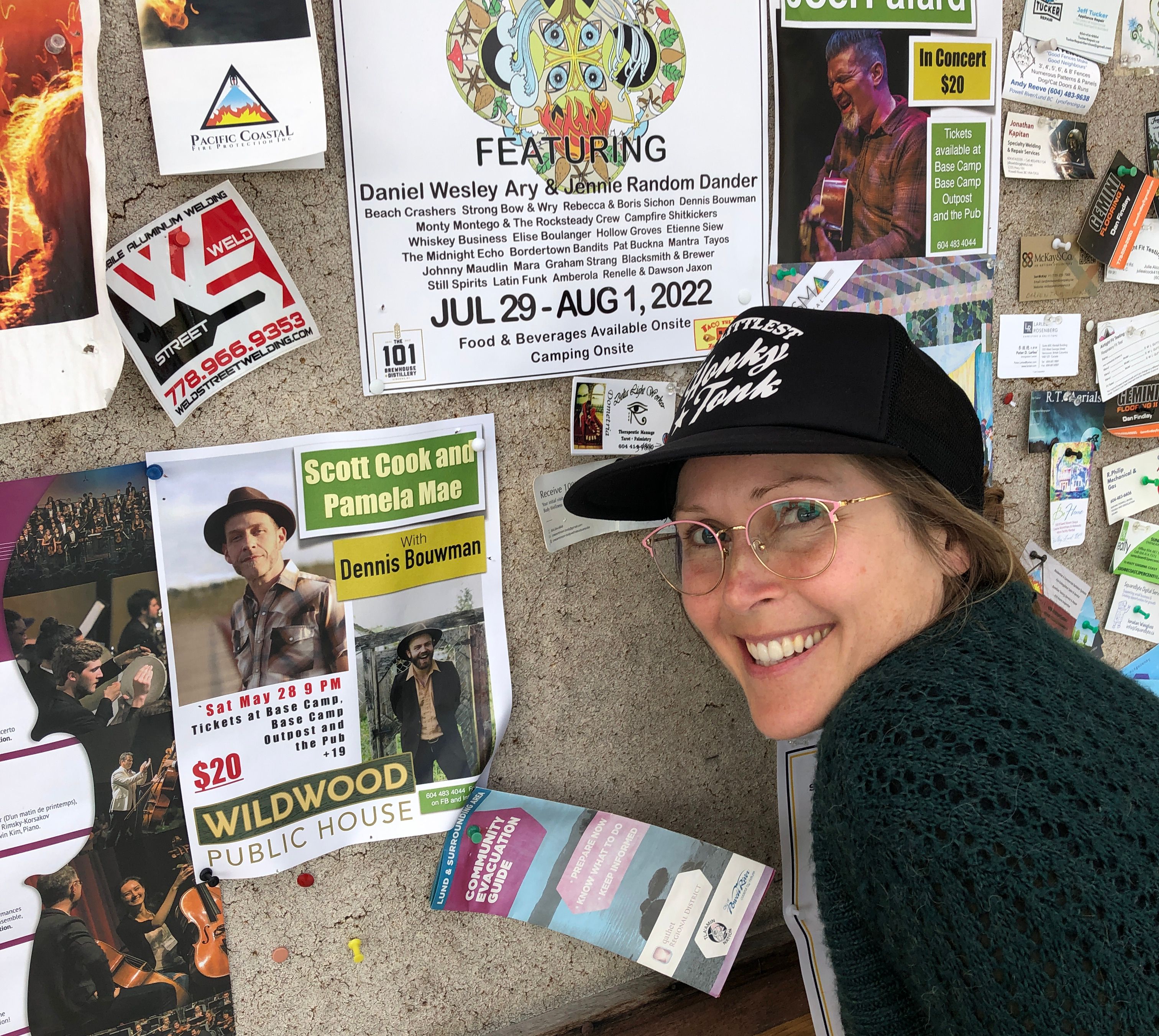 At the bar back in Powell River, we were listening to our pal Dennis Bouwman's opening set when the owner came over and told me there were a couple women at the bar who wanted to speak with me. He put a business card down on the table, and I was floored to see the top right corner: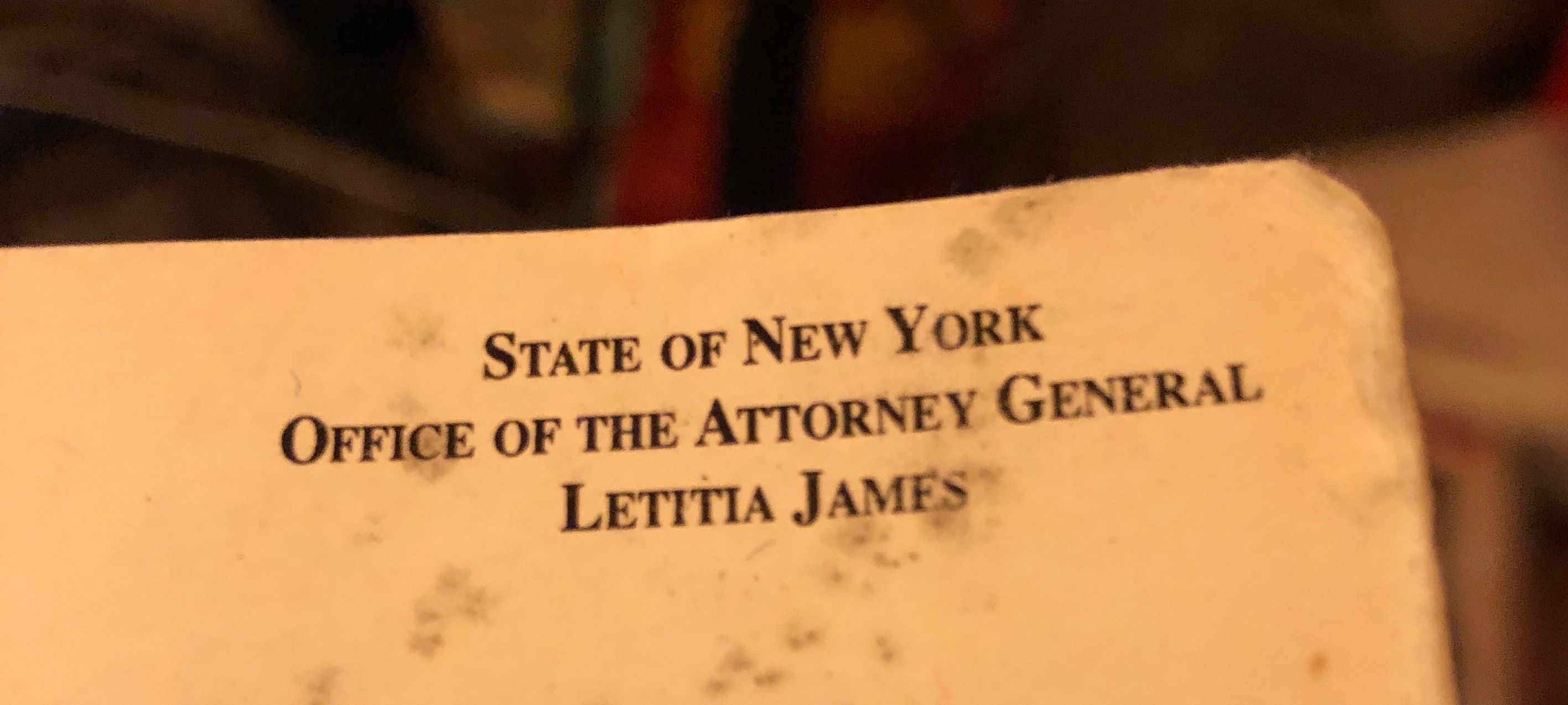 As it happens, Letitia James' right-hand woman has family on the Sunshine Coast. She was visiting Lund, where she saw the same poster we'd seen and said "that's the guy!" Turns out they've already been rocking out to the song at the office. I still can't quite believe it. 
Pamela and I wound our way home from there, even visiting some new spots. We had a sobering slow drive through Lytton, where last summer's "heat dome" brought the highest-ever recorded temperature ever in Canada, at 49.6C (121F), and then a wildfire took out the town. The whole Main Street was just rubble, charred brick chimneys and rebar, with signs advising us to roll the windows up and set the air to recirculate on account of the lingering toxins. 
I was reminded of earlier this year, when we crossed the Rio Grande in New Mexico and saw it was just gravel. It's not uncommon for it to dry up, as a lot of it's diverted for agriculture upstream, but it's currently seeing the most severe drought in 1200 years, and projections for the future don't look good. 
It's hard to square stuff like that with the way life wants to rush back to "normal", isn't it? With the way we're all raring to get back on tour, or fly to Europe, or what have you? I just paid to offset our spring tour's carbon emissions on MyClimate.org at a cost of $400US for offsetting projects in the developing world like providing more efficient stoves to folks in Kenya, or helping small farmers in Nicaragua with reforestation, and split the same amount among the Rainforest Action Network and Rainforest Foundation US. $800 felt like a lot. But truly, it was a small cost compared to the other costs of tour, like the $8000 we spent on food. And I imagine if every company was paying to offset their carbon footprint, things like intact forest would become a heckuva lot more valuable, wouldn't they? 
These aren't easy subjects to bring up, but I think we need to. The cognitive dissonance of our collective don't-wanna-hear-about-it is reaching absurd heights, and feels especially jarring this week, as we watch this country prioritize gun rights over women's rights, cripple the Environmental Protection Agency, and then banish its cares in an orgiastic blaze of fireworks. But we keep meeting beautiful souls as we travel this land, and I keep deciding, every day, to look for the good in people, and speak to the good in people, as best I can. 
It sure was beautiful to reunite with the North Country Fair family up in Driftpile after two years of no Fair. I saw "Mandate Freedom" stickers on some trucks, and was reminded of how big a tent the Fair actually is. We celebrated the life and songs of our pal Bill Bourne (who, incidentally, was a big ol' hippy and also anti-vax) on Main Stage on Saturday, and we closed out the Fair with his song "The House" on Sunday. A whole bunch of muddy people joined hands and danced in a big circle and sang a song wishing for a world in which we might all be able to get along. And I continue to believe that world is possible, and waiting for us. 
Speaking of North Country Fair, last summer I started a music camp up there over August long weekend. I was pretty certain I wouldn't be able to do it again, but I really hoped it'd continue, and if I had my druthers, that Dan Barton, who's a helluva teacher, and Dana Wylie, whose spiritual compass I have utmost faith in, would carry it forward. Well, it's happening.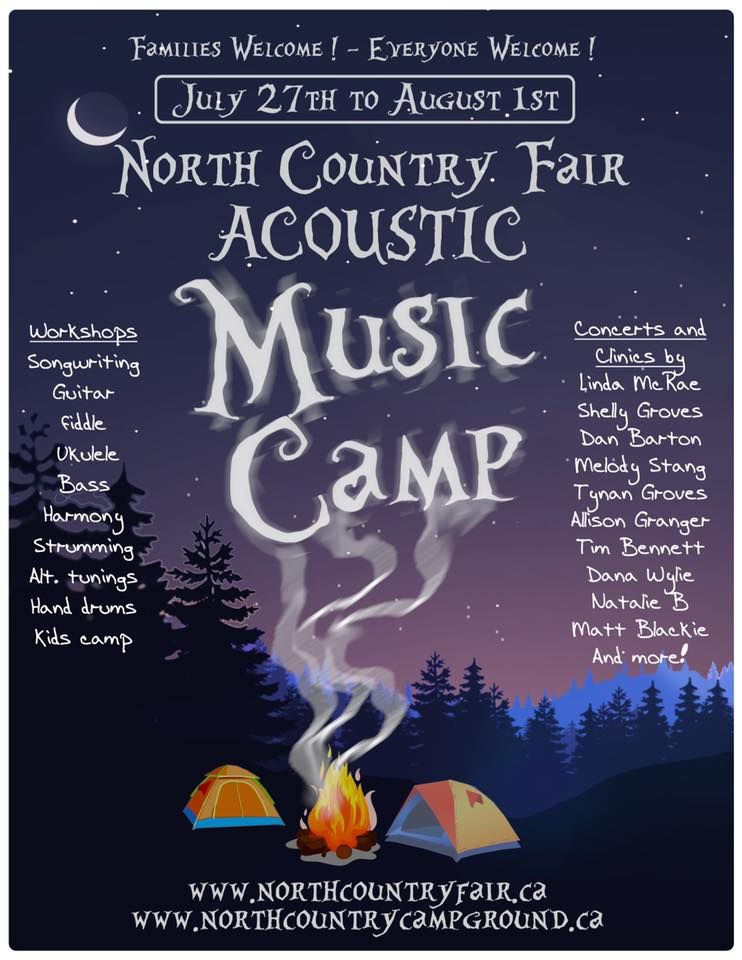 Wherever you are in your journey with music, if you wanna go deeper, I can't recommend camp highly enough. If that weekend doesn't work for you, or bluegrass and old-time's more your thing, check out NimbleFingers in Sorrento (where both Pamela and I have been students multiple times) or Northern Lights in Big River, Saskatchewan, where Pamela and I will both be students this year. Don't leave music to the professionals, it's for everyone. 
Alright friends, I've got a gig to pretty up for! Sure hope to see you soon, and drop a line if you want us to come to your town, either on this trip or when I roll through with Pamela in the fall. Big love and best wishes from our crew to yours, 
s