Good day to you, friends, whatever time zone you're in. I woke up in Amsterdam yesterday to the news that Donald Trump's been elected President. I checked outside, though, and it turns out the world's still here. The birds are still singing, the trains are still running, and the struggle goes on like it always has. A lot more on all that later, but for now, at least, the world's still here, and it's still the only one we've got. 
It's been three months since I wrote you last, and for that I do apologize. These last months haven't left much leeway for this sort of thing. But yeah, you may want to put a bookmark in this thing somewhere along the way :) 
I did touch down back home in Edmonton briefly three weeks ago, just in time for sweet reunions at my good friends Picture the Ocean and Billie Zizi's album releases, a trip up north to play the amazing strawbale hall in Demmitt, and a round of hugs from my people. Before I could settle in, though, I was on a plane to London via Reykjavik, and off around the UK with my tourmate Jez Hellard. We had small crowds at most of the shows, but there were some really special stops among them, including a lovely night at Hop Yard Brewing Co. in Forest Row with a bunch of Small World festival crew, a house concert at Jez' parents' place with our good friend and bona fide magician Nye Parsons on the double bass, and a visit to Scotland for Dougie MacLean's charming Perthshire Amber festival and a heartwarming house concert in Fife with the Letham Nights crew. Autumn was incredibly beautiful up there, with the leaves shimmering gold and a beautiful amber light pouring over everything. On Monday I took a train to Harwich and an overnight boat to Holland for a little go round the continent. 
1. The road ahead 
The next couple weeks of rambling look like this: 
Thu Nov 10 - Bremen, Germany - Paradiso 
Fri Nov 11 - Steendam, Netherlands - Podium Cafe Peter en Leni 
Sat Nov 12 - Spijkerboor (Drenthe), Netherlands - 't-Keerpunt 
Tue Nov 15 - Woerden, Netherlands - Het Klooster 
Thu Nov 17 - London - Woodburner with Jez Hellard & Lisa Canny 
Fri Nov 18 - Kettering - The Sofa Sessions with Jez Hellard 
Sat Nov 19 - Battersea - Lost Horizon Sauna Party at the Magic Garden 
Sun Nov 20 - Bath - The Bell Inn with Jez Hellard 
Mon Nov 21 - Priddy, Somerset - The Queen Vic with Jez Hellard 
Wed Nov 23 - Stroud - The Prince Albert with Jez Hellard 
Thu Nov 24 - Glastonbury - Hawthorns Hotel with Jez Hellard 
Fri Nov 25 - Priston, Bath - Priston Village Hall with Jez Hellard 
Sat Nov 26 - Bristol - Kings Weston House with Jez Hellard & The Djukella Orchestra 
Sun Nov 27 - Worth Matravers, Dorset - Square and Compass with Jez Hellard 
Kings Weston House, a restored 18th-century manor house in Shirehampton that I can't believe they're letting us into! 
Hugely excited to play with Jez and the Djukella Orchestra in a big, swanky wooden room that rings. For those of you on Facebook, please share and spread the word around! 
UK Tour 
London show 
Bristol show 
As usual, all the details for those dates can be found on my news page. As soon as the UK tour's wrapped up, I'll be flying to South Africa, via a couple days' stopover in the UAE. I've never been anywhere in Africa or the Middle East, so I'm really excited to finally be making the trip. I have a bunch of friends in South Africa from my time in Taiwan (including two of my old bandmates from The Anglers), and some of them have kids I haven't met yet. 
I'm not really organizing a tour in South Africa, for lack of interest and apparent lack of an English songwritery scene, but I actually feel better about that, with all the friends to visit, new kids to meet, new country to see, and African music to absorb. I would be glad to sing, though, wherever there's folks who want to listen, and I'm willing to play house concerts if someone wants to host. Basically, it'd just be an unamplified performance in your living room, for 20-40 of your friends, by donation. Drop a line to grooverevival@gmail.com if you're keen and I promise I'll do you proud. 
I'll be landing back in Alberta on the Solstice, and spending Christmas with my family, as well as playing Penny Malmberg's always-wonderful New Years event at McDougall United Church with the Second Chances. In the new year, we'll be releasing our new CD Further Down the Line with a string of gigs in theatres all around Alberta, including the big hometown event Friday January 27 at the Shell Theatre in Fort Saskatchewan. We're gonna sort out a party bus from Edmonton, so all our local friends can come make a night of it. 
In February, I'll be taking the new album to the Folk Alliance International conference in Kansas City, and then the Second Chances and I fly to Australia for five weeks touring there. Shortly after that I'll be on a Second Chances tour of Western Canada, and a solo tour down to the Southern States, including another stop at the Kerrville Folk Festival in Texas, before I make my way back northward for festival season. Come fall I'm still planning to cycle down the west coast, after which I'll likely be doing the rounds of the conferences, making another tour of Australia, and then taking the Second Chances on their first tour of Taiwan. 
So yeah, I know I said in the last Travelogue that I'm thinking of settling down. But I've had to confront an uncomfortable reality since then. Whenever I think of finding a place to live, it's always a year away. And it's mostly just a nice fantasy I've been carrying around, of a place where I can stop all this rushing around and learn to sit still. But really, the craziness doesn't come from the road. It comes from inside me. Slowing down is a lesson I've got to learn, not a place I've got to go. 
2. Last hurrahs out west 
Last I wrote you, dear readers, I was about to head into Edmonton for a farewell show at the Mercury Room alongside the handsome fellas of the Folk Road Show. Little did I know that my friends had been scheming behind my back for several months, on a surprise that was about to be sprung that night. Onstage about halfway through our set, Bram took the mic and told me they had a surprise for me. I turned around and there was a Martin D-28. I was too shocked to cry. Here's Jacquie's Instagram video of the moment. 
My bandmates had been asking me for a while when I was gonna get a new guitar, as my D-15 was cracked in a dozen places, and held together with super glue. The intonation was starting to get really bad, where nothing short of a neck reset would fix it, but I was wary of pouring so much money into a guitar that was in such rough shape already. I'd started looking around, but hadn't yet found the one. Well, actually, I had played one really sweet one, a used D-28 at Acoustic Music Shop in Edmonton. It was the only Martin they had in stock, and it was already on hold for somebody else. My buddy Chris Quesnel was working that day, and he said "why don't you give it a go anyway?" While I was trying it out, he was around the corner texting Jesse Dee, who had put it on hold for me, "He's in here playing it right now!" When I was done, he asked what I thought. "It plays like a dream," I said, "too bad it's already taken. Who's it on hold for, anyway?" "Oh, just some customer." "Just as well," I said, "I probably couldn't afford it anyway." 
Over the previous couple months, Melissa and Bram had been collecting donations from loads of my friends and family, and come up with enough for the guitar, with money left over for a pickup. That's how good my people are to me. Jesse called me up about a week before the show, having heard that I'd been looking in earnest, and told to me to wait a bit, 'cause he might have a line on a used D-28. Turns out the line was on me :) 
My tears waited 'til the following morning, when I woke up in the van next to the guitar, took it out of the case and let it ring. It's a beauty. It fits my hands just fine, like the song says. But that wasn't what made me cry. It was the card Steve Teeuwsen put together, with the names of all the friends who'd pitched in, and their kind words. What an amazing group of people to be loved by. And to think that I can carry hopes from them! To think that we can change the world with love and song and honesty! And how so many of them reminded me to take good care of myself on the road. Never in my life had I felt more humbled, nor honoured, nor surer of my calling, than that day. 
Oh, and I got another birthday present that night, from Sean Vandenbrink of Boots & The Hoots: a tattoo gun! I've been talking about getting into tattooing for a couple years now, and he had a whole kit that he'd never used, so yeah, I'm now equipped to make permanent marks on bodies, for better or worse! I'm gonna start with my own legs, of course; it's only right that I take the first dose of my own medicine. 
chHere's a little snippet of fun from that show, right after I was given the guitar, that our good friend Radar was prescient enough to catch: "Kitchen Dance Party On" 
The next week the Second Chances and I were off to our last fest out west for the summer, via shows at the Valemount Legion and at our friend Glenn's house in Prince George, alongside the mighty Raghu Lokanathan. It was my fifth time at Music on the Mountain (or MoM Festival, as it's now called), and only the seventh year for the fest. The now-legendary first year featured an incredible lineup (Fish + Bird, Fred Eaglesmith, Jesse Dee and Jacquie B, Brian MacMillan, Scotty Dunbar, Faye Blais, Scarlett Jane, Sarah Burton, Diana Catherine, Mason Rack, our new Australian pals Jungal, Aurora Jane, Tim Bennett, and Mal Webb, and many, many more), and a just-as-incredible lack of crowd. It was such a spectacular financial failure that the organizers Lionel and Rosemarie had to re-mortgage their house. But like any of us psychotically unrepentant dreamers would do, rather than give up, they doubled down. And seven years in, the festival seems to have found its stride. 
One of the most unique things about the fest this year was the Sorokathon: Grand Forks songwriter Dave Soroka decided he'd try to raise money for the festival by playing a 24-hour set, all originals, with no repeats. People could sign up to pledge any amount per hour that he actually finished. I don't think there are many songwriters in the world with enough material for a 24-hour set. But Dave brought a big stack of printed lyrics, and thumbed his way through the pile, singing song after song for whomever was there, and dropping them into a big box marked "Used" as he went. He still had plenty left over by the end. And these weren't throwaway songs. I came in for a listen Saturday morning, about three-quarters of the way through the thing, and he absolutely killed me with four songs in a row. 
Dave had contacted me before the festival, asking me to play guitar for a couple numbers, because he figured his hands might not last the marathon. And I did sit in with him, as did T-rav The Transformer, Sunny Daye, and plenty more folks. But his hands and voice held up, and with a few breaks (which he stopped the clock for, of course), he made it past the 24 hour mark, ending with a half-hour-long Dylanesque rant called "That's the Way the Game is Played". I swore he must've used every possible rhyme with "ade", but afterward he showed me a printed list of words he hadn't used, in hopes that other songwriters would write more verses. That's the kind of guy he is. Anyway, a few of us had already decided to demand an encore, so immediately after the big finish, we started yelling "One more!", "You're lazy!" and so on. And whaddayaknow, having already played twenty-four and a half hours, he didn't even waver, he just launched into another one. That's the kind of guy he is. 
One of Dave's steadiest supporters through the Sorokathon was a lady named Edith Wallace, who I'd met last summer at Nimblefingers Bluegrass and Oldtime Music Camp, and who had recently found a new lease on life after leaving a loveless marriage, finding her own voice, and moving into a van just like the young'uns do. She was so inspired by Dave and the whole thing that she wrote a song of her own about it, which she performed in her main stage set on Sunday. And that must've been the sentiment all my stored-up tears had been waiting for, 'cause they sure came rushing out when Edith sang "what the world really needs is one more song." Because it actually does. The world's drowning in bad songs; we need more good ones that float to hang onto. 
From MoM Festival it was straight to Edmonton, to drop off the Second Chances and get the van changed back over into a home for one. I had a free night for a farewell party before I left, which Steve Teeuwsen and Zach were kind enough to host in their treed-in back yard. Their spot was the site of many a beautiful campfire, but the province has decided to turn it into parkland, so it was great to enjoy one last hurrah before it lives only in our memories. It was a lovely night, with so many folks I care about gathered around the fire sharing songs and laughs. That right there is home for me. 
For some reason, though, rather than shutting it down at a reasonable hour after a sweet night like that, Steve and I stayed up 'til the wee hours drinking whiskey, which made for a hard ride to Dundurn, Saskatchewan the next day. And that seemed to be an omen of how the trip was to continue for the next couple weeks: long, hard drives every day, with all the urgent work left undone and loose ends left untied nipping at my heels along the way, followed by partying too hard, blowing off steam every night, leading to another long, hard drive the following day. 
3. Travels eastward 
The nights were good all the same, though, and reminded me how many seeds of love have been planted on all the previous, often-lonely journeys across Canada. In Winnipeg, I got to open two shows at the legendary Times Change(d) High and Lonesome Club for Jaxon Haldane, lead singer of erstwhile Winnipeg classics The D Rangers, who I finally got to know earlier this year down in Australia. Plenty of old scenesters came out for the early show with kids in tow, and it was a real honour to feel at home in that big family. Jaxon closed out the late show with an unamplified encore, standing on a chair in the middle of the room, including a whistle solo duet with Times bartender and killer drummer Joanna Miller. The crowd still wanted more, so he went back to the stage and rocked a duet of Fred Eaglesmith's "Forty Years of Farming" with Times doorman and killer songwriter Andrew Neville, and it was truly Winnipeg at its best. 
The next night I was in Sioux Narrows, Ontario for a sweet house concert organized by my friend Ashley, whose house I'd played at years ago in Kenora. It was an exhibition opening for the lady of the house, Jennifer Swenson, who makes evocative watercolours and multi-media works, and it was classy and sweet. But some of us carried on the local bar afterward, where I got a proper taste of Sioux Narrows on a Saturday night: hunting-lodge decor, a DJ spinning dance tracks, and Anishinaabe girls getting down. One fella who'd been at the house concert was there, sporting a Donald Trump "Make America Great Again" hat, which I just assumed he was wearing ironically, 'cause who in their right mind would seriously wear a thing like that, right?!? But after talking for a while I realized he wasn't joking. And that's when I made up my mind that I had to have that hat. Mostly just so he'd never wear it again, but also for the comedic potential. 
It ended up involving hours of negotiation, with invaluable help from Ashley, but I finally got the hat, on the condition that I wouldn't deface it, and that I'd write something suitably ecumenical about the whole incident; something about how not everyone who disagrees with you politically is just ignorant and evil. I figured I'd do it in the next couple days, but as I mentioned, my rides were long every day, my late-night decisions were often poor, and I was barely keeping the show on the road. On top of that, the news reports over the radio were making it harder and harder to see how anyone who wasn't a total asshole could support that pig. But I've thought long and hard about it over the last couple months, especially today, and I'm finally going to deliver on that promise at the end of this email. 
Next stop was Thunder Bay, where I played the Apollo, one of Canada's longest-running rooms, which most everyone who's taken up the stupid habit of touring coast-to-coast across our sparsely-populated country has played at least once. The owner Sheila took care of me on my first time through, back in 2008, when I played for a crowd of three people and slept upstairs, and I've never played anywhere else in T-Bay since. I usually prefer to tour across the Midwestern States rather than Northern Ontario, barren as it is, but every now and then I stop in for a show. Sheila's fallen on rough times of late, business-wise and health-wise, and I arrived to find them with no power in the building. But the show must go on, as they say, and it did, with a roomful of candles, beer on ice in a cooler, and a battery-powered record player for the intermission. 
Then it was onward and eastward to Wawa, where I did a house concert for a young fella named Kjell. He and his friends, who were the opening act (Smokies and The Bear), had seen me years ago at another Wawa house concert, and rolled out Wawa's warmest welcome for this weary traveler. Sharing the show was something of a dream come true for them, just as they're about to embark on their first tour, and that in itself was a big honour for me. I stayed up late partying with the kids, dug the starry skies, and felt my way back to the newness of this old world. 
The big gig I'd been rushing eastward for was Shelter Valley Folk Festival, a hilltop beauty on a lavender farm in Grafton, Ontario that I'd first dropped into on a Sunday back in 2005, as Raghu Lokanathan's guest. Raghu had stayed up into the wee hours the night before, swapping songs with the folks, and told me that I must check out a fella named Jonathan Byrd. Predictably, he blew my mind, as did Aengus Finnan, who I heard for the first time there too. Jonathan offered some valuable perspective on the road forward when we were talking shop backstage, about turning down work that won't pay your minimum fee, which was a totally foreign concept to me then. I could only dream of getting a gig like that someday. 
This year I finally made it, and among good friends, no less. Corin Raymond, Irish Mythen, Kaia Kater, our friend Noosa aka Winona Wilde, David Ross Macdonald, Brian MacMillan, the Lonesome Ace Stringband, and many more talented folks were there, and we swapped songs and drinks and laughed 'til our sides hurt. They humbled and honoured me with the last set on main stage on Sunday. Afterward they fed us a great dinner, complete with tinfoil-wrapped hot potatoes that everyone was carrying in their pockets to stay warm. Oh, and we talked the funniest talk. And Corin Raymond's working on a tune about a couple overeatering desperados called "Paunchy and Hefty". You heard it here. 
After a Monday in a hotel to recuperate, I headed to Toronto for the first of three Tuesdays at the Cameron House. Brian Kobayakawa and Scott Galloway played bass and keys, Winona Wilde was our special guest, and a whole bunch of Shelter Valley friends were on hand to make a big ol' reunion out of it. Corin was out, and convinced me to stick around for Run With the Kittens, who somehow managed to roll everything awesome about 90s music up in punk rock and light it! Needless to say, another late night. 
The next day I headed out for a string of gigs around Ontario, alongside Anthony Damiao, David Ross MacDonald, and Winona Wilde. I got back into Toronto in time to sing for a Unitarian Universalist service, and sing a few more in the basement of my friends Faye and Vic's bar, Wenona Craft Beer Lodge, back alongside the handsome fellas of The Folk Road Show. 
The following Tuesday I was joined at the Cameron House by Brian and Scott, who were again such a pleasure to play with, and Sarah Jane Scouten, who writes great songs and delivers 'em with panache. After the show, Noosa and I drove out to Sarnia, so we'd be in a good spot to cross the border the next day and make it up to my house concert in Petoskey, Michigan. I often have hassles at the border, so we talked through some of what we might say if it came to the whole asking-us-questions-in-different-rooms kinda schtick along the way. But that morning, Noosa put on some lip gloss and a nice pink sweater that covered her tattoos, and we combined our Jedi powers with her mom's prayers to Allah (which Noosa reckons are just magic by another name), and whaddayaknow, we sailed through the border with a smile! She might actually be a good luck charm. I was flooded with memories of family road trips gone by when we got out at the first roadside rest stop and smelled the air. And beyond stoked to be able to introduce Noosa and Michigan to each other. 
I've gotta take a moment here to aquaint those readers who don't know Noosa (aka Winona Wilde) with a figure who'll undoubtedly appear in many Travelogues to come. We met last summer, when we shared a campsite at Nimblefingers in Sorrento, BC. Corin had already given me the heads up, having heard her songs at the ArtsWells festival a couple weeks before, and as usual, his judgement's right on the money; her songs are funny, sad, and undeniably good. She'd been lingering in obscurity for years, singing country songs for drunks, but since last year she's taken the tiger by the tail, and even showcased to a capacity crowd at the Folk Music Ontario conference just now. 
I was thankful for Noosa's company when we paid a visit to my dad's mom, who's moved into a care home, and is gradually sliding into the fog of Alzheimer's. She didn't recognize me at first, and barely understood anything we said, but Noosa managed to get us all laughing together, and it was wonderful to be with Grandma in that childlike space, where the details may be ungraspable, but the now's right here. She gave us a tour of pretty much everything in her room, including every article of clothing in her closet, saying things like "This is when it was raining" when showing us her raincoat, and life stretched out forever in a sad and beautiful way. 
I had Noosa sing a couple tunes at both of my Michigan house concerts, and during my set at Earthwork Harvest Gathering, and she absolutely slayed it everywhere. We had a gas at Earthwork, hanging with my family, jamming with our folksinging friends Heather Styka, Eric Nassau and Caroline Barlow, drinking Budweiser (which has been renamed "America" for the election season), and riffing on Donald Trump's slogan, with gems like "Make America Twerk Again", "Bake America Cake Again", "Make America Great For a Change", and Noosa's favourite, "Pee America Poo Again". On the Monday night we hung around and swapped songs around the piano in the barn, and I was ever so grateful to see faraway corners of my life coming together.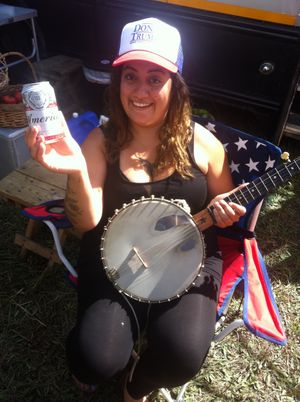 Noosa at Earthwork Harvest Gathering, drinking America great again! 
Here's one she sang at the Earthwork farm, which feels like the timeliest of tunes right now: "Pop and Chips for the Apocalypse"
From Michigan we were straight back to Toronto just in time for the last of my three Tuesdays, this time with Nigel Hebblewhite of Run With the Kittens filling in on bass, and David Newberry as our special guest. He'd broken his hand recently, so his friend Brin Bessie played the electric guitar while Dave animated the songs ably in spite of having one arm in a sling. 
I drove out that night, slept in a truck stop along the 401, and carried on to Montreal the next day. I'd had a feeling for a while that I was playing it pretty close to the line, and indeed, it caught up with me that night, sniffles and coughing and all. I pushed through it for the audience of a dozen or so at Le Cagibi, alongside a great young Edmonton songwriter named Eva Foote, and was pretty much over it by the weekend, in time for the Deep Roots Music Festival in Wolfville, Nova Scotia. It was another dream come true for me to finally play that festival, which I'd first dropped into back in 2005, on that first disastrous tour across Canada. I'd played the night before at Union Street Cafe in Berwick, one of the few proper shows of the tour, and they'd offered me the room upstairs, with the proviso that the bed hadn't been changed since legendary Toronto songwriter Bob Snider slept in it the night before. Well, there must've been some kinda mojo in that room, 'cause I sat by the window and came up with a guitar bit that became the title track to my 2007 album Long Way to Wander. The next day I got to see Bob talking about songwriting in the Convocation Hall at the festival, and left feeling mightily inspired, both about songs and about the dream of playing the festival someday. 
I played the pub on Friday night, and several other stages through the weekend, but on Sunday they had me play next to last in the big theatre. I can't emphasize enough what an honour it is to be trusted with an audience like that at a time like that. The feeling was only amplified by the fact that my old Taiwan friends Katie and Shali (along with Shal's hubby Steve Gates and their two kids) were all in the audience. 
I made my way back Stateside via a lovely Music Runs Through It show in Fredericton, and spent a few days on the Eastern Seaboard, with a couple little shows in Boston and Philadelphia that reminded me of the kind of touring I used to do. It still seems that everywhere I go, I've gotta start from scratch, which makes me all the more grateful for the full-grown flowers of the seeds I planted long ago. 
It was pretty much a straight shot westward after that, with a few stops along the way: in Fort Wayne, Indiana to see May Erlewine, Lindsay Lou, and Rachel Davis' group The Sweet Water Warblers; in Cross Village, Michigan to see Seth Bernard's killer trio at the amazing Legs Inn; in Mackinaw City for another visit to my grandma; in Munising, in Michigan's Upper Peninsula, for a show at Falling Rock Bookstore and a walk in the fall colours; and in Duluth, Minnesota, for a sparsely-attended but nonetheless lovely show with my Taiwan buddy Paul Lawrence. From there I just drove for four days straight, gathering autumn leaves along the way for the new album booklet, through a snowstorm in North Dakota, up into the high country in Montana, over the Great Divide and down into the rainforest of the Pacific Northwest. 
I knew I was seriously road-tired when I arrived at the FAR-West conference in Seattle, and the one thing I was ecstatically excited about was the thought of staying in the same hotel room for three nights in a row. Seriously. I played for almost no one at two showcases in a row on Thursday night, and asked myself again why any of us were there. But thankfully I found a potty-mouthed Canadian named Carolyn Mill and her fella Reid Jamieson who served me "Canuck-tails" (rye & maple syrup on the rocks), and soon enough my new friend Robert Sarazin Blake showed up, and we were laughing and life was making sense. 
I had an official showcase Friday night, and finally got to introduce myself to everybody at once, which is kind of the point of these conferences. I'm just following up now, but it's looking like the connections have been made to make sense of that bike trip down the coast in the fall. 
On Saturday, they gave "Best of the West" awards to Peter McCracken of the Centrum Foundation, whose acceptance speech was very short, but contained two bits of hard-won wisdom from his many years of organizing, teaching, promoting, and preserving the folk music tradition: "The bigger the mistake, the longer the memory," and "You can't just squirt a little vinegar on a cucumber and call it a pickle." The other award went to Danny O'Keefe, who wrote "Goodtime Charlie's Got the Blues", and has been covered by the likes of Jackson Browne, Elvis Presley, Glen Campbell, John Denver, Jerry Lee Lewis, Judy Collins, Leon Russell, Willie Nelson, Waylon Jennings, Jimmy Buffett, Alison Krauss, Ben Harper... you get the point. His speech, interspersed with songs, had me and plenty of other folks in tears. 
I went to hear him give a talk on songwriting afterward, and at the end he played a song called "Old Dog", from the perspective of an abandoned dog: "the man in the pickup was the one who brought me here / to this place that always smells of medicine and fear... And the wolf who lives within me, is howling at the moon / I know you don't believe me, they never meant to leave me / they'll be coming for me soon". The whole room was crying openly. I've never seen anyone do that with a song. I choked up even trying to tell people about it afterward. Wow. Again, I felt more committed than ever, to the art form and its power. It can truly open hearts. And hearts need opening, maybe more than ever. 
At a time like this, when the worse of the two fascists-on-offer has clinched the Presidency, and the country seems more polarized than ever, I'm grateful that I get to sing. I'm grateful that songs can work on hearts in ways that slogans and arguments never could. 
4. All you fascists bound to lose! But maybe not today. 
So yeah, the election. At least that's over. As long-term readers of this Travelogue know, I was hugely inspired by the prospect of Bernie Sanders' candidacy, and hugely disappointed, but not surprised, to see how low the Democratic National Convention (in coordination with Clinton's campaign) was willing to stoop to prevent him from winning. Some of my radical and anarchist friends questioned my wholehearted support for Sanders, who despite being the best major-party candidate we've seen in forever, still voted for the war in Afghanistan, soft-pedalled the audit of the Federal Reserve, and falls far short of the kind of revolutionary politics we need. But I've become more of a realist as life goes on. Sometimes you just take what you can get. Bernie conceded defeat and went on to hammering out the details of the Democratic platform. And while the larger aims of the military-industrial-financial complex aren't in question among either major party, other issues are legitimately in play, and progress on them is preferable to moving backward. Which is why I, like Bernie, was hoping for a Clinton presidency, despite my deep misgivings about her. 
Let me unpack what I mean a little, and I hope my friends on the right will stay with me. Typically, the issues we get to vote on are "wedge" issues--the kind that split the electorate down the middle. I'm talking about abortion rights, access to contraception, gay marriage, gun control, and whether we can say "Merry Christmas" anymore. The clash between left and right on these issues is what we call the culture war. 
The stuff we don't get to vote on are things like support for multi-national trade deals like NAFTA (which really did screw Middle America) and the TPP, bailouts rather than prosecution for the criminals on Wall Street, funding for the military-prison-industrial complex, continual war, warrantless surveillance, and so on. 
Electing a black president was a victory in the culture war. It meant that the country was (mostly) growing up, to the point where a black man could sit in the White House. Some folks couldn't stomach that fact, but his election to a second term was an undeniable statement that their America was a relic of history. Obama also came out in support of gay marriage, which cost him nothing politically, but again, was a tangible sign of how the country has changed. 
On the other scorecard, very little changed. We're still at war in Afghanistan and Iraq, we're still in bed with the Saudis (the world's prime exporter of Islamic fanaticism), we've still got Guantanamo Bay, oil companies trampling on Native rights, impunity for the fraudsters on Wall Street, a ballooning surveillance state, for-profit prisons, militarized police, and extrajudicial execution by drones. Obama has prosecuted more whistle-blowers under the espionage act than all past presidents combined. He's also deported more people than any past president, a fact the right don't like to mention very often. 
Remember George W. Bush? What a dick. He talked like a dick, and walked like a dick. He bragged about opening a can of whoop-ass on the world. A lot of people woke up during the Bush years. But Obama's presidency seemed to lull many liberals back to sleep. We've got our guy in there, right? He's good on gay marriage, good on reproductive rights, and so on. As in, he's on our side in the culture war. 
Same goes for Canada's new prime minister, Justin Trudeau. I expect very little in the way of real change from him, but the optics are just so much more pleasing to our eyes on the left. He appointed a gender-balanced, diverse cabinet. He talks like he's educated, and hip. He isn't friends with Nickelback. You get what I mean. But in a deeper way, the new boss is just like the old boss. 
Americans have a serious hate on for the bosses these days. They hate Washington, the duplicity, the politricks. Along comes a guy like Bernie Sanders, who promises to scrap the TPP, rein in Wall Street corruption, get money out of politics, legalize pot, and find an alternative to endless war. The Democrats pulled every trick in the book to stop him from being the nominee, and succeeded. They weren't interested in the kind of change Bernie was talking about, and neither were their friends in the financial and pharmaceutical sectors. Hillary's safe for them. She's cozy with Wall Street, never met a trade deal she didn't like, and only turned against the TPP to try and outflank Sanders. 
Rust belters who used to have jobs in the manufacturing sector are rightly angry at her and the policies she represents, just like the simmering anger in post-industrial England that gave rise to Brexit. Most unforgivably, Clinton (like Trump, despite his recent denials) supported the Iraq war, which she now calls a mistake. For those of us who were against that war from the beginning, it's really hard to see how it could've been a mistake. She undoubtedly had access to more information than we did. And we could see plain as day what a con it was from where we were. 
With an electorate so fed up with the establishment, it isn't hard to see how Trump could cherry-pick the bits of Bernie's platform that are undoubtedly working, on the one hand, while refusing to disavow (and often actively courting) the support of white supremacists, Alex Jones and Breitbart wingnuts, and whoever else might vote for him, on the other, to win the election. 
Michael Moore called it back in July, in his article "Five Reasons Why Trump Will Win". Seriously, have a read if you're having trouble comprehending this thing. 
Most likely, the hawks backstage will keep running the show much as they have. The real power isn't in the Presidency, that's just the face it uses to talk to us. I get why people want to shake things up by electing a self-made man (despite the fact that he's not) who can say he isn't beholden to those powers. I just don't get why anyone expects a serial liar, fraudster and egomaniac to change what's obviously a very profitable arrangement. 
I'm pretty sure Hillary would've found a way to start another war. The ones we've got going so far are gifts that keep on giving, pumping money through the machine with no sign of slowing. I have no idea what Trump'll do. He probably doesn't either. And while I'm seriously worried about the prospect of such a harsh, vindictive egomaniac destroying the world rage-texting with the nuclear codes, I'm not even sure the president really can launch the nukes. I'm not sure of anything. 
Actually, I am sure of one thing, and that is the only way to stop terrorism is to stop making people want to kill us all. "No fly zones" and "surgical strikes" are bullshit. And most everyone we've made war on in the last few decades has been a former asset of ours. Seriously, give this a read if you think we're on the side of the good guys. 
At the very least, I just hope this election result wakes up the nation, and especially the Democratic Party. There are genuine progressives in the Democratic fold, but they've been sidelined for decades. And only a genuine popular movement like Bernie built will bring them back. 
Back to the ol' culture war scorecard for a second, though. Unknowables aside, that's where Trump's win undoubtedly matters. He'll appoint a Supreme Court justice or two, and the Republicans who are currently complaining about activist judges will be elated to see the judiciary furthering their own activist agenda. The big executive decisions will probably be made by Trump's advisors (let's be honest, he's a G.W. Bush-level intellect), but I expect they'll do whatever they can to roll back LGBTQ rights, reproductive choice, and the whole terrorists-shouldn't-be-allowed-to-buy-assault-rifles line of talk. Now that Republicans also control the House and Senate, I expect to see the trend toward privatization and free-market-worship carry on apace, in a fire-sale of public assets. More importantly, though, Trump's win emboldens those folks who fondly remember an America where a man could say whatever he wanted about foreigners, Muslims, women, gays, and trans people, and get away with it. He scored like that. He advocated religious tests for immigrants. He bragged about sexual assault. He dialled the conversational clock back decades. 
He talks at an elementary-school level, but he was cunningly clever in that regard. He successfully mobilized racist, nativist, mysognistic, xenophobic, and whacko folks to vote. But what I couldn't stomach, all through this process, was the oft-repeated suggestion that anyone who's voting for him must be all of those things. I have family members and friends who were pulling for Trump. The common liberal response is sickeningly smug: anyone who supports a racist and a misogynist is therefore also a racist and misogynist. End of conversation. Block and unfriend! As if a vote against one were a wholesale endorsement of the other. And as if the old left vs. right culture war were all that mattered. 
What liberals seem unable to bring themselves to admit is that the right is sometimes right. Political correctness really can be overdone. Clinton really is a warmonger and a liar. Obamacare really is a mess. And the mainstream media really did collude with the Clinton campaign. The refusal to acknowledge any of our potential points of agreement is what's made dialogue impossible between ordinary people on both sides of the fence, who actually share more common interests than they realize. 
Remember All in the Family? Remember Archie Bunker, that loveable bigot? Remember the theme song? 
Boy, the way Glen Miller played 
Songs that made the hit parade. 
Guys like us we had it made, 
Those were the days. 
And you knew who you were then, 
Girls were girls and men were men, 
Mister we could use a man 
Like Herbert Hoover again. 
Didn't need no welfare state, 
Everybody pulled his weight. 
Gee, our old LaSalle ran great 
Those were the days. 
Well, I know some people like Archie. Dean Hager, the fella who gave me the Make America Great Again hat, is a loveable guy. He's misinformed, in my opinion, but at least he's honest. He tells it like he sees it and doesn't get upset if you disagree. He's willing to talk things through, and I'm pretty sure he won't unfriend me over this post. 
That an unhinged, pussy-grabbing conman could represent the last hope for tens of millions of working Americans is a pretty clear sign that the system's broken. But it doesn't mean that all his supporters are racist idiots, as the liberal media keeps repeating. 
Surprisingly, his election's had an invigorating effect on me, like the Bush wins did. There's a lot of work to be done. And while I have mixed feelings about Michael Moore's often manipulative and loose-with-the-facts style, he's laid out a pretty good plan for the way forward here. 
The struggle for a better world is as old as the world itself, and it won't ever be done. But the way forward involves building bridges of inclusion, even if that means gritting our teeth once in a while. People don't change their mind or come to recognize their privilege by being shouted at. They come around by having friends who are different from them. Keep your ears open to both sides. Don't reflexively defend your own side, exaggerate its victories, or underestimate the cunning and resolve of the powers that be. Remember that change is incremental, and that we all carry both sides of everything inside ourselves. 
I'm gonna leave it there, friends. One last item of business, though: since a ton of people have been telling me to get on board the Instagram bandwagon, I finally did. Somehow I managed to get 250 followers before I'd posted a single picture! But I've finally figured out how to use the thing, and if you wanna see some snaps as I go, you can follow me here. 
Those of you who've been following this Travelogue for a while will know that Aftergrams tend to be more my style, often WAAAY after the fact. Well, if you're into that sort of thing, here are a bunch of random shots from the loooong summer wander. 
I'm finishing this from a hotel in Bremen, Germany, where I'm about to get dressed up to go sing songs for people. And I'm sending you all my love from here. Keep your fire lit, and hold it high. In solidarity, 
s