Hey friends, 
I'm writing from our place in snowy Riverdale, Alberta, with a couple Indoorables announcements!  First off, we're broadcasting again tomorrow, Saturday, November 21 at 4:30pm Mountain Time, which makes 6:30 in New York, 11:30pm in London, 7:30am Sunday in Taipei, 10:30am Sunday in Canberra, and half past noon on Sunday in Wellington.  Those last three countries, incidentally, have covid case counts in the single digits (Taiwan had 2 new cases yesterday, Australia had 7, and New Zealand 2, compared to Canada's 4645, the USA's 187,428, and the UK's 22,915), and in the last two of them it's actually springtime(!), so I'll certainly understand if folks there have better things to do than look at a computer screen.  But nevertheless, we hope to bring a little joy, hope, and heart to whoever tunes in, wherever you in the world you are.  You can join us on my Facebook fan page and start a watch party if you're so inclined, or you can tune in on my YouTube channel through this link.  We'll be able to see the comments from both feeds on Streamyard, but as far as I can tell, YouTube's got the best-quality stream.  Kindly click "subscribe" while you're there; I hope to do more with that channel as time goes on. 
This show's being co-presented by the Golden Link Folk Singing Society out of Rochester, New York, and we'll be using a platform called Streamyard which'll let us bring in some special guests including Golden Link's concert Concert Co-ordinator Janice Hanson; Edmonton singer, songwriter, actor and ethnomusicologist Dana Wylie; and our neighbourhood bike repairman J, as a living, breathing, archetypal example of a Real Canadian for our friends from afar.  Oh yeah, and we'll be premiering my first foray into cinematography!!!  I assure you, it's five minutes of silly glory that your life will be incomplete without. 
After the show, the Golden Link folks are hosting a Zoom hang which everyone's welcome at!  It's kinda like we'll leave the stage, then come around and meet you in the lobby.  That'll get going after the show, around 5:30 our time (7:30 in Rochester), right here. 
"Tangle of Souls" single release today 
The other big bit of news is that I just released the third single from Tangle of Souls to the streaming services today!  As you may know, I'm not a big fan of those sites, mostly on account of the model that earns them billions in profits while artists get paid in fraction of cents, but also for the way that having everything inevitably kinda cheapens it all.  I think we lose something if we lose the experience of listening to an album as a whole, and savouring the art and liner notes while we're at it.  You might say that my latest 240-page, cloth-bound, hardcover book's a bordering-on-the-absurd overreaction to that trend.  I wouldn't argue with that, though I prefer to think of it as just a vote for the kind of world I'd rather live in.  Nevertheless, I also acknowledge the world we actually do live in, and want to stress that I don't judge anyone for getting their music that way––it's not their fault that the system's set up like it is, and streaming really does introduce new music to ears around the world.  With that in mind, I've decided to share one last single, the title track.  I'd really appreciate it if you'd add it to a playlist or share it with a friend who'd enjoy it.  Interest in the first few days has a lot to do with what goes any further on those platforms.  You can stream "Tangle of Souls" on Spotify, Apple Music, Google/YouTube Music, Amazon, Napster, Deezer, Pandora, TikTok, and anywhere else you care to look.  And those of you reading this in email form (I love you) will find a download link at the bottom of this page. 
If you want to hear more songs from the album, you'll have to find 'em on Bandcamp (an artist-driven exception to the exploitative norm) or from my website. Speaking of which, I want to repeat my thanks to those of you who pre-ordered Tangle of Souls, and those who recently bought multiple copies for Christmas presents and such.  I was particularly honoured to hear that it was the monthly pick for a Toronto-based book club, and I even got to join the good people on a Zoom call to talk about it a bit.  You kind folks who still relish books, who still believe in albums, and who still support artists directly––you've made this crazy dream a reality, and I can't thank you enough for that. 
A bit about the song-incubation process 
Over the years, lots of folks have asked me about how songs get born, and on the day of its release, I'd actually like to tell a bit about the long trip this one took into the world.  Feel free to scroll past this if it's a little too deep-divey for you ;) 
Through all of my traveling and crossing paths with people who struck me as nothing short of heroic, I've been repeatedly astonished by the staggering size of this world, the uncountable souls struggling and winding their way through it, and the serendipitous ways our paths intersect.  It's something that overwhelmed me at times, but I could never put into words.  I still don't think I have.  But that's the tilting-at-windmills nature of art, of trying to say the unsayable.  Poets always fail, but the good ones fail admirably, and keep failing. 
For the most part, my songs don't get delivered to me whole; it's more like I cobble them together from spare parts.  This one's musical feel was inspired by something I heard my friend J Wagner play in a random, standing/staggering midnight jam at the crossroads in the campground of the Kerrville Folk Festival in Texas.  His song's called "Houston."  It's got a slow feel on the recording, but he was pushing it along that night, banging out a steady strumming pattern with a chop on the backbeat that made it feel like something Springsteen would sing.  That feel stuck with me, and came to mind when I was in Guatemala in January of 2019, toting a cigar-box ukulele my late friend Maurice Jones gave me and kicking ideas around for a song about this big ol' world.  One morning on the roof of our guesthouse I started to get some words together.  The idea hung around all through that trip, every time I felt awestruck by this big suffering, dreaming, struggling, loving and dying world we're all making our way through, and occasionally I wrote down another line or two.  Back home I wrote a few more lines, and when it started to feel like it was becoming less pliable, I changed it up, slowed it way down, even played it on electric guitar for a while.  It felt sadder and more personal at that pace, and gathered a couple more verses like that.  I must've written ten or more, though they didn't all make the cut.  Some of the images and turns of phrase were things I'd kept around for years.  One came from my buddy Jason Williams, who produces the Wild Mountain Music Festival in Hinton, wandering back to camp through the misty boreal sunrise at the North Country Fair.  "Lost and profound!" he said, and I said, "there's a song in that."  And then I did the most important thing writers do that non-writers don't.  I wrote it down. 
Regrettably, when I was writing the book I talked about a whole bunch of other things the song made me think of, and totally forgot to credit Jay for that turn of phrase.  I mean, it's been said before (there's even a Canadian band by that name), but his brain birthed it on its own, and he said it in earshot of a songwriter.  So thanks for that, Jay :) 
Shortly after our tromp around Guatemala, I flew to Australia to tour with the She'll Be Rights and record the album at the end of it.  This song wasn't quite finished, but the idea of this big ol' tangle of souls started to feel like it might be the unifying thread that ran through the whole collection.  I brought it to the band, and they helped me hugely in fleshing it out.  The heartbeat feel at the beginning and in the breakdown later on, the descending line between the verses, the way the ending of the verses alternates between IV - V - I and ii - V - I; all that's down to the musical genius of Liz Frencham, Bramwell Park, and Esther Henderson.  Bram also came up with a guitar part that moved it along much better than the original kernel I'd taken from J Wagner to begin with, so I gave the guitar to him, and played his mandolin on that song for a while.  Since I'm not a mandolin player, it never really sounded that good, and eventually they convinced me to just sing it, hands free.  That always feels scary for me, but it turned out to be the right choice.  With nothing to hide behind, I could focus on the words, and notice the places where I didn't want to look the crowd in the eyes as I sang them because I didn't quite believe them.  When it comes to editing, a room full of live humans is the best barometer I've found. 
In the studio we hashed it out with Bram playing both the guitar and mandolin, but didn't get to the finish line before we had to leave the country.  Kat Mear played the fiddle on it months later, with Liz engineering and me on the other side of the world.  Kat added to the feel with the double-time offbeat chops that run through the verses, and laid a blistering solo on it too.  But it still didn't feel done.  Eventually, in December 2019, I asked an Aussie dobro-playing friend of Liz' named Pete Fidler to have a crack at "Just Enough Empties" and "Right to Roam," both of which just didn't feel finished, and within a couple days he sent me some straight-up audio gold.  It was so good that I sent him "Tangle of Souls" to work on in January, and "The One Who Stays" and "Passin' Through" in March as well.  I really don't think this song or this record would be what it is without Pete Fidler's dobro.  And a big part of my motivation in reaching out to him was Corin Raymond's underwhelmed response to "Right to Roam," back when I sent him the rough bounces for the album.  Same goes for some crucial lyrical edits on the album––directly or indirectly, they're down to Corin.  He's one of those craftspeople who aren't easily satisfied; who won't settle for good enough, but keep chipping at things until they ring true.  That's the kind of iron that's always sharpened mine. 
The rest of the news that's fit to print 
It's really gratifying to see Tangle of Souls hanging around on radio three months after the release––it just re-entered the NACC charts this past week, and it's still on the most recent Folk Alliance charts, at #6 album and #4 single for "Say Can You See".  As always, I really appreciate those of you who take the time to call your local DJ (or write to Tom Power of CBC's q, for that matter) and ask them to play the album, it really does make a difference. 
Reviews are still coming in, too––most recently, UK publication Songlines said "In simple, descriptive turns of phrase, Cook sings about social ills and personal travails with perspicacious precision...  In the tradition of Woody Guthrie, Hazel Dickens and many others, Cook is carrying on the good fight."  There's also a review coming in the January issue of Vintage Guitar that'll hopefully bring the songs to some new ears.  Most importantly, though, the album's been well-received by the good folks I've met traveling around the world.  Here's a picture from the backyard of Guy Fordy in Katoomba, New South Wales, a town that gets name-dropped in the song I just released today.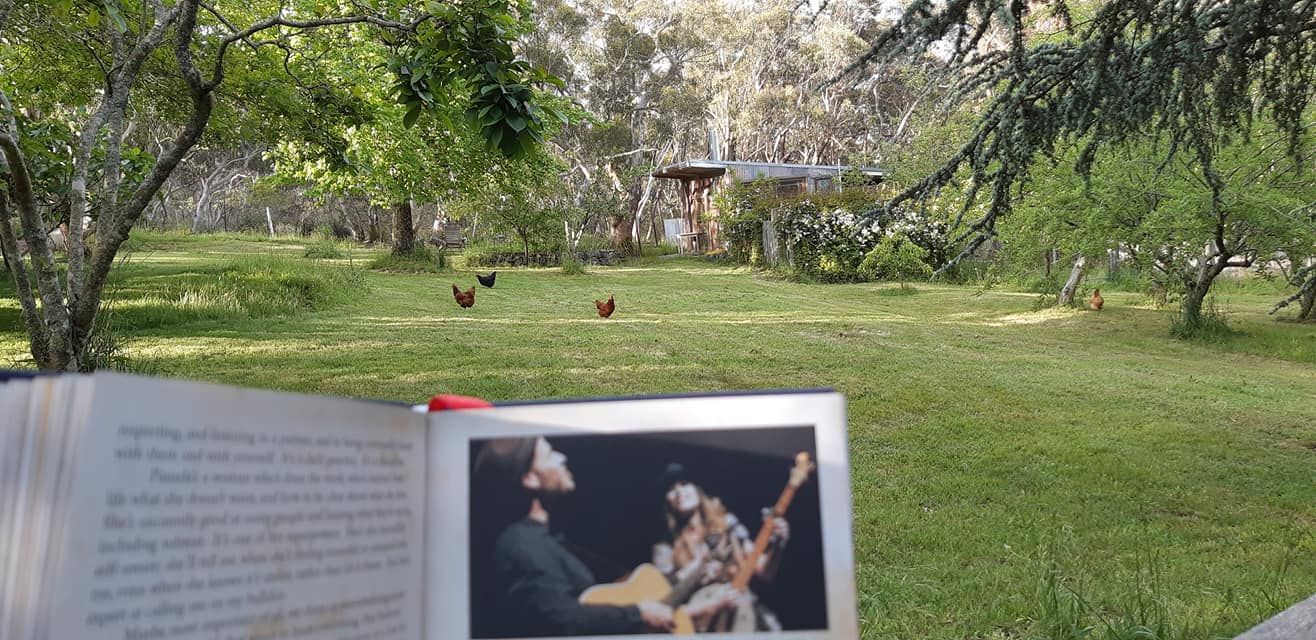 And Kelowna musician and promoter Dan Tait wrote: "Finally finished Scott Cook's most recent love letter to the world, Tangle of Souls. It took me this long not because it was a difficult read, or because I struggled with it in any way - rather, I didn't want to finish it. It was just what I needed while getting through the pandemic, while dealing with the floor dropping out of the music industry, while watching the insanity of the 2020 election year, while biting my nails trying to understand what's going to happen with our local and global climate, and while feeling torn away from everything that is real and true by the tantalizing allure of social media. It's been just what I needed. It's a beautiful, meaningful and inspiring piece of art - and the record is fantastic.  If you're looking for a beam of light in the darkness of these uncertain times, please look into this book and this album. If I may borrow a few lines from Scott... 'We're already living in Eden. Earth's our only home. We're made of it. It doesn't belong to us, we belong to it.  If you ever feel like you're losing your grip, go out and remember where you came from.'" 
It's always been a mystery to me why some albums get attention that others don't.  I've been pleasantly surprised and humbled by the welcome this one's gotten so far.  But one new album that I think deserves a helluva lot more recognition is Justin Farren's new record Pretty Free.  He's a Sacramento-based songwriter with a disarming sense of humour, dazzling fingerstyle guitar, and a lyrical honesty that's all too rare.  He's been killing it in obscurity for years now, but wow, this latest record is his best yet, hands down.  It's fun, funny, and real as it gets.  The first time I listened to it, I just sat in the van sobbing at the beauty and tragedy of the world.  I haven't been this knocked out by an album in a long time.  Hear it here. 
Before I sign off, a brief word to my fellow Americans now that the election's over (even if the loser hasn't conceded yet) and the real work of mending our relationships has just begun.  A recent poll showed the majority of Americans thought that if the other side won the election, it would be the end of America.  I admit, I'm among that number.  From where I sit, another four years of Trump would have done irreparable damage to our democratic institutions, fanned the current racial and social conflict into a wildfire, sold off what's left of the common wealth (including the Arctic National Wildlife Refuge) to the highest bidder, and basically fired up the outboard motor on our collective paddle up shit creek.  But to plenty of other Americans, Joe Biden represents the thin edge of the wedge of a socialist, totalitarian takeover of the country by people who hate the very things it stands for.  Never mind that Joe Biden's not a socialist, or that his brand of neoliberalism isn't very different from his predecessors in both parties.  What I find more interesting is how the view from my side is similar to the view from the other side––in the hyperbole with which it's presented, and in the all-or-nothing, good-against-evil framing of the conflict.  As Spencer Case argues in his recent essay "Against Political Totalism", we shouldn't be surprised that some people seem willing to disregard democratic norms if they think the very survival of their way of life depends on the outcome. 
As we start down the difficult road toward reconciliation, I think we could all use to look at the biases in our own media diet, the way we've been driven to extremes, and how crazy some of the things we say could sound from the other side.  And I hope we might consider how the deep division over issues of race, gender, history, religious freedom, and political correctness––in short, the culture war––can be a distraction from class war, from the way the top 0.1% are still sucking up wealth on a mad dash toward annihilation while the rest of us are busy fighting each other.  Tribalism and outrage are great for getting us to spend more time on our screens (please listen to Sam Harris' interview with Tristan Harris if you haven't already), but they aren't helpful for bringing the country together to face the very real problems of a raging pandemic, an ongoing corporate takeover, and looming catastrophic climate change. 
As a couple nudges in that direction, I'd recommend the Spencer Case article I just mentioned, and any of Sam Harris' recent podcasts.  Even if you don't agree with everything they say (and I don't), it's at least refreshing to read and hear people disagreeing clearly and politely, without the outrage and jingoism that characterizes so much of our media these days.  And I reckon it's genuinely edifying to read philosophers of their kind, people devoted to clarity and truth, because as far as I'm concerned, so much of our current crisis boils down to an epistemological crisis.  So many of us have lost our grip on credibility and critical thinking, and become willing to distrust any and all authorities––in part, because they've lied to us for so long.  And while folks are distracted by Q-Anon or "plan-demic" theories, the human race is still marching predictably toward self-destruction.  Jeremy Lent's article "The Five Real Conspiracies You Need to Know About" is the best summary of all that I've read in a long time. 
One last thing to mention before I sign off, and it's thankfully far from the worrisome wider world: I've started to contend with nausea from using the computer over the last few months.  It's kinda scary, and I haven't wanted to say anything about it.  Unfortunately, so much of my work is on the computer––it's the email-answering, gig-booking, order-handling, website-updating, social-media-posting, and nowadays even more kinds of tech-fiddling that's allowed me to actually make a living singing songs.  It's not like I can leave all that behind.  But I've made a step in a helpful direction lately.  On our last little tour through BC, someone mentioned the "pomodoro" method: basically, it's about breaking work up into discrete 25-minute intervals, with 5-minute breaks in between, and it's really helping.  Pamela's taken it into her workday as well.  I've made up a weekly checklist with all the things I want to dedicate sustained attention to each day, like songwriting, learning fiddle tunes on the guitar, working through my music books and online lessons, working on my taxes, sitting meditation, and a whole bunch of five-minute exercises like pushups, curls, and playing the harmonica.  The timer drives me through it, and makes my time on the computer more deliberate.  Plus, there's a really satisfying feeling in filling in the squares on my checklist with highlighter.  I'm not strict about it, and I haven't even managed to fill in a whole day's checkboxes yet.  But it's nudging me in a good direction, and I thought I should say so in case you're looking for some inspiration in changing up your habits.  It's a cliche, but it's true: the journey is the destination.  Our habits are what we spend our life doing.  And I know I'm on about Sam Harris a lot lately, but his interview with James Clear about habit formation really spoke to me. 
Alright, that's it for me for now!  I hope this finds you inspired, wherever you are, and I hope you'll join us tomorrow if your schedule allows.  Big love from our house to yours, 
s