Earlier this year I made a new friend, self-described "old folksinger" Bob Bossin of Gabriola Island, BC. Bob's old band Stringband was a pretty big deal in the 70s and 80s; had their songs covered by the likes of Pete Seeger, Ian Tyson, and Emmylou Harris; and blazed the trail of crowdfunding, independent recording, and DIY touring that so many of us follow today. I was honoured to hear that he was singing my song "Pass It Along," just like the title says. And just under a month ago he contacted me with a crazy idea that I couldn't help but say yes to. 
Bob gathered his former Stringband-mate Marie-Lynn Hammond, Pharis & Jason Romero, Connie Kaldor, Deborah Silverstein, Stefano Saletti, Arnie Naiman, Daniel Cainer, Joe Mock, Ian Robb, Veda Hille, Carole Christopher, Elizabeth May and John Kidder, Eva H.D., Leon Rosselson, Peggy Seeger, Bernadette Morris, Shelley Posen, Ben Mink, and Qiu Xia He––singers, songwriters, instrumentalists, folklorists, poets, politicians, and all-around living legends––to sing and play "Pass It Along" for Earth Day. I'm excited and humbled to share it with you.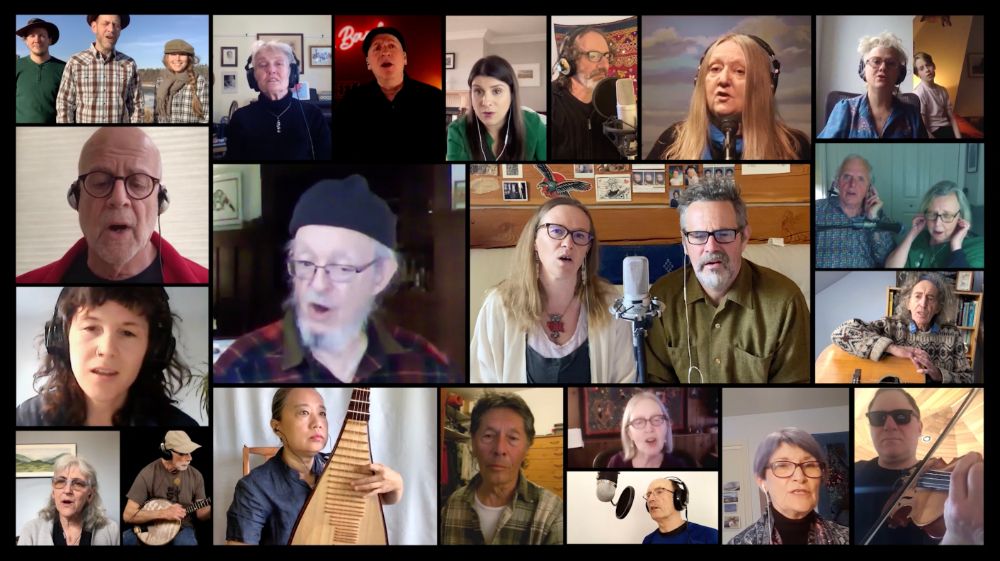 The fate of our only home's on my mind a lot more these days than it was back in 2012 when I wrote the song. It's become clearer than ever that we're at a fork in the road, where we can either choose to build an ecological society or drive ourselves to extinction. There's just no way an economic model that requires infinite growth can survive on a finite planet. But we're so addicted to the system, and the idea of accepting any limits is just so hard to take, that we're willing to borrow from the future for another hit. We tune into the voices we want to hear––the denialists who tell us it's all going to be okay, or the "green tech" visionaries who assure us that "clean energy" will somehow allow us to keep up the frantic pace of extraction, consumption, and profiteering––and tune out the voices telling us the hard truth, that we're sick, we're insatiable, and we need to stop. 
I first heard Murray Bookchin's voice through the course of my reading for Tangle of Souls, and signed up for an online course this winter from a group he co-founded, the Institute for Social Ecology. Those discussions helped me see how the idea of unlimited growth and the dream of the frontier are tangled up together, and how the way we've plundered the "virgin territory" of the "New World" is tied up with the way we treated the people who were already here. As Bookchin argues, the idea of dominating nature grows out of the idea and practice of dominating other people. Systems of hierarchy and domination are out of tune with the natural order, and anything out of harmony with nature eventually destroys itself. The fact that the two richest men on Earth are both enraptured by fantasies of leaving the planet is all the proof needed of our collective insanity. 
There's lots we can do, as you already know. We can put carbon back in the soil, and support farmers and other folks who do. We can contribute to groups working to save their corners of the world like Raven Trust and the Fairy Creek Blockade, as the funders of this video have done. We can cut back on our own spending to give money to groups fighting for the forests like the Rainforest Foundation and the Coalition of Rainforest Nations, like I'm doing today. And we can work in whatever way we can toward a world driven by humanity and the common good rather than profit. One place to start is by overturning the regime of patents that has allowed pharmaceutical companies to turn public funding into private profits by restricting access to vaccines.
Thank you for everything you're already doing, friends. Let's think bigger, dream smaller, and fight harder. ❤️ 🌍