Hey beauties, 
I'm writing you from a little piece of heaven overlooking Gamble Bay on Washington's Kitsap Peninsula, where we played in a barn Sunday evening and have taken our hosts up on their offer to spend a couple more days. There's lots more on what we've been up to below, but for now I wanna tell you what's ahead for us: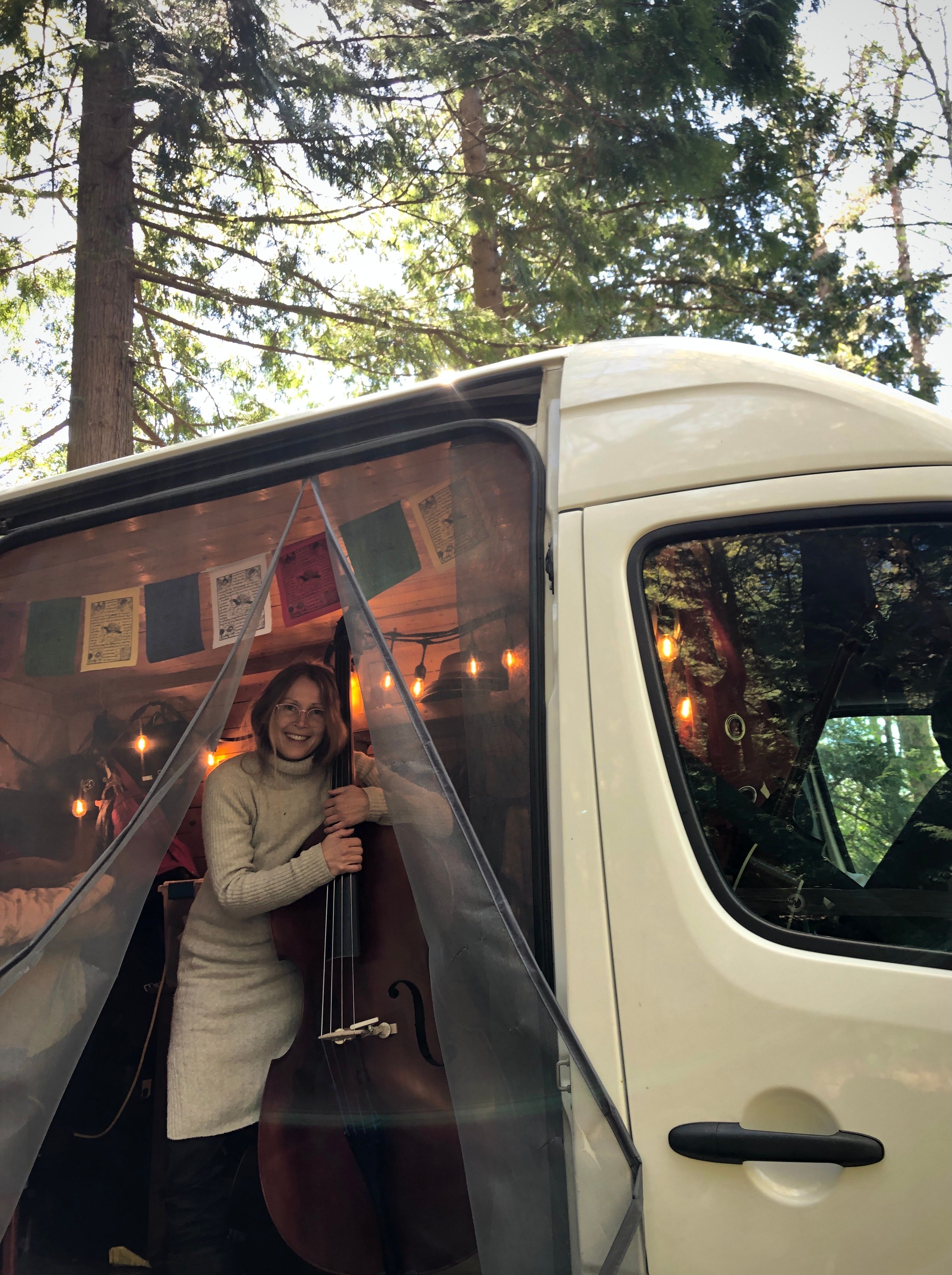 First of all, for those of you around the world who've been following our travels through our weekly (or so) Roadetta Roadshows, I'm sad to announce that tonight'll be our last. We'll be back in more familiar pastures next week, and our lives'll be getting busier, including some Tuesday shows in the three-dimensional world and a flight down to Kansas City for me to attend the Folk Alliance International conference. And with the weather warming up on this side of the world, it just feels like a good time to wrap it up. We'll have a humdinger of a finale, though, with our friends Ordinary Elephant calling in from Louisiana and some new songs of our own. It all gets rolling just before 5pm Pacific (find your time zone here) on www.facebook.com/scottcooksongs or YouTube here.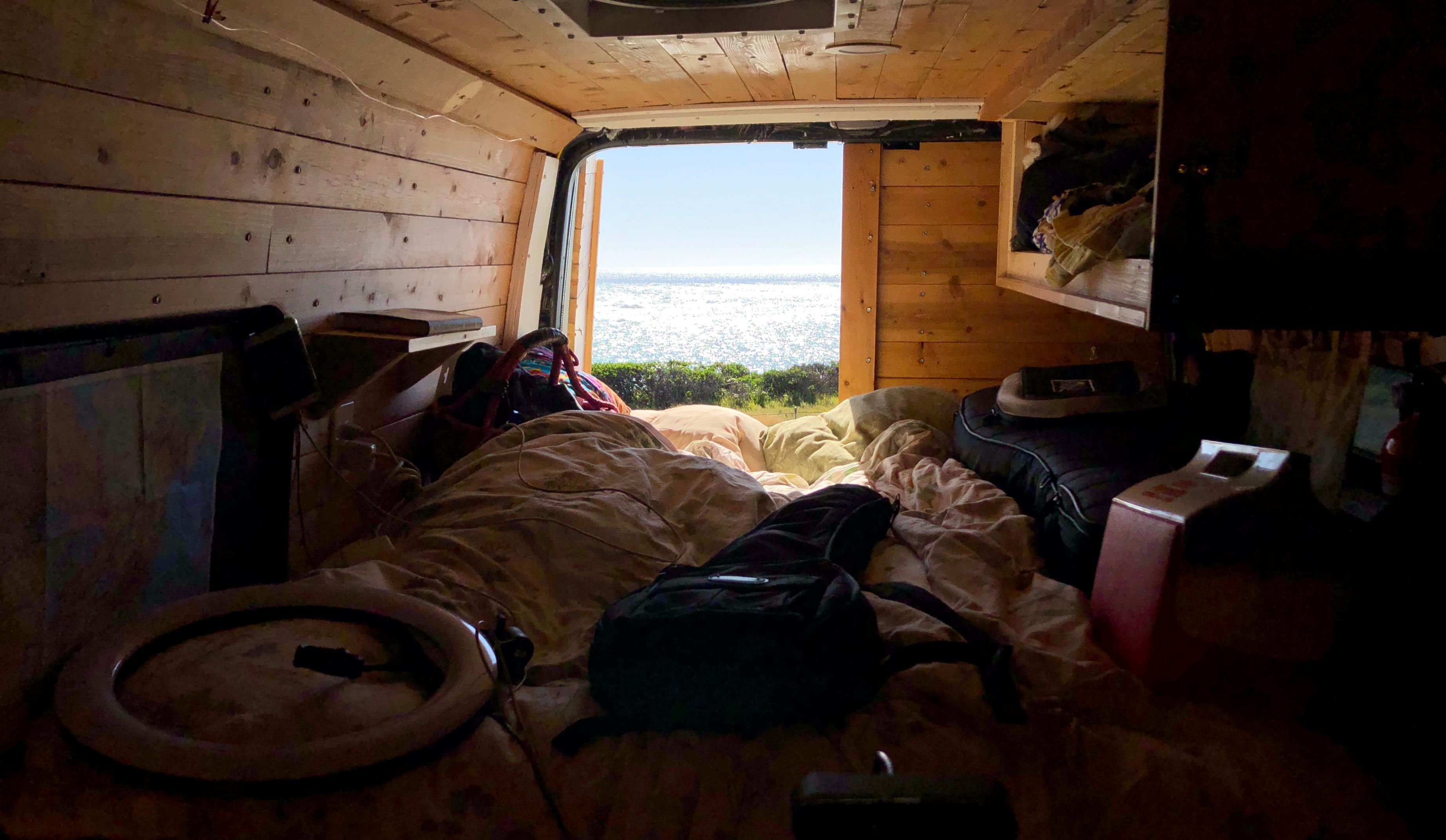 Secondly, for those of you who live or have music-loving friends in Northwest Washington, we've got a few shows to go around here, and we'd love to see you (or your people) in person! 
Wed Apr 27 • Seattle, WA • Ballard Homestead 
Thu Apr 28 • Port Townsend, WA • Palindrome 
Sat Apr 30 • Olympia, WA • New Traditions Cafe 
As always, all the details about any shows are on www.scottcook.net. The very next day we'll taking the ferry from Port Angeles to Victoria and embarking on the Canadian leg of this long run: 
Sun May 1 • Victoria, BC • Victoria Folk Music Society 
Fri May 6 • Ucluelet, BC • Salmon Beach concert 
Sat May 7 • Brentwood Bay, BC • Village Empourium 
Sun May 8 • Saltspring Island, BC • field concert at Pipe Rabbit Farm 
Tue May 10 • Nanaimo, BC • house concert 
Thu May 12 • Lasqueti Island, BC • Lasqueti Arts Centre 
Fri May 13 • Qualicum Beach, BC • Oceanside Folk/Roots Club 
Sat May 14 • Gabriola Island, BC • Gabriola Commons 
Wed-Sun May 18-22 • Kansas City, MO • Folk Alliance International 
Wed May 25 • Cumberland, BC • backyard concert w/ Senyué opening 
Sat May 28 • Powell River, BC • Wildwood Pub w/ Dennis Bouwman 
Tue May 31 • Vancouver, BC • The WISE Hall w/ special guests TBA 
Wed June 1 • Mount Currie, BC • The Cheese Pusherman Roadhouse 
Thu June 2 • Hope, BC • Secret Shop Show 
Fri June 3 • Tappen, BC • Carlin Community Hall 
Sat Jun 4 • Summerland, BC • An Evening in the Valley 
Sun Jun 5 • Penticton, BC • private yard concert 
Wed Jun 8 • Rossland, BC • Alpine Grind 
Thu Jun 9 • Creston, BC • yard concert 
Fri Jun 10 • WHERE SHOULD WE PLAY IN SOUTHERN ALBERTA? 
Sat Jun 11 • Strathcona County, AB • Hastings Lake Hootenanny 
Pamela's gonna be really happy to be home and in the garden, but I won't have much rest from the road––Melissa's flying out within the week to reunite the Second Chances for a tour I've long dreamed of, taking them out to Michigan and Ontario and likely as far as New York. If you'd like to bring us to your town, we'd love to make it happen. Venues and regular presenters can contact lara@flemingartists.com, and folks who wanna host in houses or backyards can drop a line to scottcooksongs@gmail.com. Here's what we've got so far: 
Thu-Sun Jun 16-19 • Driftpile, AB • North Country Fair 
Tue Jun 21 • North Country Fair Afterbender, location TBA 
Wed-Sun Jun 22-26 • where should we play between Edmonton & Regina? 
Tue Jun 28 • anybody up for a show near Fargo? 
Wed Jun 29 • Carlton, MN • Historic Scott House 
Thu Jun 30 • Three Lakes, WI • Three Lakes Center for the Arts 
Fri Jul 1 • Nahma, MI • Nahma Inn 
Sat-Mon Jul 2-4 • Trufant, MI • Smiling Acres Music Festival 
Wed Jul 6 • Buchanan, MI • yard concert 
Thu Jul 7 • Ann Arbor, MI • The Ark, opening for Carsie Blanton! 
Jul 16-31 • where should we play in Ontario and the Northeastern US? 
Sat Jul 16 • Prescott, ON? • Blues, Brews and BBQ? 
Wed Aug 3 • Chicago, IL • Hey Nonny 
Thu-Sat Aug 4-6 • Appleton, WI • Mile of Music Festival 
Sun Aug 7 • Maple Plain, MN • Sun Dog Farm 
Sun Aug 14 • Saskatoon, SK • backyard concert TBA 
After the Saskatoon show, Bram and Melissa will drive Lucky home and leave me with Pamela and Roadetta for a week of music camp followed by the Northern Lights Bluegrass & Old-Tyme Music Festival, August 19-21 in Big River, Saskatchewan! If you're into bluegrass and/or old-time, and especially if you're learning an instrument, camp's well worth the trip. Pamela and I went last year and it was magical. 
In September I'll be headed eastward again, either on my own or as a duo if I can convince Pamela to come––dates are already up on www.scottcook.net and there are lots more coming soon. 
Some folks have asked if the North Country Fair Acoustic Music Camp I started up last year over August long weekend will be happening again. As expected, I'll be away with the Second Chances at that time, but I'm happy to report that camp lives on thanks to the efforts of superhero Dan Barton! He's got a killer group of instructors together, including our friend and roots-music heroine Linda McRae up from Nashville, returning harmony wizard Dana Wylie, hella-talented Aussie bassman Tim Bennett and more. Just like when other people learn to sing a song you've written, it's a beautiful thing to watch something you've birthed go on to have a life of its own. 
Roads in the Rearview 
We've covered so much ground since I last wrote you dear readers that it'd be futile to try and recount it all, but some sweet moments along the way deserve special mention. Pamela continues to be amazed at how deep the Taiwan connections run, with folks I know from there showing up at several shows along the way––shouts out to Shirzi, my onetime housemate Johanna, Dawid Vorster, Nathan Javens, Megan Blanton, and Kimmie of River, our home barroom in Jungli! In central California we got to share four shows with Justin Farren, who just might be the best songwriter and performer you've never heard of. A common highlight of Justin's shows close to home (and the whole run we did through BC and Alberta in 2019) is his daughter Amelia singing along, like in this clip from our San Rafael house concert: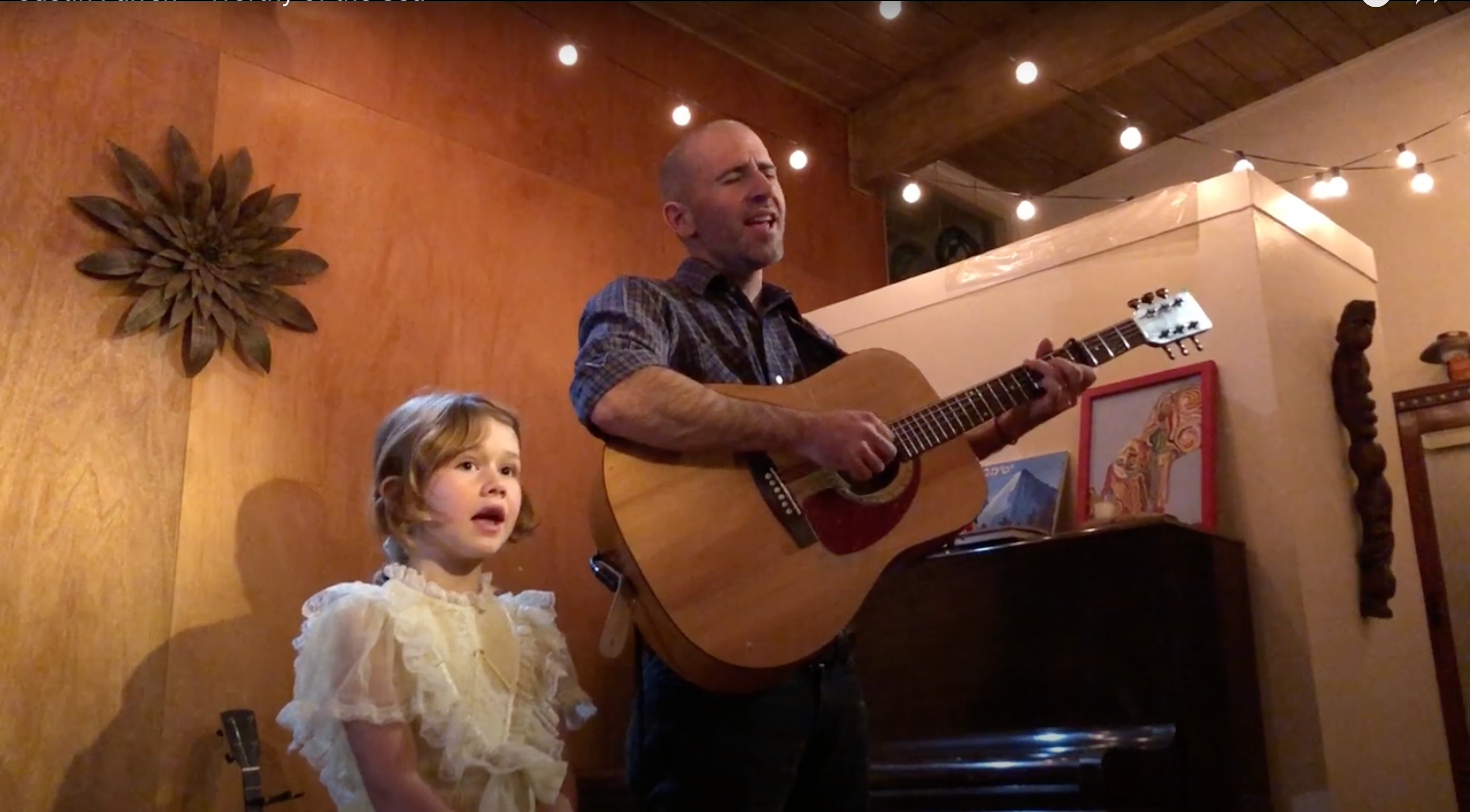 We got to drive Roadetta across the Golden Gate Bridge and ride bikes around San Francisco before joining up with Justin and Kora Feder for an in-the-round show in Berkeley. We stayed in lots of gorgeous State Parks along the way, including three nights in Pfieffer Big Sur. We followed Highway 101 up the coast, slack-jawed at the scenery, and camped among the towering redwoods on the Avenue of Giants. 
Readers of this Travelogue (and rubber tramps in general) might get a kick out of the "Travel Log", a home on wheels that singer and birdcall-imitator Charles Kellogg carved out of a fallen redwood and mounted on a truck body for his tour around the United States in the early 1900s, performing vaudeville shows and campaigning to protect the coast redwood forest. 
| | |
| --- | --- |
| | |
We drove up to Ashland, Oregon and started seeing a lot more hippies than we had down South. We played a lovely backyard concert for a Sisters Song Camper named Joan, and the next day we met renowned bluegrasser Keith Little, jamming with some young folks outside a little cafe. We played for a full house at Tsunami Books in Eugene, Oregon, our first sold-out show of the tour, thanks in part to the promotional efforts of my friend Sadie, who hosted my last Eugene show, and my old friend Mike Meyer, who first welcomed me to Eugene. After some scant turnouts earlier in the tour, the energy in the room felt utterly amazing. The next day I gave a songwriting workshop at the home of some other Song Campers named Steve and Debbie, and it warmed my heart to be able to offer something like that along the way. 
We stayed a week in Portland, eating great food, catching up with pals and biking around that beautiful city. It was pretty much peak bloom while we were there, an incredible opulence of magnolias and cherry blossoms and daffodils that had us wheeling through the streets downright drunk on flowers. 
We wrapped up our week in Portland with a show at the White Eagle, and I was really gratified that so many folks (including so many great songwriters!) came out to see us in the big town. The next day we played Brewminatti in tiny Prosser, WA and marvelled again at how it only takes a few energized people to bring music to an out-of-the-way place. We played one last show at the charming Tim Noah Theatre in Snohomish, WA and then across the border to Canada for two weeks off the clock. 
As our Roadshow viewers know, Roadetta's been having some persistent troubles with the exhaust system along this tour. There was actually a class-action lawsuit about the exhaust systems in certain years of Sprinters, where Mercedes had been fudging the emissions tests much like Volkswagen had done, and the whole thing was eligible to be fixed for free and re-warrantied under the terms of the settlement. The only problem was, it was a separate lawsuit in Canada and the States, and since our vehicle was from Canada, they'd only fix it for free on that side of the border. Thankfully, we had a two-week gap in our schedule, so we took the opportunity to get the van fixed and drive out to Penticton to visit Pamela's daughter. It was really sweet to have some downtime in one place, and some folks who'd been waiting way too long to hear from me got replies to their emails! If you're one of those, and you still haven't, feel free to ping me. 
One big event during our week of downtime was the loss of our dear friend and hometown hero Bill Bourne. I just did a phone interview about him with Grant Stovel at CKUA a few days ago, and I'm sure there'll be many tributes to come, because he touched so many lives with his music and his example.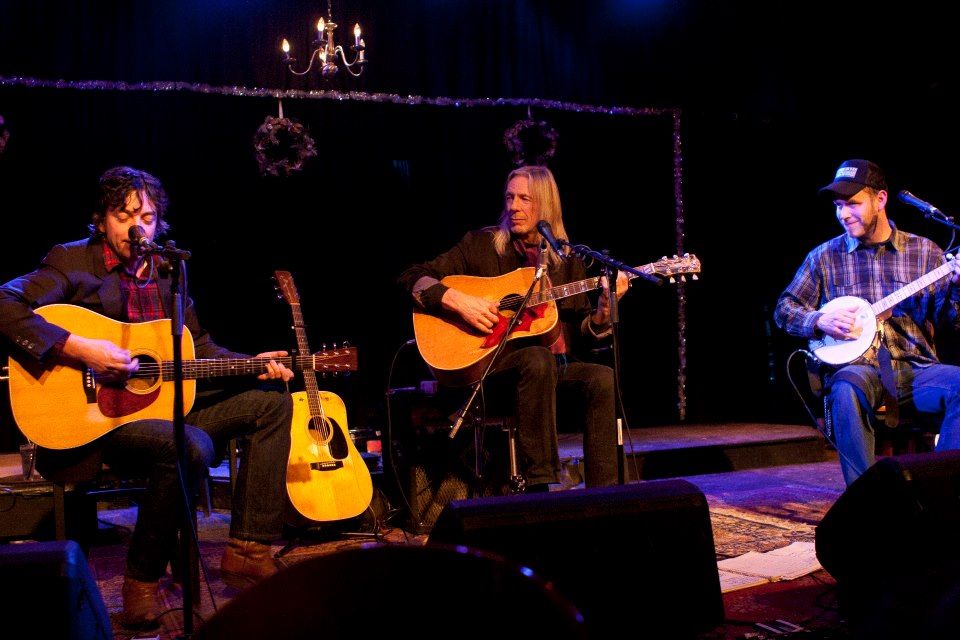 Bill flanked by Indio Saravanja and me at Calgary's Ironwood Stage in 2012, photo by Alia Love 
It's hard to fathom how much I owe to his friendship, mentorship and inspiration, musically and otherwise. He blew my young mind when my buddy Calvin took me to see him at the old Muddy Waters Cafe, and later at the Sidetrack with Lester Quitzau and Madagascar Slim as Tri-Continental. When I first worked up the courage to talk to him, it was to ask his permission to put The Anglers' cover of "The House" at Taiwan's PeaceFest on a CD, and he was nice as can be. He was always incredibly generous with his time and talent, showing up at open mics in town, jamming with whoever wanted, and mentoring so many young musicians. He and Tippy Agogo took me on board for a couple gigs with their Nerkelwerks project that really stretched my musical boundaries, and he took me and Indio Saravanja on a couple runs as Tres Amigos, playing some venues I'd never been able to book for myself. It was a joy and an education to be on stage in his company and his care. His recommendation opened the doors to the Dream Cafe for me, after probably ten years of trying to book myself in there. He bought a ticket and came out to the living room concert when I brought Corin Raymond & Jonathan Byrd to Edmonton for the first time. He let me use his apartment and his Neumann mic when I was recording parts for my second album This One's on the House, and he played on it for free or close to it. When I opened for Brandi Carlile at Edmonton's big concert hall, the Winspear Centre, I went across the street to Brittany's Lounge, where he was playing a free gig five nights a week in those days, for a drink and a chat. As always, his perspective made everything clearer. He was unbelievably chill about everything, absolutely unflappable and zen. He never wanted to "lay a trip on anybody," as he said when he had to leave our music camp last summer, his health failing, still not wanting to bring anybody down. I can only assume he was up there against doctor's advice in the first place, but he was there because he wanted to give back. His life was a gift. He talked some crazy shit sometimes. He would've been hella frustrating to try and help with some real-world kinda things. But he had a deep connection to source and love, and like so many people, I'm forever changed by the glimpses I got of it through him. 
Here's a clip of him singing his song "Pie and Ice Cream" on the first night of our North Country Fair Acoustic Music Camp last summer, in what may well have been his last performance. He's accompanied by Bramwell Park on banjo, Shari Rae on bass and Joe Nolan on guitar.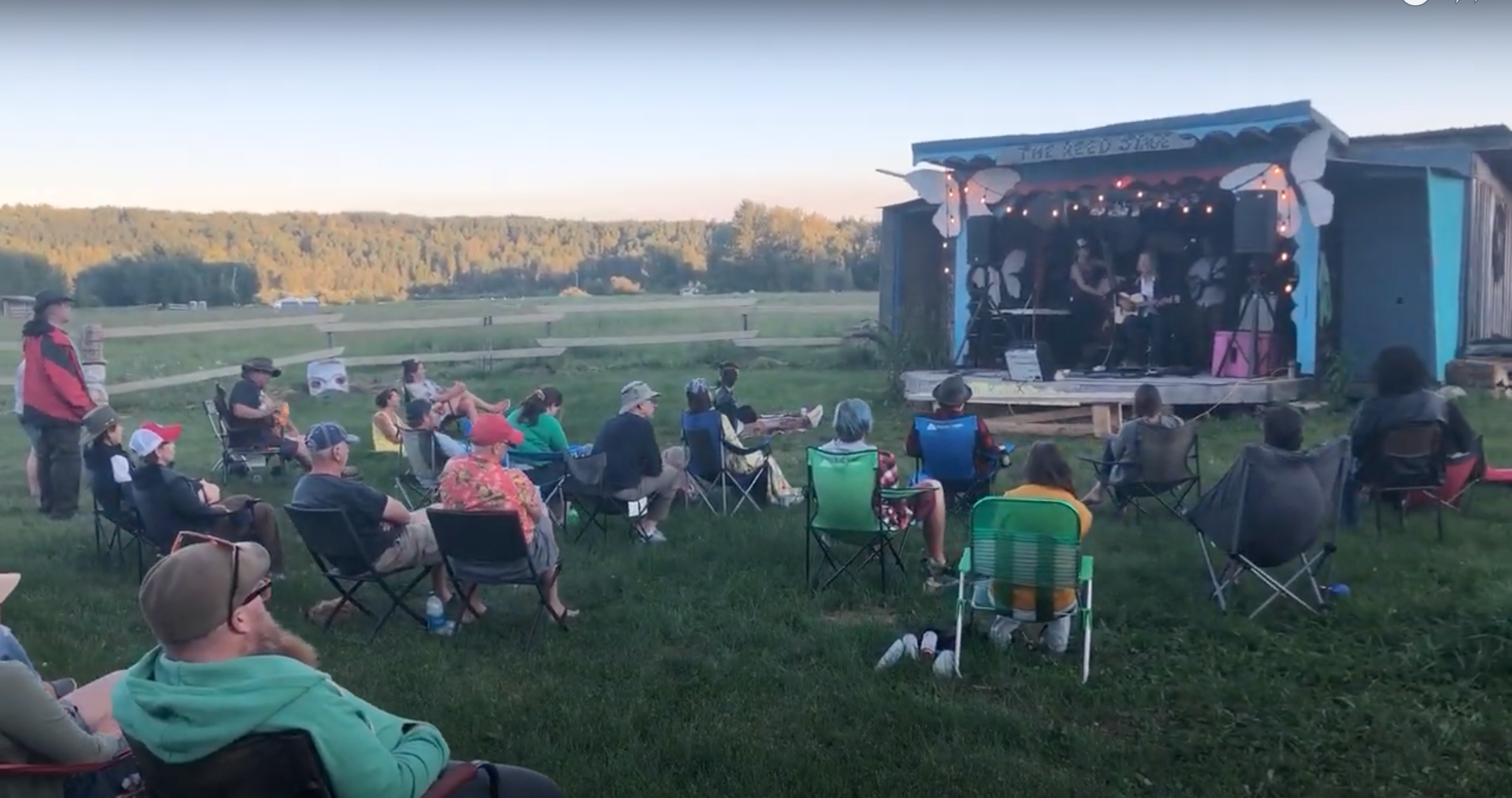 He'll be dearly missed. But I'm gonna do my best to live into all I learned from him. 
So much love to you, friends, wherever you are. Hope some of you can join us for the last of these Roadetta Roadshows tonight, and hope to see more of you in the flesh real soon. 
Keep shining, 
s