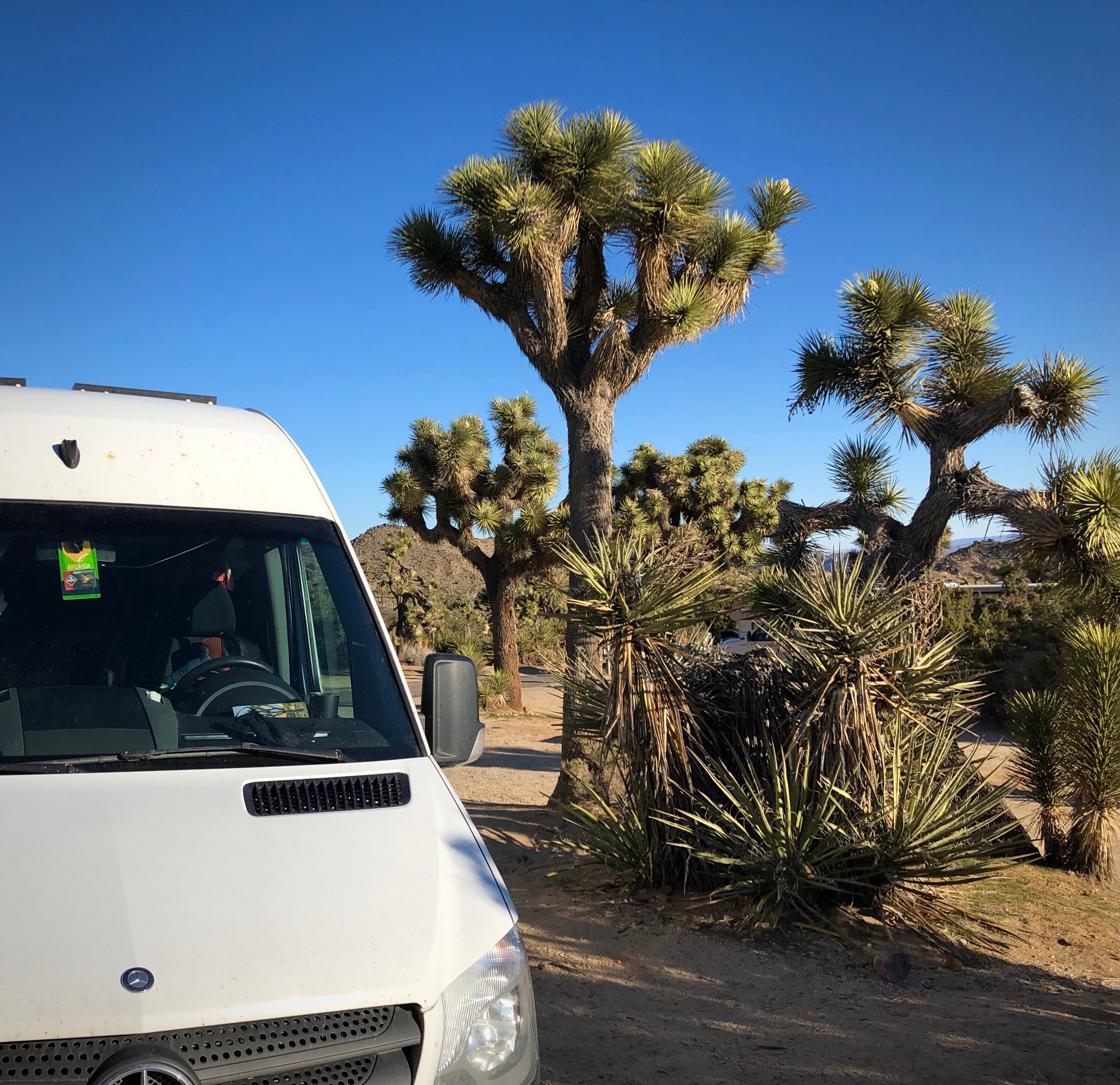 Far-flung friends, 
I'm writing you from our campsite in Joshua Tree National Park, where we're getting ready to drive into L.A. County for a brief brush with the stage before we head back into the woods, taking comfort in Carolyn Mark's hoboing advice from How to Be a Boozy Chanteuse: 1) brushing your teeth is a shower, 2) a shower is a nap, and 3) a nap is but a dream. 
It's been almost two months since I wrote you last, and it's sure not for lack of stories to tell, just of time to write them down. Many of you have been traveling vicariously with us through our weekly Roadetta Roadshows, and we're grateful for your company and your generosity. We've been broadcasting live to my Facebook and YouTube channels from the back of the van every Tuesday at 5pm Pacific/6 Mountain/7 Central/8 Eastern/9am Wed in Taiwan/noon in Melbourne/2pm in Aotearoa with a few songs, a few stories, some of the sights we've seen, and a special guest beamed in for a couple songs and a chat. We did our first ramshackle Roadshow just after pulling into a place called Teresa's Beauty Salon and RV Park in Cuba, New Mexico, and despite our slapdash setup and intermittent internet, Rachael Kilgour brought the beauty with a couple really moving songs about her dad. Corin Raymond joined us from Hamilton the next Tuesday, followed by Jonathan Byrd from North Carolina, Kerryn Fields from down under, Justin Farren from California, and last week David Wilcox, whose driveway we stayed in when we rolled through Asheville last month. The episodes are all up online here, and I think they're good TV, even on the replay.  Next Tuesday we'll be joined by Kora Feder, who we'll be playing with in Berkeley March 20, and the following week we'll be getting a taste of home with our housemate Elliot Thomas and equally talented neighbour Braden Gates joining us from Edmonton.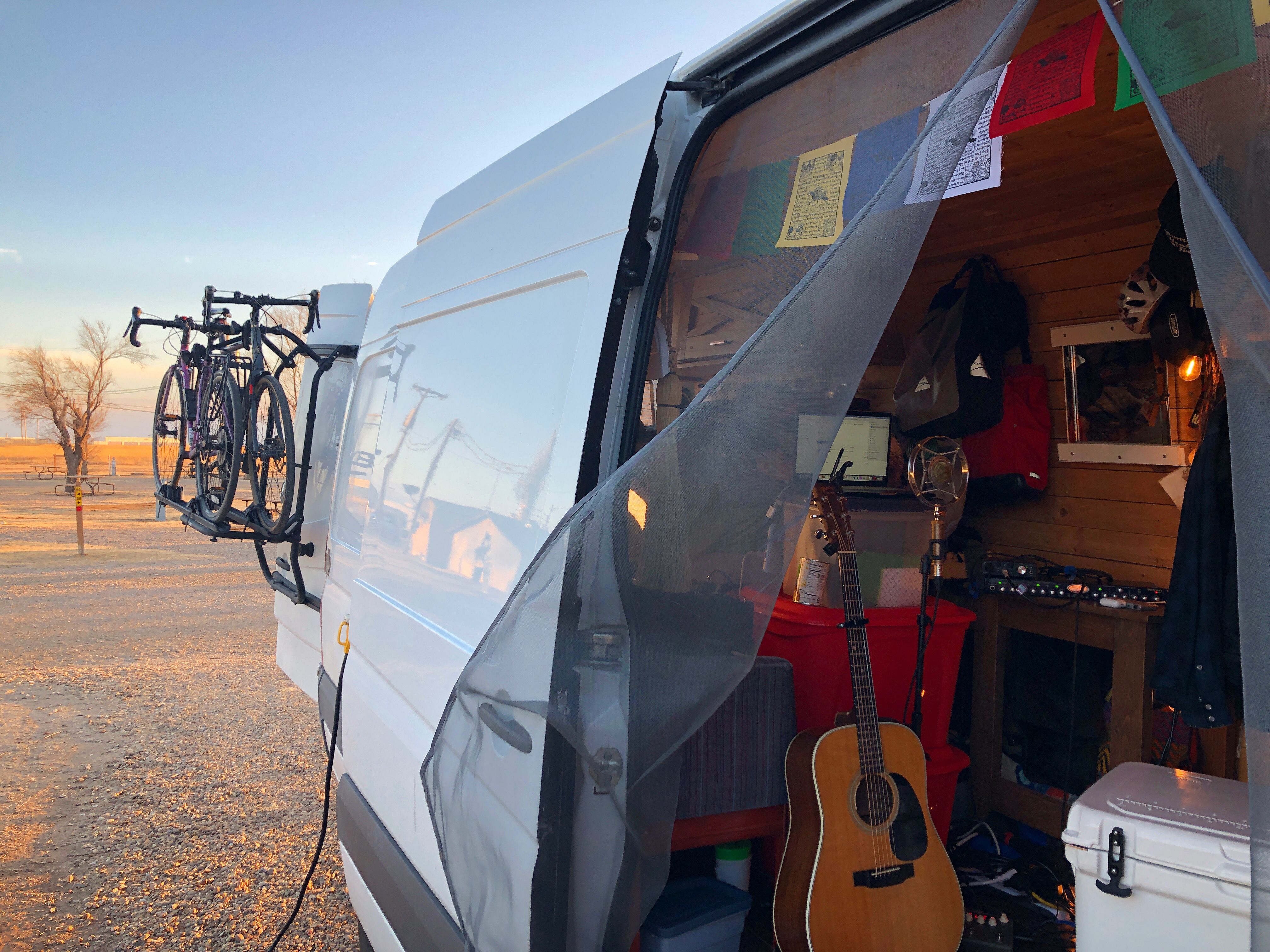 All our guests' musical offerings have been stunning, but I've been even more grateful for the conversations, for how willing they've all been to go deep, and for the medicine to be found in connecting across the miles, especially in troubled times like these. 
Every day I remember that the blessings I enjoy are unearned and fleeting. The news keeps providing us with daily evidence that the world's still scary, cruel and unjust. But thankfully, the near-to-here keeps delivering reminders of beauty and decency everywhere we go. 
I'll do my best to tell you about some of the places we've been, and I've even got some pictures. But first I want to wave up the road, in case you're in our path, or know somebody someplace we're going who might enjoy the show, 'cause we'd love to meet them. Here's how our next couple months are looking: 
Fri Mar 11 • Altadena, CA • Coffee Gallery Backstage 
Sat Mar 12 • ONLINE • Spring For Jeevan (fundraiser for street kids' school in Varanasi) 
Sun Mar 13 • Shell Beach, CA • Our Front Porch 
Tue Mar 15 • ONLINE • Roadetta Roadshow episode 7 w/ Kora Feder! 
Thu Mar 17 • Mokelumne Hill, CA • yard concert w/ Justin Farren! 
Fri Mar 18 • Sacramento, CA • house concert w/ Justin Farren! 
Sat Mar 19 • San Rafael, CA • house concert w/ Justin Farren! 
Sun Mar 20 • Berkeley, CA • The Back Room w/ Justin Farren and Kora Feder! 
Tue Mar 22 • ONLINE • Roadetta Roadshow episode 8 w/ Elliot Thomas and Braden Gates! 
Fri Mar 25 • Ashland, OR • Casa Campbell house concert 
Sat Mar 26 • Eugene, OR • Tsunami Books 
Sun Mar 27 • Eugene, OR • SOLD OUT afternoon songwriting workshop 
Tue Mar 29 • ONLINE • Roadetta Roadshow episode 9 w/ special guest TBA 
Fri Apr 1 • Portland, OR • White Eagle Saloon 
Sat Apr 2 • Prosser, WA • Brewminatti 
Sun Apr 3 • Snohomish, WA • Thumbnail Theater 
Tue Apr 5 • ONLINE • Folk Project Acoustic Stayaway (1hr earlier than our usual Roadshow!) 
Fri Apr 22 • Bellingham, WA • Honey Moon 
Sun Apr 24 • Kingston, WA • Concerts at the Barn 
Wed Apr 27 • Seattle, WA • Ballard Homestead w/ Elena Loper 
Thu Apr 28 • Port Townsend, WA • venue TBA 
Sat Apr 30 • Olympia, WA • New Traditions Cafe 
Sun May 1 • Victoria, BC • Victoria Folk Music Society 
Fri May 6 • Ucluelet, BC • Salmon Beach concert 
Sat May 7 • Brentwood Bay, BC • Village Empourium 
Sun May 8 • Saltspring Island, BC • yard concert 
Tue May 10 • Nanaimo, BC • house concert 
Thu May 12 • Lasqueti Island, BC • location TBA 
Fri May 13 • Qualicum Beach, BC • Oceanside Folk/Roots Club 
Sat May 14 • Gabriola Island, BC • Gabriola Commons 
Wed-Sun May 18-22 • Kansas City, MO • Folk Alliance International 
Sat Jun 4 • Summerland, BC • An Evening in the Valley 
Sun Jun 5 • Penticton, BC • yard concert 
Thu Jun 9 • Creston, BC • yard concert 
There's lots more in the works, including a summer cross-country Second Chances ramble with dates in the Midwest and out east, the Northern Lights Bluegrass and Old-Tyme Music Festival in Saskatchewan in August, and more US dates in the fall. You can see it all as it takes shape on www.scottcook.net. 
We've had an amazing wander so far. Time stretches out in a crazy way on the road, and it honestly feels like it's been ages since I last checked in with you dear readers. We drove down through Texas to Dallas and straight to the opera house to watch Hadestown, an incredible testament to the power of music and myth and the triumph and tragedy of life. I got to make good on a house concert at my friend Paul Heller's place and a show called the Open Door Coffee House, which happen to be the first two gigs I cancelled back when it all hit the fan in March of 2020 and I had to flee home from Texas. We stayed in an RV park right in the middle of Austin, biked around to see music and friends, and played a sweet house concert outside of town. We got to visit my Taiwan pal Billy's hydroponic farm in Houston, marvel at what they've built and wonder about how humanity's gonna feed itself in the future, given the massive soil depletion, water contamination and everything else that comes with the farming-on-steroids approach we've gotten hooked on. We got to play the Mucky Duck in Houston and the Old Quarter in Galveston, two storied venues I'd never had the nerve to try and book before. We camped on the Gulf of Mexico, and got hints of the turbulent history in Galveston's ornate streets. We drove through the Louisiana Bayou, visited our friends Ordinary Elephant, and oo'ed and ahh'ed at their far superior van renovations: their electrical setup with enough lithium batteries to run an air conditioner, their custom-built cupboard with sink and fridge and tuck-away towel rack and expertly-hidden joinery, and the general how-the-heck-did-you-do-that of the amazingness underway in advance of their March tour dates. 
We met up with dear friend and longtime collaborator Melissa Walker in New Orleans, where her month-long stay fortuitously overlapped with ours by a day. We had our minds blown by the jazz at Preservation Hall, in the clubs and on the street, and saw flashes of the old currents of joy and resistance that have run through that city since the days of Congo Square. 
Preservation Hall before the show 
| | |
| --- | --- |
| | |
| Modern day heroes | Evil old Andrew Jackson replaced by Harriet Tubman  |
We drove through Alabama, Georgia, North Carolina, Tennessee, Virginia and Kentucky, meeting kind, stereotype-defying folks everywhere we went. We reunited with Cary Morin and Celeste di Iorio for two more shows together in Atlanta and Asheville. We met David Lamotte and David Wilcox––two folksingers I've admired, been in touch with, and have many a mutual friend with––in the flesh for the first time on the same night at Isis Music Hall in Asheville, North Carolina.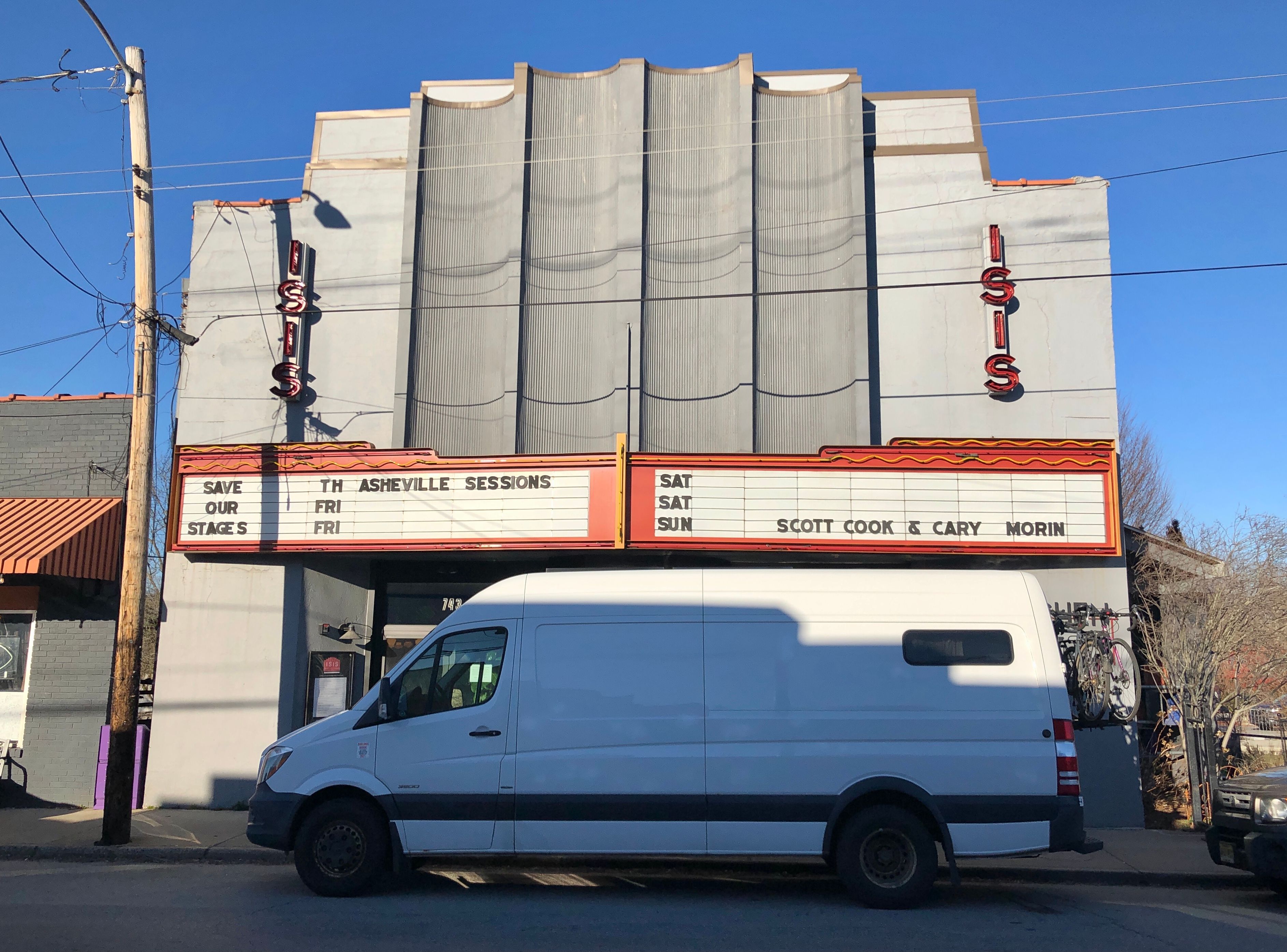 We played a last-minute show for an enthusiastic invitation-only crowd in Roanoke. We dropped into a thing called the Allegheny Jubilee on a dark night in Sparta, North Carolina, with an old-time band and a crowd of hella serious flatfoot dancers, some of whom even had flashy jackets with their nicknames monogrammed on them. It was like we'd landed in another time. We paid our first visit to Galax, Virginia, home of the world-famous fiddlers convention, and to Floyd, Virginia, home of the Floyd Country Store, where we spent the weekend soaking up the old-time music and flatfoot dancing.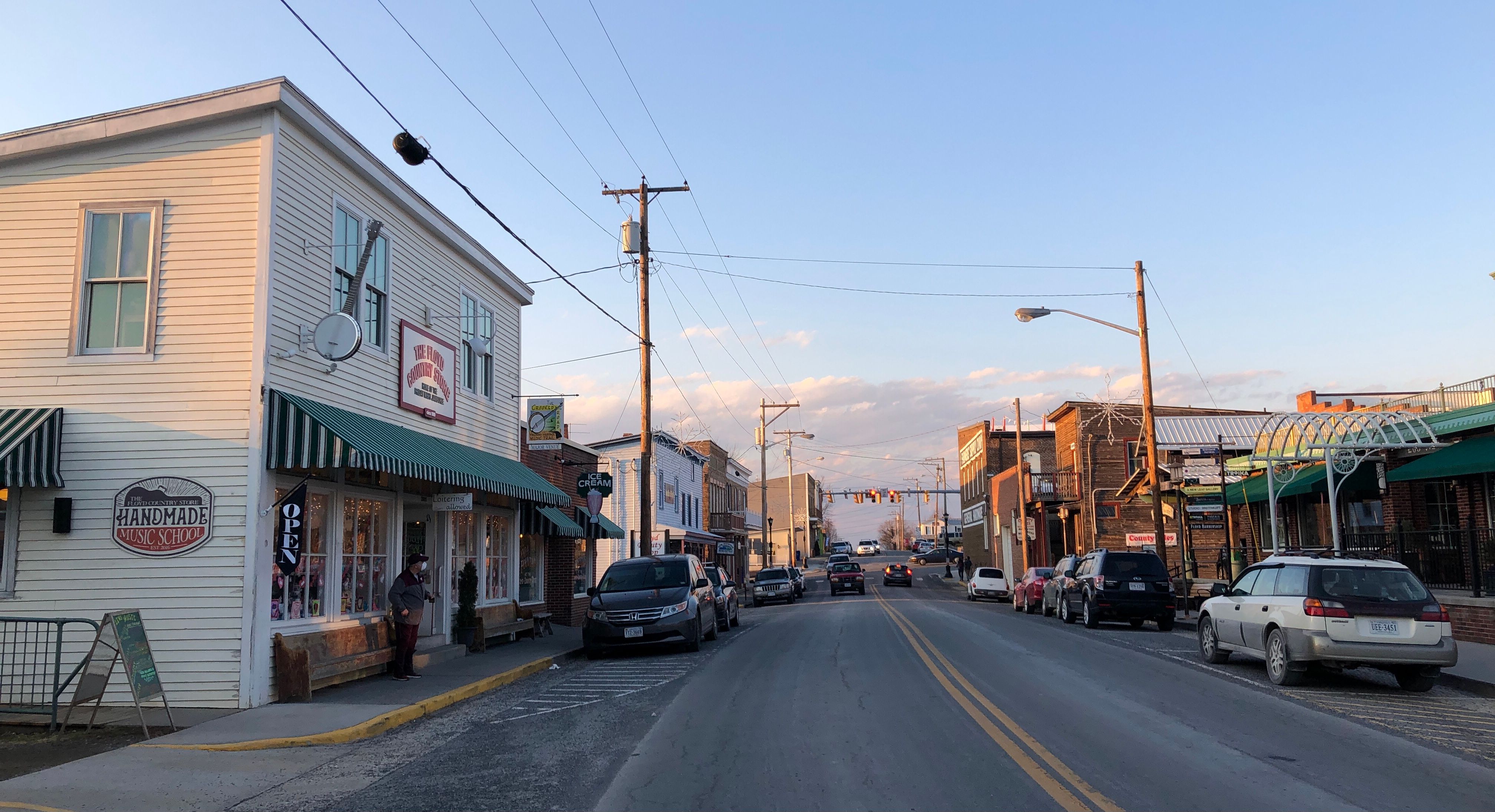 We got to meet Appalachian artist Willard Gayheart, who spent the better part of an hour with us in his studio telling stories. We got to visit Nashville, drop in to Ernest Tubb's Record Shop and Roberts Western World, and see the Punch Brothers play the Mother Church of country music, the Ryman Auditorium. We got to stay a couple days with Danny Schmidt and Carrie Elkin, two inspiring songcrafters and all-around beautiful humans, as you can see in this picture.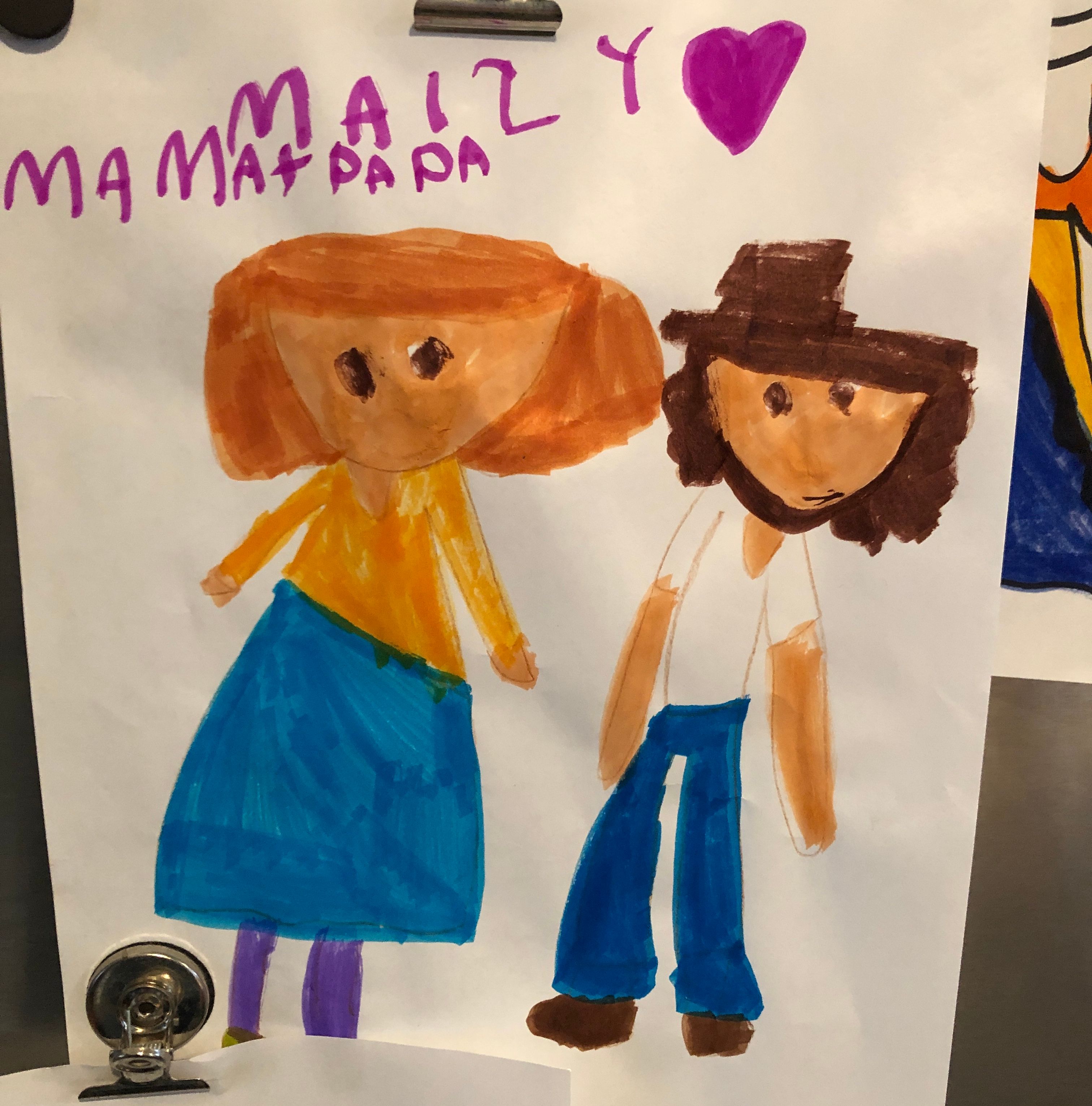 I got to play the Bluebird Cafe for the first time, in the round with Jennifer Knapp and Crys Matthews. We played for the radio on WDVX's Blue Plate Special, Woodsongs Old-Time Radio Hour and the big one, Mountain Stage in Charleston, West Virginia, where we got to meet Kathy Mattea. We made it out as far east as Richmond, Virginia before heading back west through Oklahoma, where we played two house concerts at Tim Grimm's place and spent two nights camped at the West Bend RV Outpost, where we got a peek at how a bunch vagabonds and visionaries are reimagining an old industrial site into a hobo dreamscape, complete with community kitchen, office spaces, lofts, a silkscreen shop, event space, B&Bs in a boat and RVs, a dispensary, yoga studio, and soon, a big caravan park with a saloon and an outdoor stage––another example of hard work and an eye for the possible gradually remaking the world. 
I sang a feature set at The Colony's Monday open mic, the very first place I ever visited in Tulsa––it only paid fifty bucks but it sure warmed my heart. We drove back across the Texas panhandle, and saw the Cadillac Ranch outside Amarillo.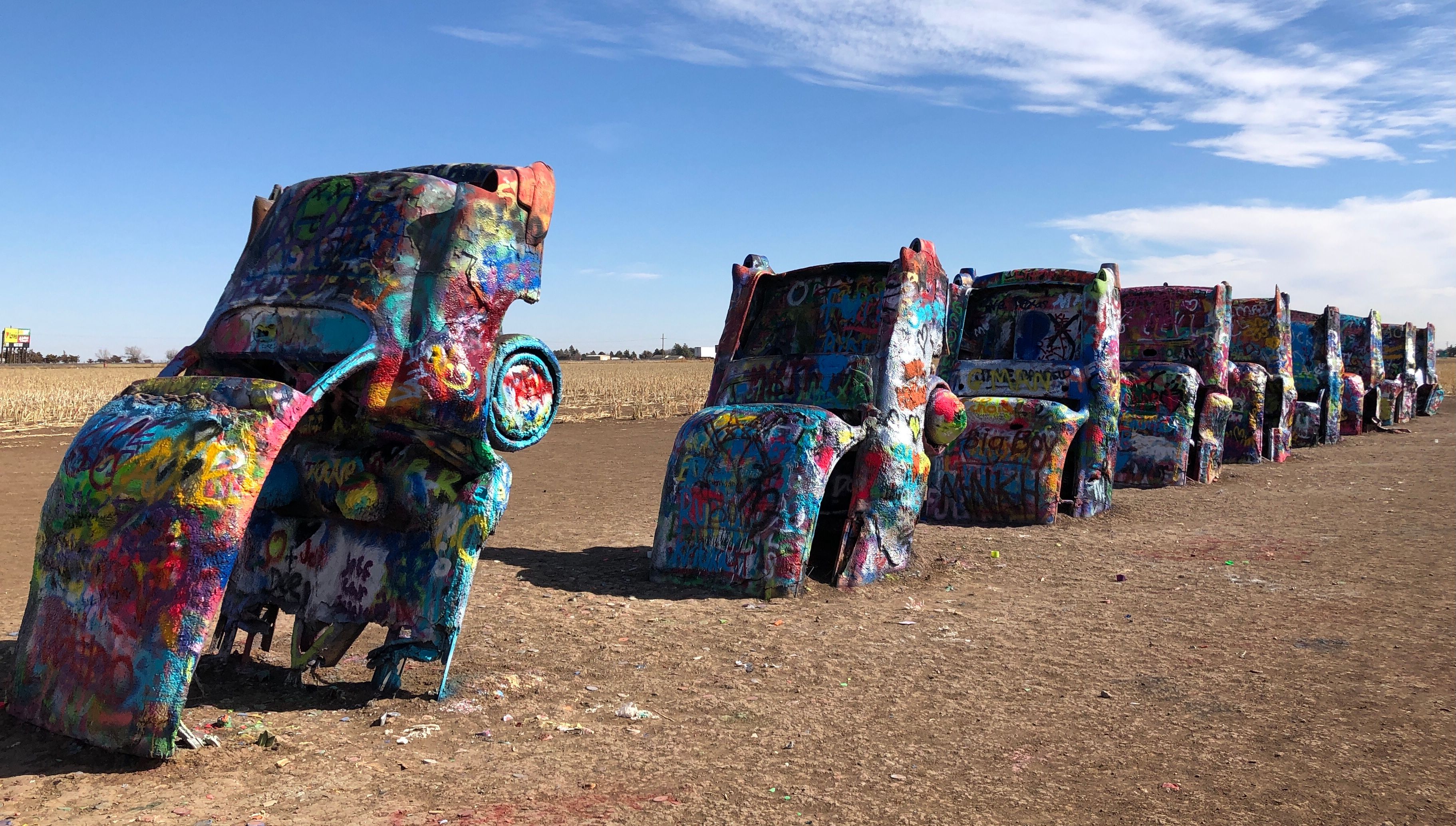 We played the beautiful GiG Performance Space in Santa Fe, where a fella who'd first found me in an online show with David Wilcox drove all the way from Buena Vista, Colorado to catch the show and hang out. The bar was closed after the show so we hosted in the back of the van, and decided we need a guest book for the next time we have company!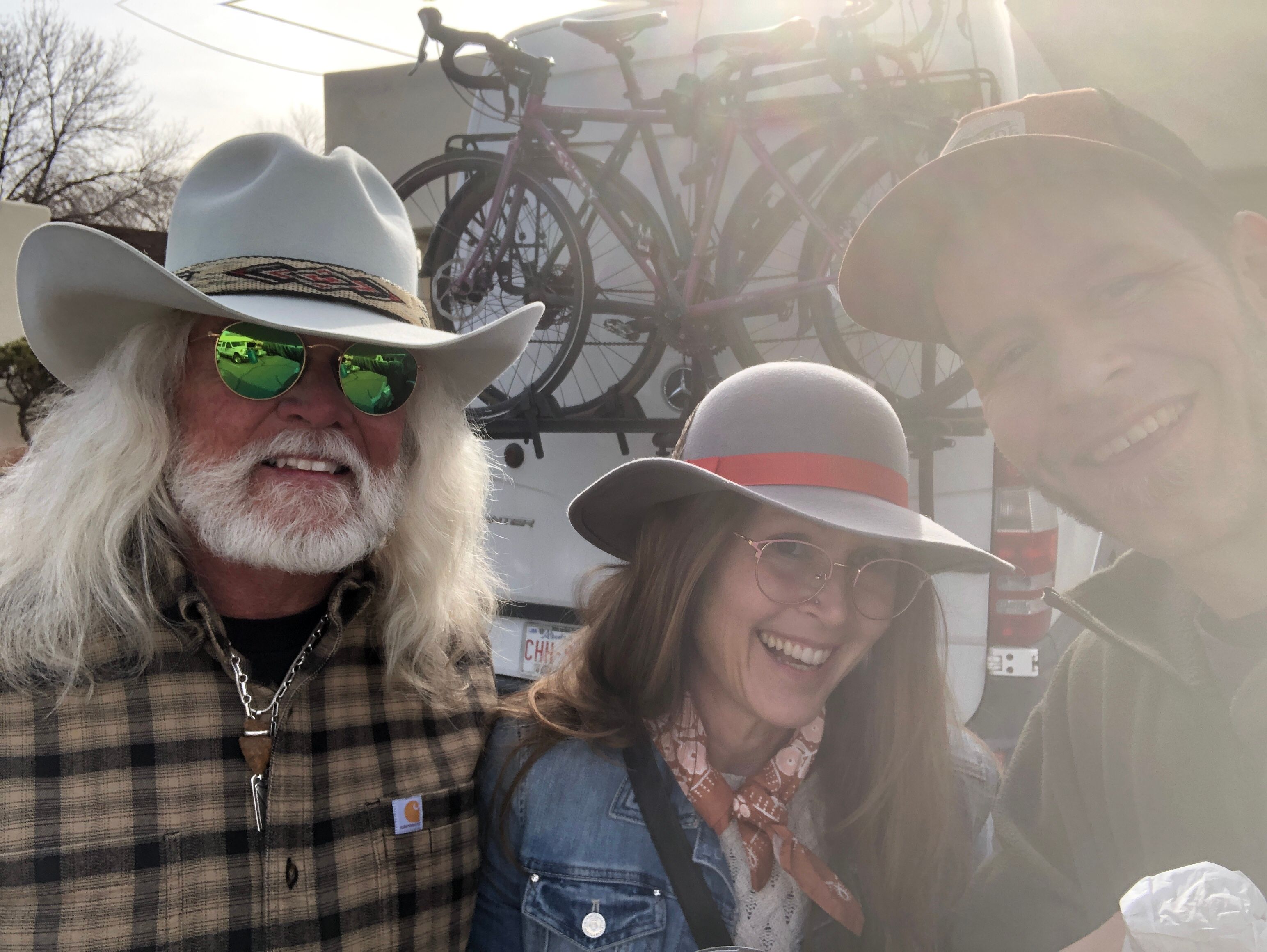 We dug White Sands and played a show followed by a songwriting workshop in Las Cruces. We drove through a dust storm and endless fields of cactus to a show in Tubac, Arizona––the very first Arizona gig I ever played, eleven long years ago. We awed at the old mission and the Santa Cruz River in Tumacácori, right down by the Mexican border. 
We played a house concert in a piano showroom in Mesa, where I did my best imitation of a piano player for a cover of series-favourite Carsie Blanton's anthem "Be Good". We stayed a few days in Pamela's folks' 55+ community in Mesa, and even got to drive a golf cart around like the locals.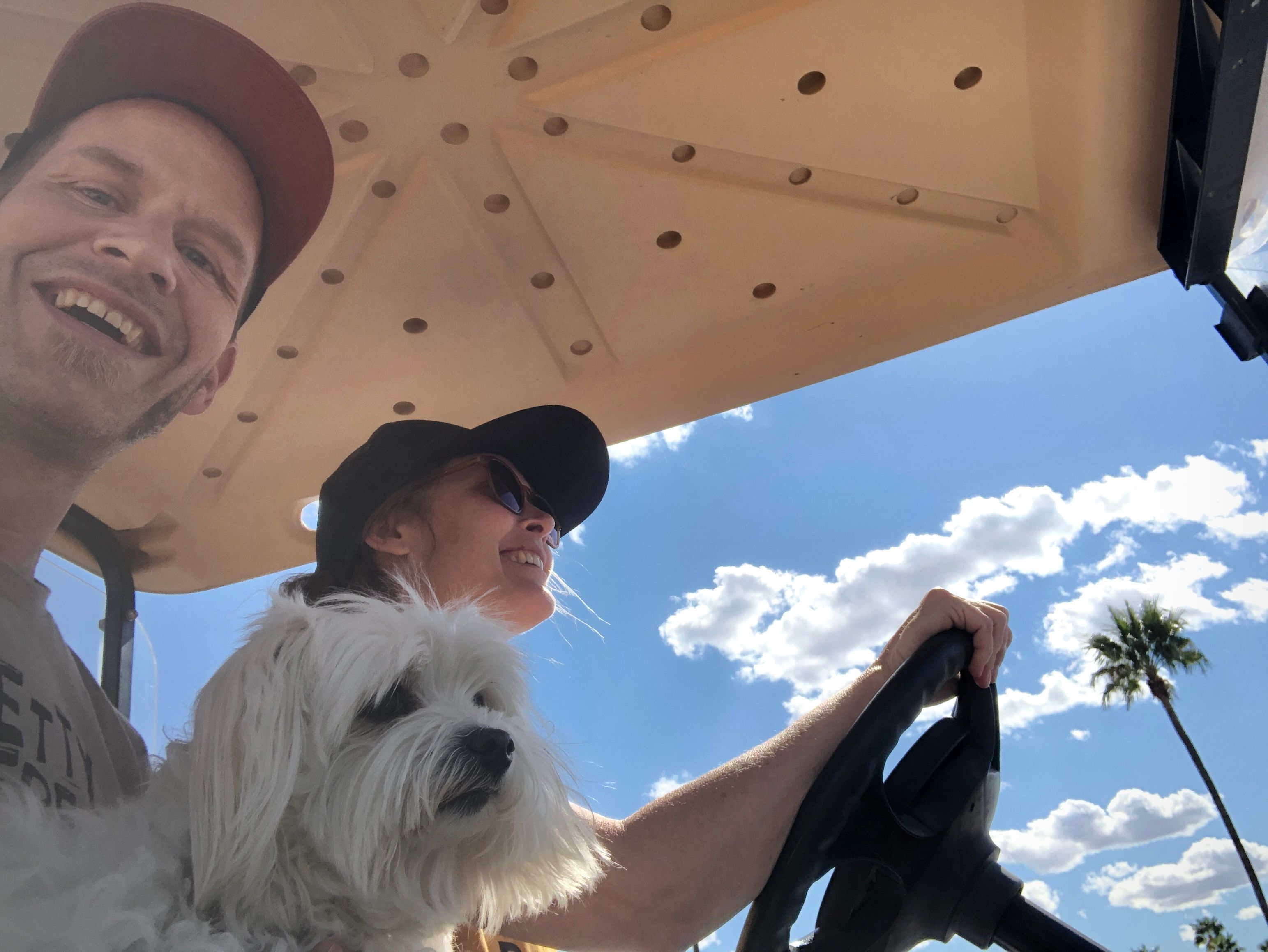 We've been eating lots of Mexican food, studying a little Spanish, trying to make as little garbage as possible, having conversations with all kinds of people, and looking for the good wherever we can. And we've been getting along. 
Well, Pamela and I have, at least. Roadetta's another story. As those of you who've been showing up for our Roadshows know, she's had some issues. She's needed a couple spa days already, and being a Mercedes, she has expensive tastes. It's all down to a dodgy emissions system, which Mercedes-Benz was caught lying about and has settled a class-action lawsuit to avoid admitting guilt for. They tell us they'll fix it all for free once we're on the other side of the border, but as our van isn't registered in the US, they won't cover it down here. Which means that every now and then Roadetta goes into countdown mode, where we've got 10 starts remaining before she won't drive any faster than 5 mph. It's a tricky spot to be in when you've got gigs to play in different states day after day. But so far we've been lucky. And the other day in Tucson when we rolled into the Sprinter shop (just like the Mercedes shop, but without the fancy coffees and the condescension) with only two starts remaining, they cleared the codes, got us back on the road, and handed us a bill for $0.00––another reminder of all the kindness in this often cruel world. 
I recorded a new song called "Jubilee" for my Patreon followers from the back of the van last month, and I'm gonna do my best to write and record another this month. If you're curious, you can hear them all (I've released eight so far) by joining up over at www.patreon.com/scottcooksongs. This latest one's inspired by a quote from David Graeber, who said that "the ultimate, hidden truth of the world is that it is something that we make, and could just as easily make differently." That thought's been turning around in my brain more than ever lately, because, overpowering and immovable as it seems, this system was made by people, woven together by stories and beliefs about what's true, possible, right, and fair. And when so many of us recognize that the stories we've been following so far are delusions, only serving the interests of a powerful few, we're on the way to making new stories. 
One last note: I'm giving to the International Rescue Committee, and there are several similar organizations with decades of experience helping people displaced by war. Giving helps me feel less powerless in the face of tragedy. 
Wherever you are, friends, I hope you're counting your blessings and loving on your nears and dears. With love from here, 
s