Friends! 
It tickles me to think that a few thousand of you have given me permission to land a letter in your inbox once a month or so, and I endeavour to treat that welcome with the care it deserves. I've been sending out these Hobo Travelogues for over fifteen years now, and as the collaborative, public-access dreams of the Internet have become increasingly monetized and siloed, I'm more convinced than ever of what a gift this direct connection is. If it's no longer feeling like a gift to you, by all means, avail yourself of the unsubscribe button down at the bottom. But if you're still in, for starters, thank you for sticking with me. 
I'm writing from Lewes, Delaware, at the halfway mark of our fall tour––not time-wise, exactly, but at the point where we're we'll be turning our wheels homeward once we get moving again. We played a lovely new series here on Sunday called The Listening Booth, and the owner offered us her beach house for a few days' break from the blur of the road. We've been working on music (I'm almost finished this month's song for my Patreon), catching up on emails, riding bikes around, and just feeling generally hella rich swanning around and sitting on the balcony. 
Tomorrow morning we'll be getting on a ferry to Cape May, New Jersey, and then we're back in the saddle again: 
Thu Oct 20 • Teaneck, NJ • Ethical Brew 
Fri Oct 21 • Brooklyn, NY • Voices in the Heights w/ Joshua Garcia 
Sat Oct 22 • Long Island (Commack), NY • Shine Sessions w/ Matt Ponsot 
Sun Oct 23 • Beacon, NY • Towne Crier Cafe w/ Paul Byrne 
Wed Oct 26 • Pittsburgh (Allison Park), PA • Red Barn 
Fri Oct 28 • Livonia, MI • Trinity House Theatre w/ Mike Ward 
Sat Oct 29 • Petoskey, MI • Blissfest show at Crooked Tree Arts Center w/ Hearth & Hymn 
Tue Nov 1 • ONLINE • Roadetta Roadshow Season 2 Episode 3 w/ The Doggone Brothers 
Thu-Sun Nov 3-6 • Harbor Springs, MI • Lamb's Retreat for Songwriters 
Thu Nov 10 • Duluth, MN • Wussow's Concert Cafe w/ Paul Lawrence and Kailyn Spencer 
Fri Nov 11 • Nisswa, MN • Grassroots Concert Series 
Sun Nov 13 • Inglis, MB • Roots at Rusty's 
Thu Nov 17 • Medicine Hat, AB • TBC 
Fri Nov 18 • Calgary, AB • Gallery House Concerts w/ the Second Chances 
Sat Nov 19 • Edmonton, AB • Northern Lights Folk Club w/ the Second Chances 
A few changes to note in particular: we've added a show at the legendary Towne Crier in Pete Seeger's hometown of Beacon, New York, with local songwriter Paul Byrne opening, and we could sure use all the Hudson Valley love we can get for that one! We've also confirmed Hearth and Hymn (Sam Cooper and Elisabeth Pixley-Fink) as the opener for our Petoskey show, so we're really excited about that. Our Medicine Hat show's been cancelled by the promoter, but we may end up doing something in the Hat after all, since the sweet hearts from the Jar Bar have reached out to us. Please drop a line if you're around there and want us to make it real, 'cause we'll only come if we're wanted! 
If you've got friends in New York City or anywhere along our path who'd enjoy our show, it would mean the world to us if you personally reached out to you let them know. These are really strange times to be on the road. All my comrades are saying the same, which at least reassures me that my brand's not uniquely in decline. It just feels harder than ever to coax folks out to live music. Some are genuinely still wary of catching covid, and I don't fault them at all for that. But staying home streaming a movie or whatever also seems to have tightened its grip on our collective imaginations in a way that I don't think is healthy. It's good for people to gather. We've witnessed folks being reminded of that at every show we've played. But at many of those shows, there just haven't been that many folks. 
Another factor must be the way rising costs are squeezing working people's budgets at the same time corporations are making record profits. Only class consciousness and long-term, multifaceted collective action can solve that. But in the short term, within my little sphere of influence, I just want to be sure that nobody's having to stay home because they can't afford a show. If you're struggling to make ends meet, drop me a line and I'll find a way to comp you for any of these shows. I mean that.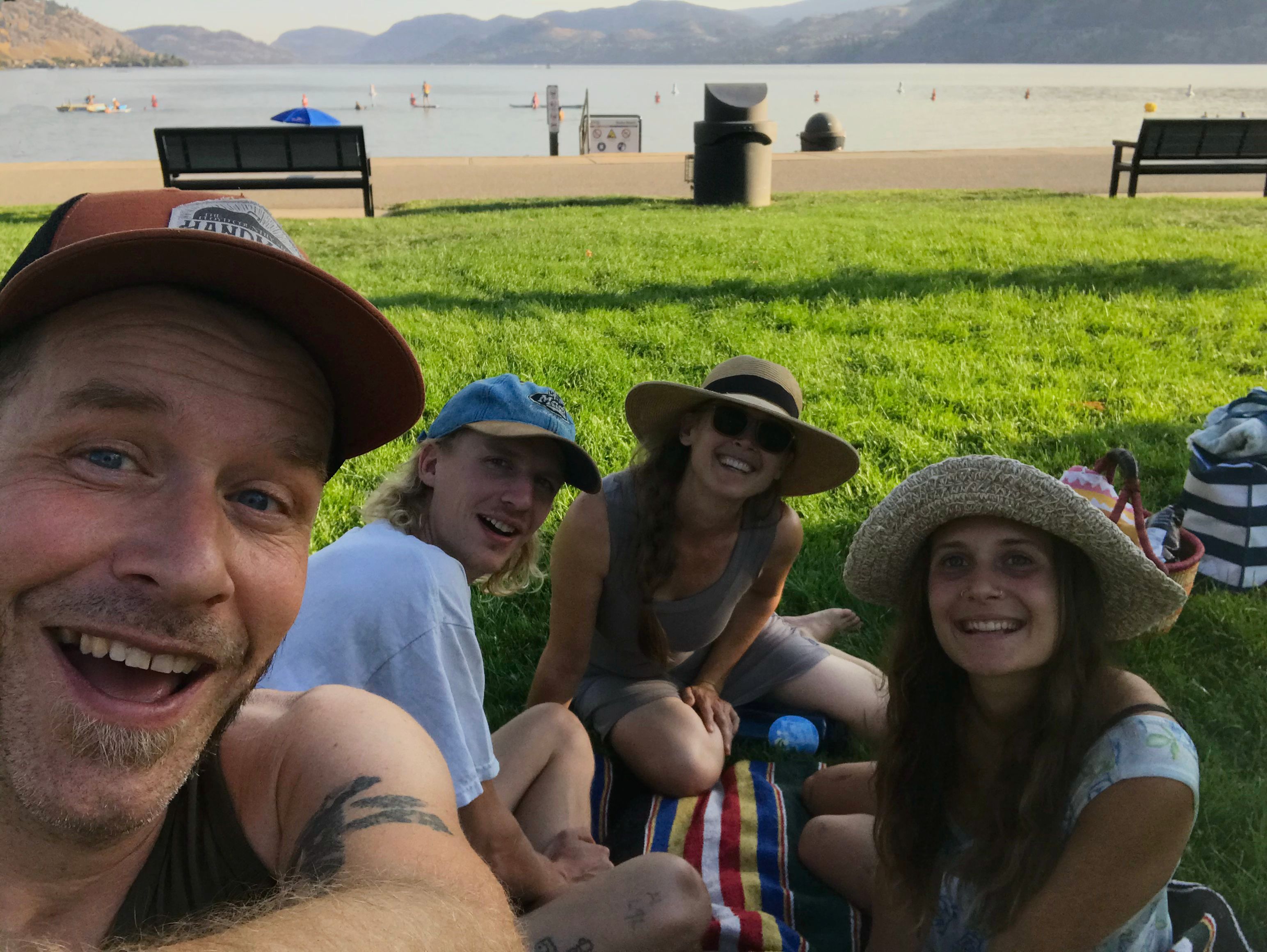 Last I wrote, Pamela and I were camped out in Penticton visiting her daughter and boyfriend, along our way to the Kootenays for the Tiny Lights Festival in Ymir. I hadn't played that fest since 2016, and it felt like even longer for the two pandemic summers away from my Western Canadian festival family––people I love dearly and used to cross paths with several times a year. It felt absolutely surreal to be doing it all again on the streets of that tiny, timeless, lawless mountain town, and to have our cups of inspiration filled by Kris Demeanor, Kitty and the Rooster, Jack Garton, Madeleine Roger, Maddie Storvold, Ella Korth, The Doggone Brothers, Corwin Fox, Zinnia, Tariq, and so many more beautiful humans who've been quietly simmering their art during these couple years apart. 
We headed straight east after the fest, broadcasting our first Roadetta Roadshow of Season 2 from a campground in Moose Jaw with Cary and Celeste Morin calling in from Colorado. It was an otherwise gig-less drive across the prairies to Northern Ontario, where we took a detour off the Trans-Canada to Sioux Lookout, a small community I'd visited back in 2012 and always hoped to get back to. Being invited and welcomed into out-of-the-way spots like Sioux Lookout (or Sioux Narrows, Bella Coola, Atlin, Old Crow, Lasqueti Island, and so on) and getting to know the characters who find their ways to those places is one of the greatest joys and privileges in this line of work. 
The next night we played a house concert in Thunder Bay for a friend of a friend who'd never even seen us live before––again, an honour that I never take for granted. And then we played in Sault Ste. Marie at the home of an Irish and Canadian couple who first saw me at Blissfest and have become dear friends over the course of three beautiful campfire-lit nights in their backyard. 
From there we crossed the bridge into Sault Ste. Marie, Michigan with a "phew!" and a high five of sweet relief as they stamped the visa into Pamela's passport and waved us on through. We visited the Cook family farm in Levering and Cook's Hardware in Pellston, and Pamela got to meet a bunch of my extended family and friends before heading down to Lake City for Earthwork Harvest Gathering. I've wanted to bring Pamela there for years. This was my ninth time playing Harvest, and I really can't say enough about what a wholesome, earth-bound, beautiful gathering it is. We ate from the farm kitchen. We camped with my cousins. We dug the free store, DarlenYa's recycle shop, the abundant cut flowers and marigolds encircling the performance spaces, and the Sound Garden where little kids could rattle and clang to their heart's content.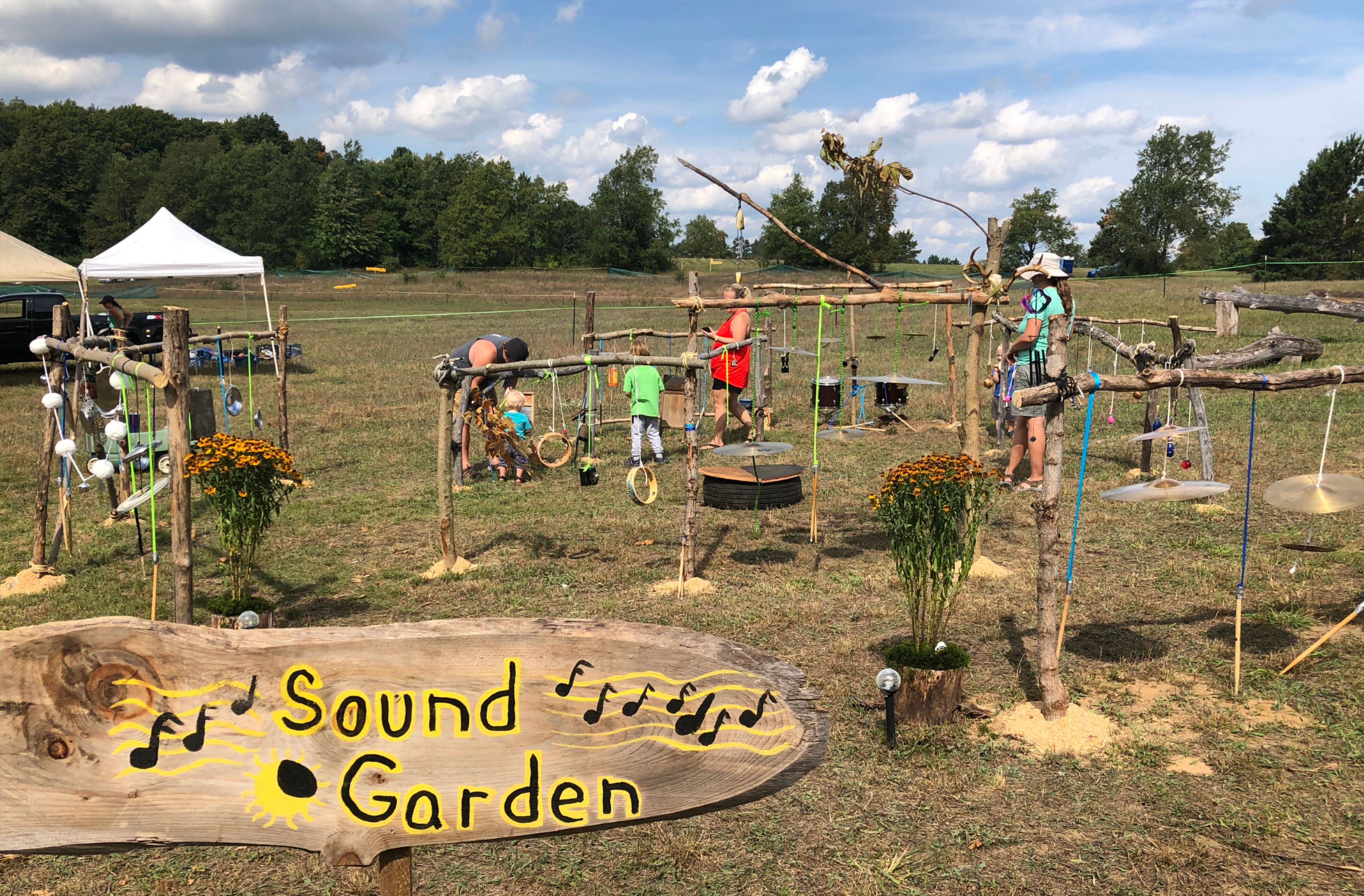 We played a Thursday night surprise set for the volunteers on the Cedar Stage and a Friday evening set in the barn––one of my favourite stages in the world to sing on––right after Hearth and Hymn (Sam Cooper and Elisabeth Pixley-Fink) sanctified the place with their sonic spells. 
We stayed up til 2am to watch Bacon, whose late-night shows are always an offbeat mix of comedy, politics, live music, slideshow and gameshow. This year's presentation was especially political, aimed at the radical centre, asking how we can turn the "Biden Sucks" (or "Fuck Trudeau", for that matter) flags into a bridge to a bigger conversation between people on both sides who feel failed by the system. It was hilarious and on point at the same time. And earlier that evening Pamela got to experience the magic of our host Seth Bernard for the first time, as he welcomed us to the farm with a set of music and some well-chosen words about family, intergenerational learning, and the work of moving the culture––how long a slog it is, but also what sturdy shoulders we've got to stand on.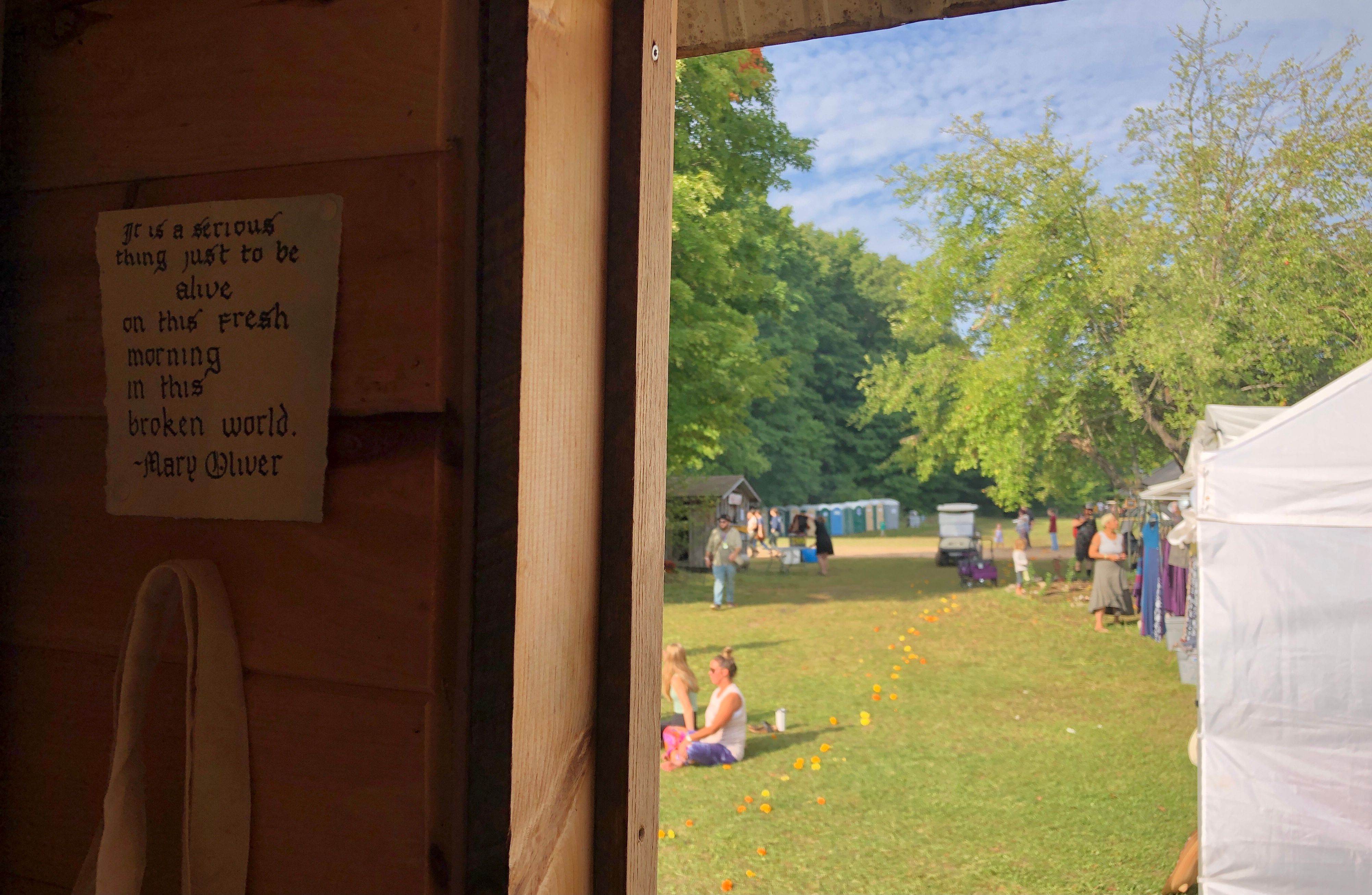 I already knew it was gonna be hard leaving Earthwork Saturday morning with so much festival goodness (including the epic 3-on-3 dirtball tournament) still to come, but we had other gigs booked before we even knew Earthwork was happening, and the show must go on. We crossed the border into Southern Ontario, sang in my friend Vicky's backyard in Goderich, and drove out after ward to get partway to Morrisburg, where we played a lovely Harmony Concerts show at Stone Crop Acres Winery the next day. It felt wonderful to sing for a big crowd, with a bunch of friends among the throng; our hats are off to Jan for her hard work making that happen. 
From there we burned it through Quebec to Fredericton, New Brunswick for a two-day stay at Fredericton Inn and a show there put on by our friend Emma of Music Runs Through It. We were in the hotel's breakfast restaurant, where we were to play that night, when we overheard a couple fellas who were obviously in a band commiserating about their current road woes––being away from family, worries about what Hurricane Fiona might mean for their upcoming gigs in Nova Scotia, and a bandmate who was showing worrying cold symptoms. They mentioned "working with Sarah" and we were just checking our phones to see who was on tour––Sarah Slean? Sarah McLachlan?––when Sarah Harmer walked in and sat down behind me. They seemed to have plenty on their minds, so we didn't bug them, but I did kinda wish for the inevitable small talk, if only to tell them where our gig was that night, right there in the hotel's breakfast nook. 
We were supposed to go to Nova Scotia for the Deep Roots festival the next day, but they called off the fest at the last minute on account of the looming hurricane. It felt a little crazy to have driven all the way out to the Maritimes for that, but we looked for a silver lining in the unexpected downtime. We crossed the border into Maine to stay four nights at Wolfe's Neck Center for Agriculture and the Environment (a sweet farmstay and eco-education spot I'd found along a previous ramble) and gave our nervous systems a nice long rest. A big flock of chickens lived next to our campsite, and we loved how they'd all go into the coop and quiet down at night when the young workers came to tuck them in.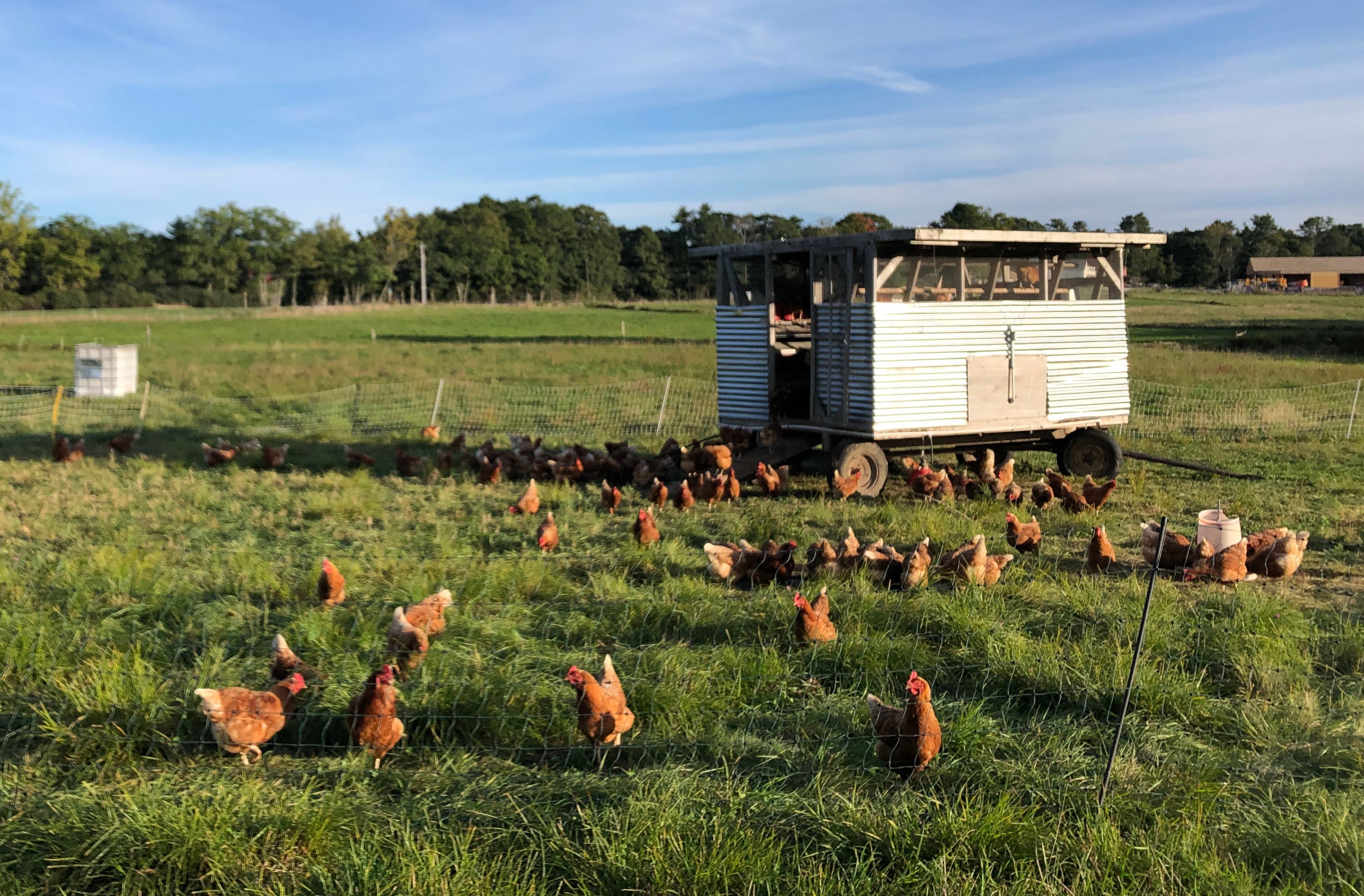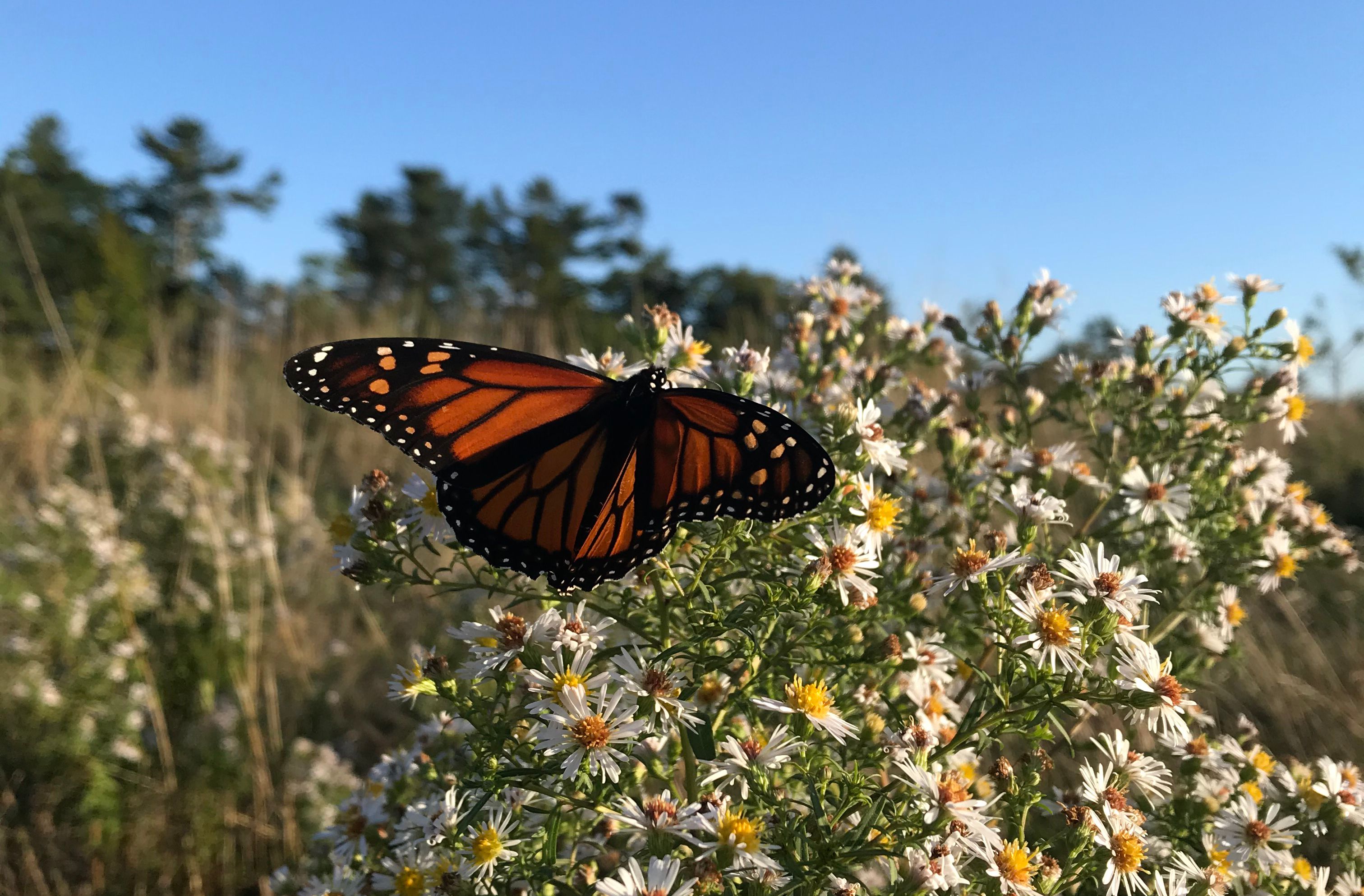 There were also a bunch of monarchs, apparently just about to shove off on their epic migration to Mexico. And on our last night out there, sitting around the fire, we saw a truly bewildering sight––an impossibly straight line of thirty or so lights coming from the horizon and off into the distance of space. Neither of us had ever seen anything like it, and it left us genuinely spooked. The next day we found out it was a chain of Elon Musk's StarLink satellites. Or so they say. ;)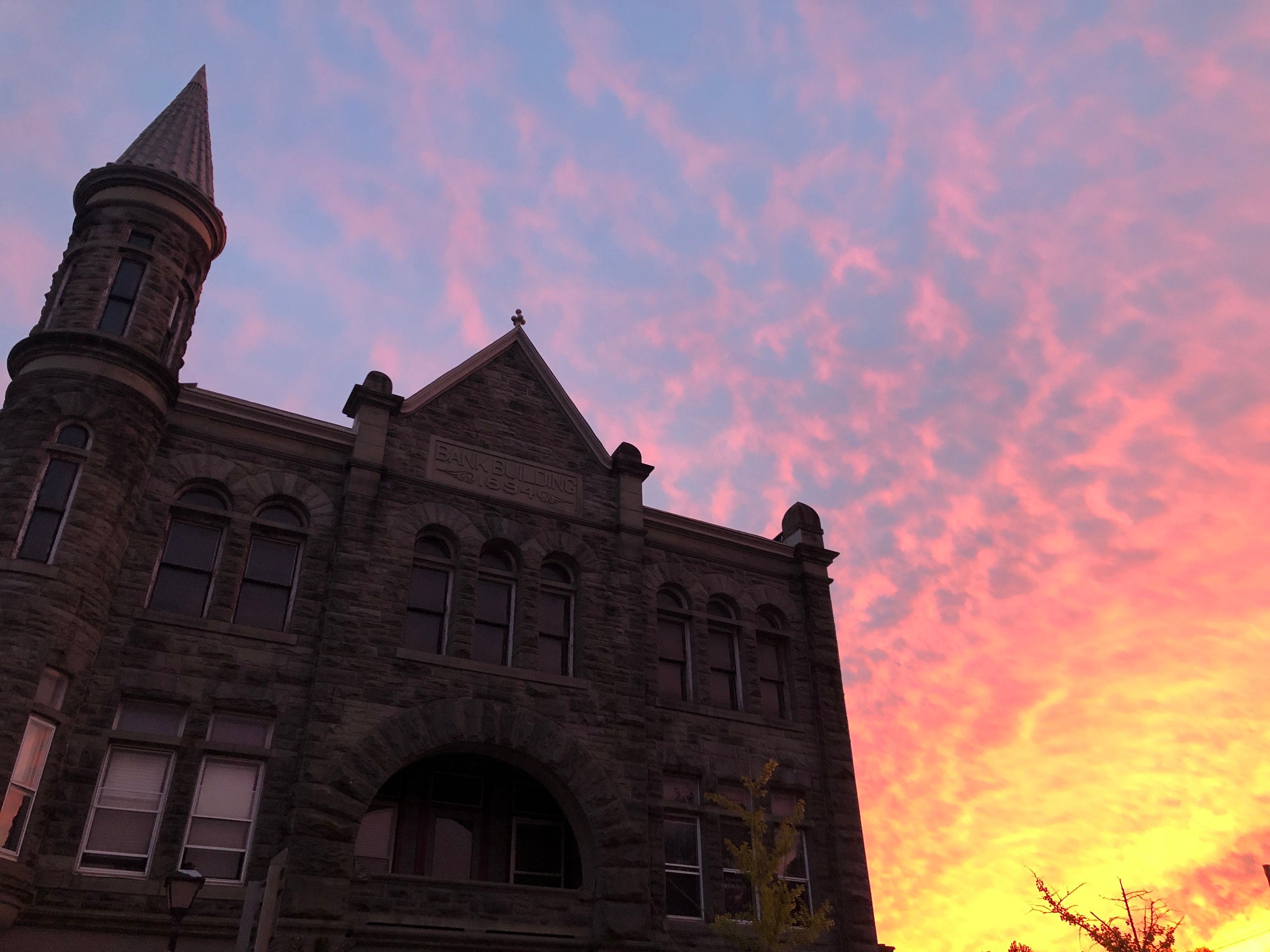 sunset over Oxford, New York 
We played for small crowds at the historic Caffe Lena with Pete Muller and at a sweet little series called Six On the Square in tiny Oxford, New York, then out to Connecticut for a house concert and a few days of chill time with some new friends we made in the summer. We did our monthly Roadetta Roadshow (always the first Tuesday of the month) from the back of the van in their driveway with Bramwell Park joining us from home, and it's here if you wanna watch it. 
We got to spend a day with our Connecticut pals at Black Bear Music Festival, in the same spot we'd hung out during Falcon Ridge in the summer, then off to sing for small crowds at two concert series––in a Quaker meetinghouse in Leverett, MA and in the hall of an old Episcopal church in Ridgefield, CT. Even with the low numbers, we felt grateful for each one of the people who came to hear the songs, and for the organizers who've been shouldering these labours of love for decades. 
I voted by email in the West Virginia midterms that week, and was reminded of what a privilege it is to cast a ballot, and doubly so in two countries. As much as I despair of the complicity of both sides in the general rot of civil society and the way money has come to rule everything, as bewildered as I am at the two senescent stumblers that are somehow the two top choices to lead a country with as many brilliant minds as America, as much as I believe that there are many more powerful means to influence the course of our countries (like donating money, organizing, direct action, and difficult conversations) besides merely voting, I maintain that it's still a sacred thing, and we shouldn't take it for granted. I mean, if voting doesn't make any difference, why are the Republicans trying so hard to suppress, gerrymander, and undermine it? 
From Connecticut we wound our way south along the Delaware River with stops at Gettysburg and Harpers Ferry for a little historical touristing. Both Pamela and I found ourselves surprisingly teary at the museum in Gettysburg, imagining the tragedy of countrymen (and boys) turned against one another, and all the human suffering that accompanies the tidal swells of history. There was a woollen blanket on display with the following note: 
"My son is in the army. Whoever is made warm by this quilt, which I have worked on for six days and most of six nights, let him remember his own mother's love." 
We saw the house Lincoln stayed in the night before he gave his famous address to dedicate the cemetery at Gettysburg. Despite being counted among the most masterful speeches in the history of American rhetoric, the Chicago Times panned his remarks as "silly, flat, and dishwatery utterances"––a helpful reminder that then, as now, you can't please everybody. 
We rode around Harpers Ferry, where the Shenandoah pours into the Potomac, and where abolitionist John Brown and his men mounted their ill-fated raid in 1859, hoping their deed would be the spark to set off a revolution throughout the South. Like any important story, it's morally complicated, and scattered by the prism of history. 
Robert E. Lee, who was then an officer in the United States army, was called up to lead the company of Marines that surrounded and captured Brown. Two years later he would join his home state Virginia in seceding from the Union, and two years after that he would be defeated at Gettysburg, where 50,000 died in what's widely thought of as the turning point of the Civil War. 
In Charles Town we saw the courthouse where Brown and his surviving accomplices were convicted, the same courthouse where the striking miners from the Battle of Blair Mountain (the largest labour uprising in American history, and the biggest armed uprising in America since the Civil War) were also tried for treason in 1921. 
Out front of the courthouse, two days in a row, we saw a fella who had the guts to stand on the corner with signs warning that Trump is trying to destroy American democracy and supporting women's right to choose ("Roe, Roe, Roe Your Vote") while two fellas across the street stood with signs saying "Repent and Be Saved". 
We saw the spot where John Brown was hanged, and where the commander of the militia who first attacked John Brown (and went on to serve in the Confederate army) built a mansion in 1891. We were tickled to see that the house has evidently fallen into subversive hands, with a pagan pentagram of branches on the gate and a "Don't Tread on Me" flag on the lawn with the snake in the shape of the female reproductive system.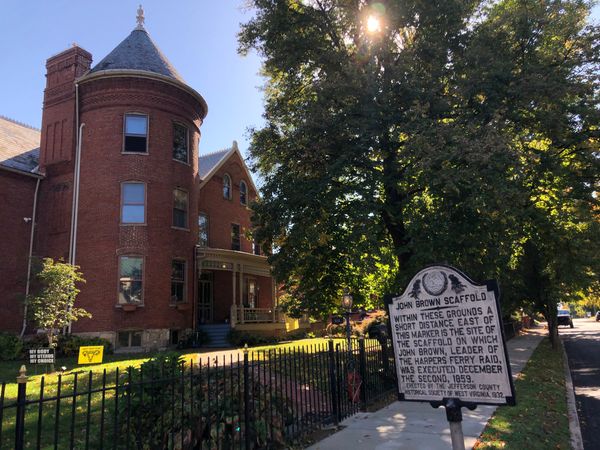 Before his execution, John Brown gave his final statement to his jailer: "I John Brown am now quite certain that the crimes of this guilty land will never be purged away, but with Blood. I had as I now think vainly flattered myself that without very much bloodshed, it might be done." 
Stonewall Jackson was at the hanging, as was the popular actor and sex symbol John Wilkes Booth, who heard about the hanging and borrowed a Virginia militia uniform so he could get closer to the action. 
A few days later in Washington, D.C. we saw the Capitol steps that had crawled with angry people on January 6th, 2021, and Ford's Theatre, where John Wilkes Booth shot Lincoln. It was just six years after he'd witnessed John Brown's death, and just days after Robert E. Lee surrendered to end the Civil War. Booth, who had performed in the theatre many times, jumped onto the stage afterward, raised his knife and yelled "sic semper tyrannis"––the phrase associated with Brutus' killing of Ceasar. That same phrase, under a picture of Lincoln, was on Timothy McVeigh's t-shirt when we was arrested for the Oklahoma City bombing in 1995, and act he had hoped would start a revolution to overthrow the federal government. 
Booth had been estranged from his family over his support for the Confederacy, including his famous actor brother Edwin and his sister Asia, who was a writer. He gave her a sealed note, only to be opened after his death, which read "I know how foolish I shall be deemed for undertaking such a step as this, where, on one side, I have many friends and everything to make me happy ... to give up all ... seems insane; but God is my judge. I love justice more than I do a country that disowns it, more than fame or wealth." 
100 years later, McVeigh disowned his boyhood friend Steve with a long letter that read in part: "I know in my heart that I am right in my struggle, Steve. I have come to peace with myself, my God and my cause. Blood will flow in the streets, Steve. Good vs. Evil. Free Men vs. Socialist Wannabe Slaves. Pray it is not your blood, my friend." 
Traveling around this country, and keeping an ear on events back home in Alberta at the same time, I can't help but worry about the bubbling, mostly misplaced discontent and the unhinged ideas in some people's heads. My only hope is people talking. Not shouting at one another online, but really talking. Because when conversation breaks down, irrevocable disagreements usually end in violence. There may be times when violence is unavoidable. But we can be sure that we oughta try everything in our power before it comes to that. 
If you're similarly worried about these divided States, I encourage you to get involved with Braver Angels, a bi-partisan group that's working to bring people together on common projects and depolarize the conversation on the issues. They're also allied with a broader platform called Citizen Connect that hopes to increase engagement in civil society by folks on all sides, united only by the principles of fairness, civility and reason. 
Wherever you are in the world, I hope we can find the courage to have difficult conversations with people who think differently from us, staying curious, avoiding provocation or putting words into each other's mouths, and always looking for the common ground. Because each other are all we've got, and when times get tough, we need each other more than ever. 
We'll be doing our next Roadetta Roadshow from Northern Michigan, Tuesday November 1st at 5:55 Mountain Time (find your time zone here) on either of my Facebook pages, or on YouTube here, and we'll be joined by The Doggone Brothers from BC's East Kootenays. All the comments go to the same place, so be sure to saw howdy!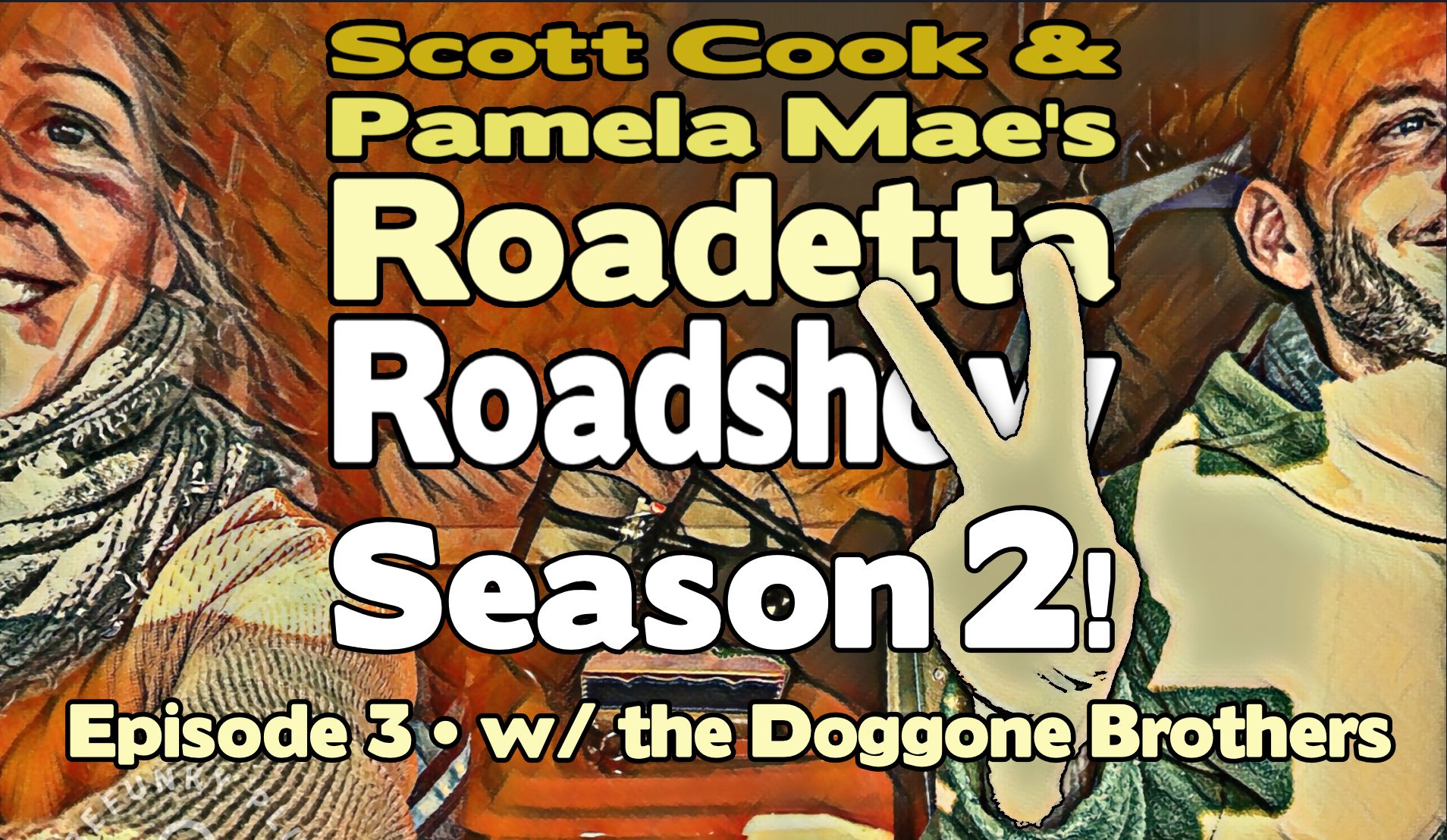 It's been really fun staying connected through these Roadshows, so I'm thinking I'll keep broadcasting on the first Tuesday of the month from wherever I am in the world. December's show'll come from our house in Edmonton. It looks like February's might come from Fiji. Stay tuned. 
Oh, and if you want the real inside track, or just want to support my work in an ongoing way, I've been challenging myself to writer a song a month for my Fellow Travellers on Patreon. I released a rewrite of Stephen Foster's classic "Hard Times" at the end of August, and a new one called "Little Victories" at the end of September. This month I'm working on an autobiographical band-bio-kinda song called "Troubadourly Yours". And once I'm home, I'll get back to occasional invite-only Zoom hangs for those folks. If you're interested, you can join up for whatever amount suits you, either on my Patreon, or for those who prefer to cut out the middle-man, on the subscribers-only section of my website. 
That's all for now, friends! You're missed. Hope you're staying inspired, and enjoying the season wherever you are. 
Love and courage, 
s