Hey friends, 
I'm writing you from my home in Riverdale, Alberta, by the banks of the North Saskatchewan.  I remember marvelling at the river opening up in the spring, when I'd just gotten back from Texas and The Tour That Never Was, and now I'm gonna stay put and watch it freeze over again.  I haven't stuck it out through a Canadian winter in twenty years, but I'm surprisingly stoked for it.  I've got what feels like a lifetime of loose ends to tend to, and a seemingly bottomless appetite for woodshedding.  I'm finally learning my way around the guitar!  I'm working up the courage for a long-overdue reckoning with the Canada Revenue Agency!  I'm gradually clearing the mental space to write some songs!  And I reckon just staying in one place has some valuable lessons to teach me. 
Pamela and I did take a little road trip out BC last month to visit her youngest daughter, and I managed to line up a couple shows along the way. It was a thrill to feel like we were on tour again, even briefly––driving through gorgeous scenery, swimming in lakes, marvelling at starry skies, and singing for small outdoor gatherings of old and new friends.  At Creekside Concerts in Priddis the audience looked glorious, bathed in the golden evening light along Fish Creek.  On our friends' farm outside Salmon Arm the crowd included a pig and a goat, and we savoured the after-show afterglow with fire-lit songs and conversation along the Salmon River.  And on our way back, we reunited with Elliot to play a lamplit barn party outside Camrose called Prairie Oak Folk Fest.  "You're looking at a touring band," I told the crowd, "haven't seen one of those in a while, eh?"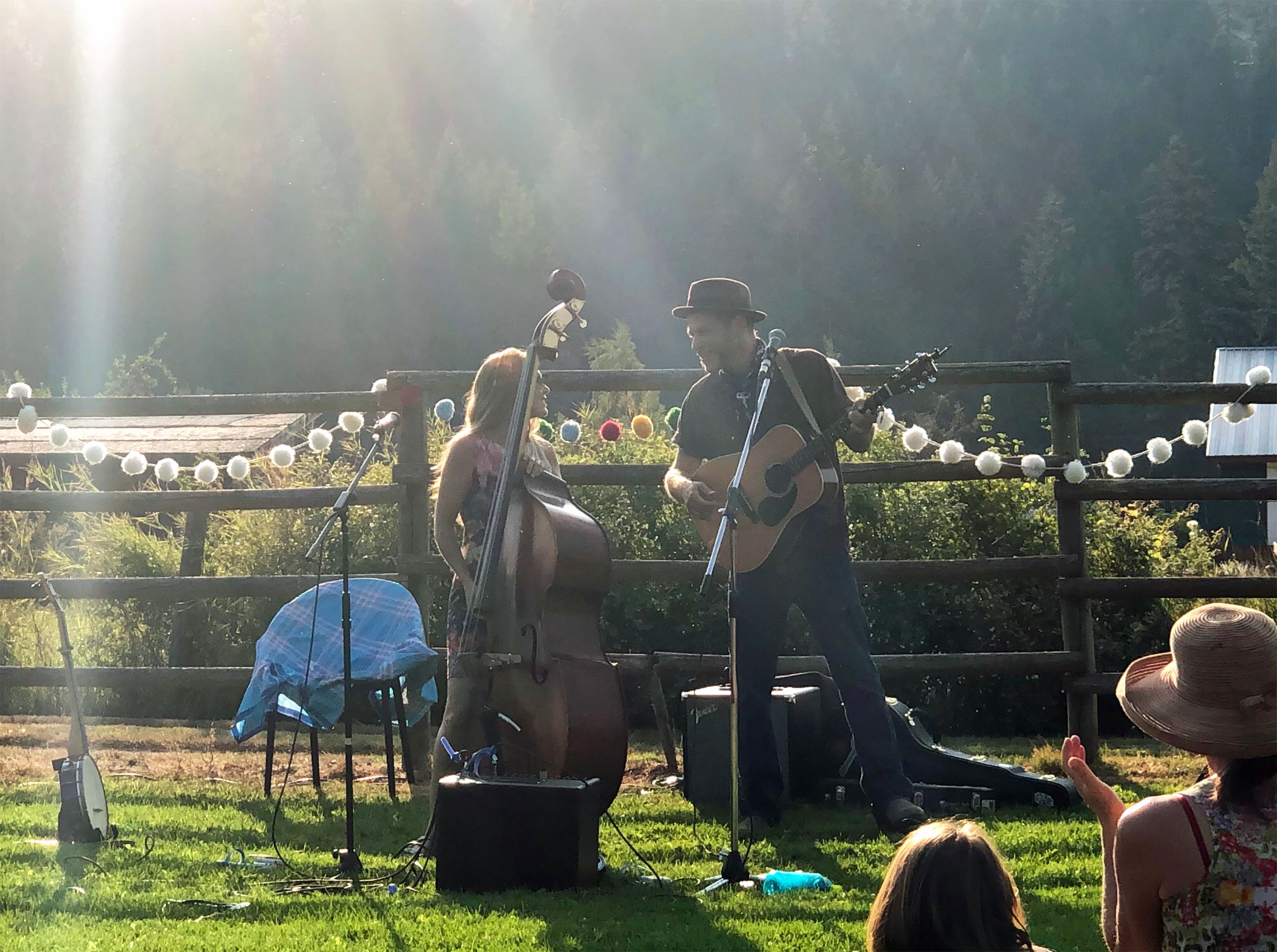 from the show in Silver Creek, BC, photo by Mikey B 
I attended a couple more chilly outdoor shows here in Edmonton this past weekend (local heroes Lucas Chaisson, Swear By the Moon, and Braden Gates), but I reckon those'll be the last of the season.  Our last one was two weeks ago, singing for a surprisingly large crowd from a front porch in Allendale.  We're taking the rest of the year off from three-dimensional shows, but I'm pleased to announce that the Indoorables are returning to the world wide web next Tuesday, October 20th!  The show's being presented by our friends at the Calgary Folk Club in collaboration with Home Routes, an amazing organization that sent me to the Yukon in 2013 and to northern Saskatchewan and Manitoba in 2015 for two-week runs of house concerts.  It's happening on Zoom, which makes it a little like a house concert––it'll be cozy, and we'll get to see your faces, rather than just sending songs out into the air.  I mean, you're welcome to turn your camera off and watch in your underwear if you want, but I reckon it'll be way more fun to actually see the folks we're singing for.  We encourage the wearing of silly hats and any other interesting headgear. You're also welcome to bring your axe if you want to jam along with your mic muted.  We're gonna have some time for Q&A, a little tour of the place, a chat with everyone's favourite four-legged Indoorable Foxy, and some special guests joining us for cameos from afar, including our Australian comrade Liz Frencham, whose upright bass playing dances through Tangle of Souls, calling in from the backyard studio in Trentham, Victoria where we recorded it! 
We put together a little promo video yesterday, at the Home Routes' team's urging, and I'm glad we did.  Old Man Winter even made a perfectly-timed appearance at the end.  Have a look! 
The show's at 6:30 Mountain Time, which makes 5:30 on the west coast, 8:30 in Toronto and New York, and 11:30am Wednesday in Melbourne, where we hope to provide some entertaining relief for our friends in lockdown.  I've been part of a couple Zoom shows so far, and it's a very different experience from going out on Facebook Live.  I can already feel the familiar twinge of nervousness that goes with playing shows in the real world and wondering who'll show up.  If you want in, get a ticket here.  It's $10-25 sliding scale, and of course you only need one ticket per household.  You can help us out by inviting friends who'd enjoy it, and if you're on Facebook, sharing the event. 
After two months of monomaniacal mailing, I'm relieved to say that all the orders have been sent out!  The remaining US orders are all in the country and en route by USPS.  If you're in Australia or New Zealand and haven't gotten yours yet, it should be arriving very soon.  Canada Post wanted $44 apiece to air-mail a single book and CD down under, so I opted to ship them in five big boxes, to be sent out individually by AusPost. Yackandandan folksinger Candice McLeod and Bega record shop Sugar Sounds are the heroes helping me with this, and I'm sure they'd be grateful for your support if you feel so moved.  If you're elsewhere in the world and haven't gotten yours yet, drop me a line and I'll try and track it down. 
If you pre-ordered the album before the release date, you should've gotten an email from me a couple days ago with a download code for the one song that didn't make it on the album, a lonesome waltz called "The One Who Stays".  If you were among those who pre-ordered, but didn't get the download, let me know and I'll send it to you. 
If you got a vinyl copy, there's a digital download code inside the back cover.  All the folks who ordered through my website also got download codes on release day, but if yours expired, or you'd prefer a lossless download in another format besides MP3, just drop me a line and I'll get you one from Bandcamp. 
Plenty of friends have been posting pictures on Facebook and Instagram when the album arrives, and I'm very grateful for them rustling the ol' grapevine.  I wanted to share two in particular with you––this one from our dear friends Penny and Jim of Back Porch Swing, demonstrating the proper way to take Tangle of Souls on a paddling excursion: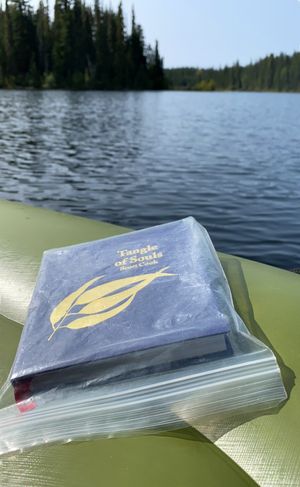 And this one from our friend and house concert host Diana Paige, showing a vinyl copy of Tangle of Souls on its way home from the post office in Cumberland, BC: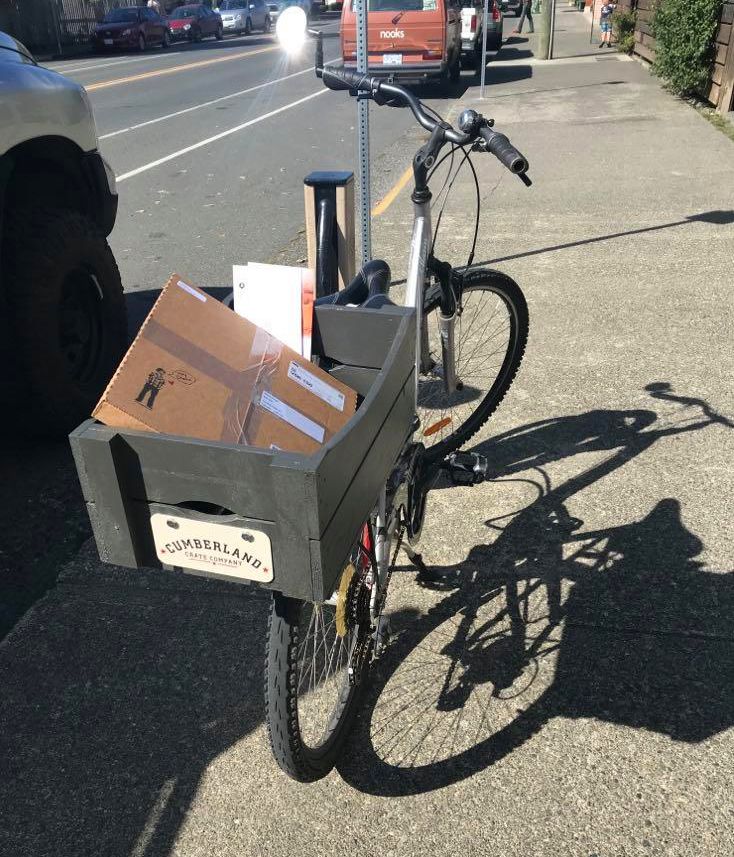 A thousand copies have already flown out into the world, but the remaining four thousand arrived by boat from Taiwan last month. I had to rent a utility trailer from Home Depot to pick them up from the shipping warehouse, and it was among the craziest-feeling "am I in over my head?" moments of my career so far, driving down the highway with 2344 pounds of books on two pallets and wondering how my life came to this.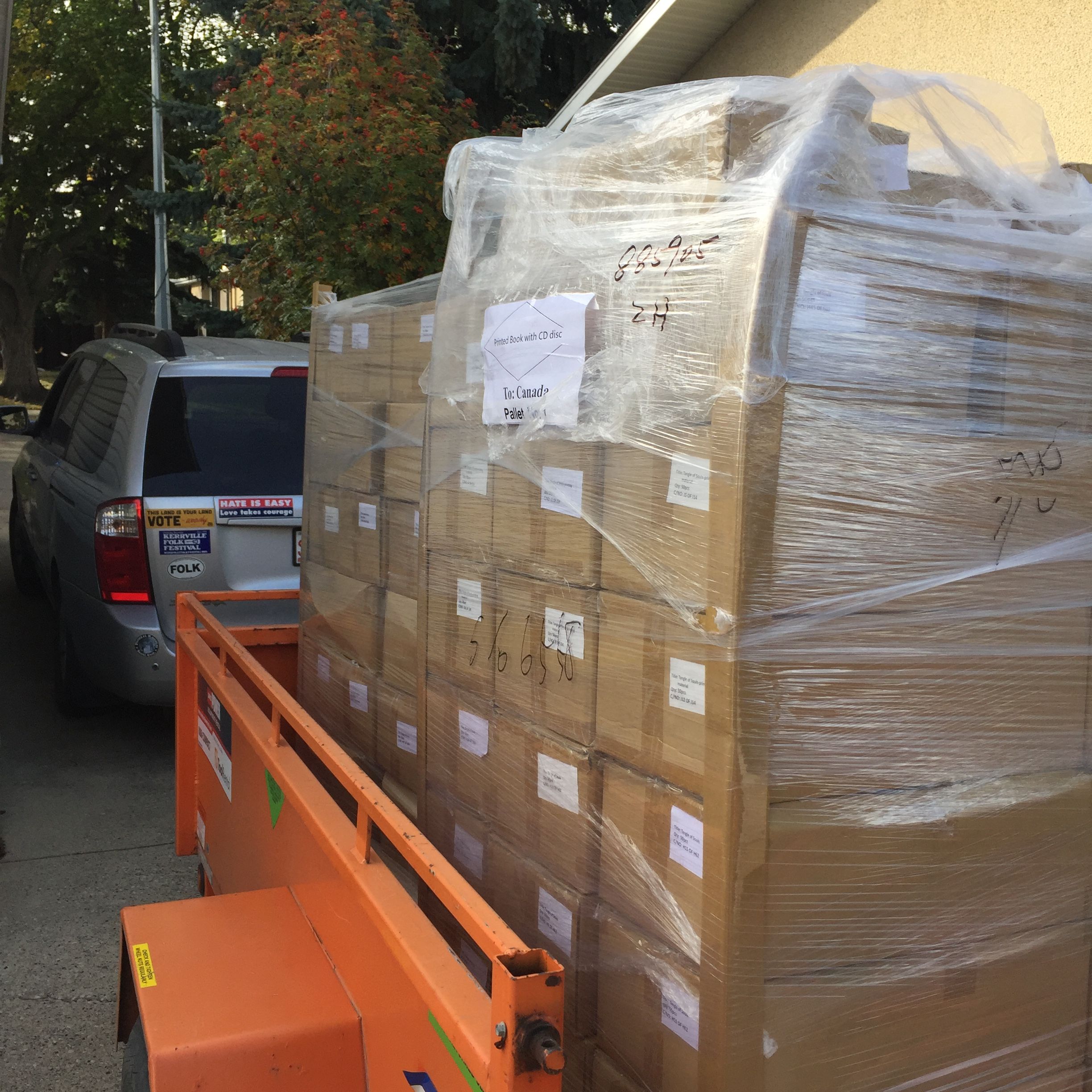 If you want to help me feel less crazy about all that, and get your Christmas shopping done at the same time, you can get copies here.  Now that the backlog's all done, I'm shipping out orders as soon as they're received, and I'm happy to cut bulk deals for anyone who wants a few, just email me at scottcooksongs@gmail.com.  We've also got Indoorables T-shirts being printed as we speak, so if you want in on that, you can order from my store or just drop me a line. 
Folk radio's been incredibly kind to the album, especially in the States.  "Say Can You See" was the number 1 song on the Folk Alliance International charts for August, and for the month of September, I was the second-most played artist, "Say Can You See" was the second-most played song, and Tangle of Souls was the second-most played album.  I've never had such a satisfying response to a release.  Huge thanks to all the folk DJs who spun it, and to the listeners who called in to request a track.  And since some folks have written to ask me about that, I should be clear: just about every college, community and public radio station in North America should have Tangle of Souls by now, and it really does help if you call them up and request a song! 
Reviews have been coming in steadily as well, thanks to my publicity team of Geraint Jones (G Promo PR) in Europe and Mike Farley (Michael J Media Group) in the US.  Chris Spector in the Midwest Record wrote, "with songs as open and universal as Woody Guthrie at his mightiest, this is a plea for humanity to stop screwing up without a single punch in the chops in the bunch. A modern day troubadour that's doing it for real and without pretense, you'd be wise to enjoy this before this and stuff like it just disappear into the void. By all means check it out if you really need something to wake up your humanity."   Rich Barnard of UK blog Red Guitar Music praised its "honesty, self-awareness and uncommon academic flair (quotes! references! footnotes!)" and said, "as a document of our times, this absorbing musical story of travel and self-discovery really deserves to be on the school syllabus.  As a project that is designed to be held in your hands, seen with your eyes and heard with your ears, Tangle of Souls is more meaningful than anything you will ever stream.  It is a handbook for the soul, and one with a remarkably good soundtrack." 
Gordon Sharpe in Americana UK gave it 9 out of 10, saying: "Sometimes a package arrives that might just take your breath away and, 'Tangle of Souls', by Canadian Scott Cook, is one such...  A rich and varied multimedia offering which seeks to confront issues of personal and collective responsibility and the actions that flow from them...  Exceptional words and music to help calibrate the moral compass."  UK blog Three Chords and the Truth said "a little time spent in the company of Scott Cook's music is good for the soul."  Music Riot gave it five stars: "superbly crafted and delivered, and packed with interesting and thought-provoking ideas... 'Tangle of Souls' is an important work from the wider Americana scene this year. It's a deeply-considered view of individuals and society twenty years into the twenty-first century; the narratives aren't necessarily cheerful, but the overall message is positive, in line with Scott's personal outlook."  Dani Heyvaert of Belgium publication Rootstime said (Google Translate-d from Dutch), "Cook effortlessly surpasses all his previous work with this new record...  I rarely get the figurative five stars out of the closet, but for this one I do it without any restrictions: she is a feast for the ear, heart and eye...  This is one of those rare records, where literally everything is right. Masterpiece!"  And Rachel Cholst of Adobe and Teardrops said "Damn, this is a gorgeous album. Scott Cook's voice -- vocally and lyrically -- is as clear-eyed, optimistic, and straightforward as ever... Tangle of Souls is the medicine we could all use right now." 
I also had a great interview with Ron Olesko of Folk Music Notebook the other day, and a nice chat with Heath Racela on his Quarantine Creatives podcast.  I've been thinking seriously about trying my hand at podcasting myself, seeing as I meet so many interesting people on my travels, and I'd love to give them another place to tell their stories.  Being off the road has given me space to daydream about lots of different creative projects, and I'm thinking of opening up subscriptions for folks who want to support me in those endeavours, and be on the inside track for them when they come out, for something like the price of a coffee per month.  It's just an embryonic idea at this point, but if you like the sound of that, feel free to chime in. 
Speaking of which, our Australian collaborator Liz Frencham has started offering subscriptions on Patreon, and you can support her here.  Her latest solo album Love and Other Crimes is her best work yet, and you can have a listen and download it on her Bandcamp page. 
Another artist and collaborator who could use your support is my old Taiwan pal and UK tourmate Jez Hellard, who features prominently in the twelfth chapter of Tangle of Souls, and is rounding up the cash to press his newest album, which shows the fellas in their finest form, here. 
Before I sign off, I must confess that I'm worrying every day for the country I come from, and what it might mean for the world if the Divided States fall apart.  I hope I'm mistaken, but sometimes it looks like a country on the verge of civil war.  It's happened before.  Back then, Lincoln said "we are not enemies, but friends. We must not be enemies. Though passion may have strained it must not break our bonds of affection. The mystic chords of memory, stretching from every battlefield and patriot grave to every living heart and hearthstone all over this broad land, will yet swell the chorus of the Union, when again touched, as surely they will be, by the better angels of our nature."  The war came anyway, and over 700,000 American men and boys were killed by their countrymen.  But as the war drew to a close at the beginning of his second term, Lincoln again reached for reconciliation rather than retribution: "With malice toward none, with charity for all, with firmness in the right as God gives us to see the right, let us strive on to finish the work we are in, to bind up the nation's wounds, to care for him who shall have borne the battle and for his widow and his orphan, to do all which may achieve and cherish a just and lasting peace among ourselves and with all nations." 
Braver Angels, the organization that picked up "Say Can You See" for their songwriting contest, is one of several groups working to depolarize American politics, and I think their work's never been more important.   The challenge, as I talk about a bit in Tangle of Souls, is that we live in such different worlds.  We're almost completely incapable of understanding where our political opponents are coming from, or hearing how crazy we sound to them.   But if we can't find a middle ground, we're in trouble, because fighting starts when talking becomes impossible.  If the country's going to pull back from the brink, it's going to take understanding and empathizing, not demonizing one another.  Randy Lioz' article about Kyle Rittenhouse (the 17 year-old who took a gun to Kenosha, Wisconsin and killed two people protesting the police shooting of Jacob Blake) shows the kind of hard work ahead of us, and the risk involved if we fail.  As he says, "what creates this danger is our constant habit of viewing the actions of our opponents in the worst possible light in order to achieve our full moral separation; our maintenance of the view of ourselves as in the right, and them in the wrong. We're constantly nudged one way or the other in our interpretation of the intentions and the motivations of those we disagree with, and when we add up all those little nudges, it puts us on the other side of a vast gulf." 
"Kyle Rittenhouse is Not Who You Think He Is" by Randy Lioz 
It's important to remember that all our institutions, resilient as they are, are held together by trust, goodwill, and a sense of common purpose.  That glue seems to be getting weaker by the day.  Vast numbers of Americans don't trust scientists, public authorities, or each other.  Around half of Americans think there's reason to be suspicious of the results of the election three weeks from now, and a majority suspect there's going to be violence.  Borrowing Lincoln's words, Braver Angels is circulating a pledge called "With Malice Toward None".  It reads: "Regardless of how the election turns out, I will not hold hate, disdain, or ridicule for those who voted differently from me. Whether I am pleased or upset about the outcome, I will seek to understand the concerns and aspirations of those who voted differently and will look for opportunities to work with people with whom I don't agree."  If you can find it in your heart to say that, you can add your name here. 
As you know, not everybody's open to trying to understand the other side.  No less than twenty-four congressional candidates in the upcoming election (22 Republicans and 2 independents) follow QAnon, the story that most of the political establishment and Hollywood glitterati are part of a Satanic, cannibalistic pedophile ring that Trump is secretly working to bring down.  This isn't just a lunatic fringe anymore.  It points to an epistemological crisis deeper than politics, and bigger than America.  This breakdown of our sense of shared reality seems to have a lot to do with the way social media platforms tailor our online experience toward the single goal of increasing our time spent on the site, rather than toward truth.  A new Netflix doc called The Social Dilemma's drawing some attention to the problem, but Sam Harris' recent interview with Tristan Harris, one of the main voices in the film, shines a lot more light on the subject without the sensationalistic flair of the documentary.  In general, I think Sam Harris is the kind of voice of reason we need more of.  I don't agree with everything he says, but I'm always grateful for the fair, cool-headed way he puts forward his points and considers the points of others.  You can hear the first part of his talk with Tristan Harris (before the paywall) here: 
"Welcome to the Cult Factory" on Sam Harris' Making Sense podcast 
While I'm at it, I was also really impressed by Tristan Harris' interview with Taiwan's Digital Minister Audrey Tang, who set up the broadband for the 2014 student occupation of parliament that I mention in Tangle of Souls.  My Aussie songwriter pal David Ross MacDonald forwarded it to me, and it got me excited about the future like I haven't been in a LONG time.  There really are so many ways we could make our societies more democratic and just, if we'd only listen to the right voices.  If you're interested, check out "Digital Democracy Is Within Reach" from Your Undivided Attention. 
Of course, all we ever get is a chance to nudge the needle in the right direction.  And whatever you may think about Joe Biden or Kamala Harris, there's no doubt in my mind that they'll steer the country more capably than the current bunch of grifters and crooks.  There's a lot at stake in three weeks' time, and I hope everyone who believes in democracy will do whatever they can to preserve it, for the sake of our ancestors and for the generations to come.  Make sure you're registered to vote, and make sure your friends and neighbours are registered to vote.  Vote in person if you can.  And if you're able, sign up to help at the polls. There's a record shortage of poll workers this year, and there's only a few days left to apply, here. 
Stay safe, stay sane and stay kind, friends, wherever you are.  With love, 
s